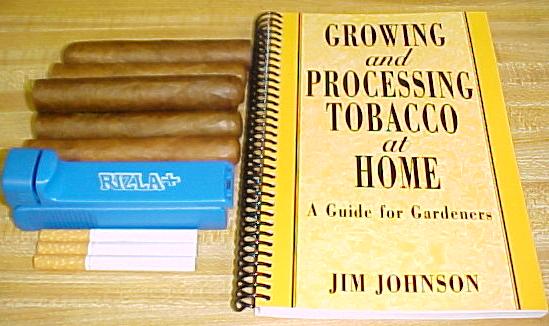 BOOK TA80: Growing and Processing Tobacco at Home
A Guide for Gardeners
By Jim Johnson
210 Pages, Paperback, Plastic Coil Binding
Black and White Photos and Line Drawings
ISBN #0-9722794-0-7

With prices and health concerns regarding commercial types of tobacco products skyrocketing, a new generation is discovering that growing and processing their own tax free tobacco, free of dangerous chemical additives, is a very simple and straightforward process!

Tobacco is a very easy plant to grow and requires only 65-70 frost free nights to mature once transplanted outside. It is grown in every state, even Alaska. It is legal to grow and process your own tobacco at home.
Anyone with a small garden plot can grow tobacco and processing the tobacco is a simple straightforward process that the average gardener will have no problem with. Even after buying papers, filters and flavoring, you can make your own cigarettes that are superior to any commercial brand for about $5.00 a carton!
The book Growing and Processing Tobacco at Home was written with the gardener in mind. It contains all of the information included in our earlier guides, The SBE Home Tobacco Kit and Tobacco: Easier Than you Thought by Alan Daly , plus over a 100 pages of new information.
It covers all aspects of raising and processing tobacco at home. It details how to plant the seeds, care for the plants, identify and cure tobacco pests and diseases, how to harvest the plants, how to air cure, complete instructions and drawings on building your own kiln, how to flavor your tobacco, how to make cigars, cigarettes, chewing tobacco and snuff along with loads of other useful information.
This is a one-of-a-kind book that anyone interested in growing their own tobacco should read.
Download the complete book Growing and Processing Tobacco at Home on-line as a .pdf file and save $15.00 off the book price, plus shipping costs.
When you click on the Buy Now button, you will be taken to our shopping cart, you will be sent a link to download the book from after you have completed the purchase.