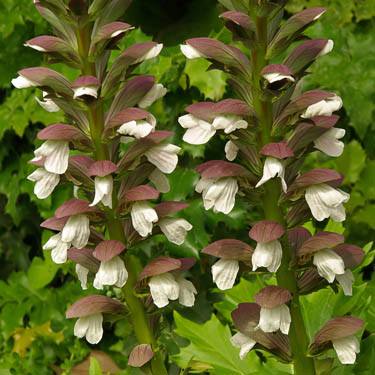 SF191 Bear's Breeches ( Acanthus mollis )
Commonly known as Bear's Breeches or "Oyster Plant", it is winter hardy to USDA Zones 7-10 where it is easily grown in average, fertile, medium moisture, well-drained soils in full sun to part shade. Excellent container plant if grown in large containers. Plants tolerate a wide range of soils except poorly-drained ones.
Acanthus mollis is prized for its bold clumps of shiny green leaves topped with striking, 3-foot-tall spires of white flowers which are clasped by showy purple bracts. This is a great plant for an eye-catching structural element in a part-shade border.
A strong architectural accent, it is best placed at the rear of the border. Care: Best in deep, rich, well-drained soil. Plants need protection from hot afternoon sun.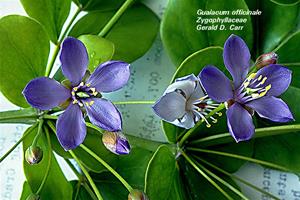 TRN593 Hungarian Bear's Breeches ( Acanthus Hungaricus )
This acanthus has exquisite, dark green basal leaves with rigid flower stalks and hooded blossoms which are pinkish-white touch with mauve. Acanthus is a great perennial for massing as a groundcover in partially shady sites. Also known as Hungarian Bear's Breeches, this plant of is worthy of any landscape. The leaves of Bear's Breeches were said to have been the model for the ornamental on Corinthian columns.
Acanthus Hungaricus has proven to be much hardier than most other forms of Acanthus. It is well worth trying in colder regions particularly with a winter mulch. Bear's Breeches is excellent for cutting, fresh or dried. Acanthus plants dislike wet soil during the winter months. You may divide bear's breeches in spring and any root pieces left in the ground will grow into new little plants, this is important as seeds are rare and expensive, but by starting a few plant from seeds and dividing them, you can have a lot of plants in a few years. Zones 6-8
For more Acanthus varieties, visit our
Acanthus Seed Page