Holiday Savings!
Now is the time to buy the perfect gift for the gardeners in your family. All of our items ( including Gift Certificates ) are discounted 20% from now to Christmas Day.
Our Gift Certificates never expire, and they make a wonderful quick gift that can be E-mailed to someone who loves gardening.
Simply type in XMAS2016 ( case sensitive, no spaces ) into the coupon field of the shopping cart when you check out, and the discount will be applied. ( You must use the code in the coupon field to get the discount )
Acanthus Mollis ( Bear's Breeches )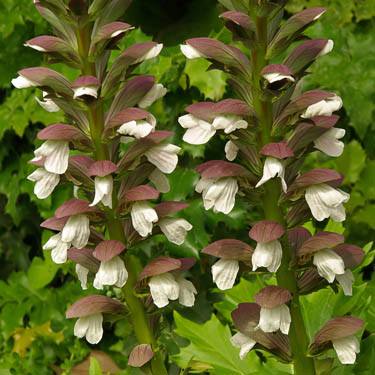 SF191 Bear's Breeches ( Acanthus mollis )
Commonly known as Bear's Breeches or "Oyster Plant", it is winter hardy to USDA Zones 7-10 where it is easily grown in average, fertile, medium moisture, well-drained soils in full sun to part shade. Excellent container plant if grown in large containers. Plants tolerate a wide range of soils except poorly-drained ones.
Acanthus mollis is prized for its bold clumps of shiny green leaves topped with striking, 3-foot-tall spires of white flowers which are clasped by showy purple bracts. This is a great plant for an eye-catching structural element in a part-shade border.
A strong architectural accent, it is best placed at the rear of the border. Care: Best in deep, rich, well-drained soil. Plants need protection from hot afternoon sun.