Adenophora ( Ladybells ) Seed ( Perennial )
Useful gardening information
Common Name: Ladybells, Grannybells.
Plant Type: Herbaceous perennial.
Height: 18-30".
Spread: 12".
Sun/Shade Requirements: Full sun to Part shade.
Water Requirements: Water weekly, will require additional water in dry periods.
Soil Requirements: Average to rich, moist but well drained. Prefers a slightly alkaline soil, but will do fine in neutral to slightly acid.
Growth Habit: Elegant upright form.
Bloom Time: Late summer to fall.
Bloom Color: Blue, drooping bell shaped in branched clusters.
Bloom Form: Bell shaped Adenophora common-lady bells or grannybells.
Foliage: Light green lance shaped leaves with hairy dark green stems.
Fragrance: Fragrant blooms.
Fertilize: Top dress with compost or apply water soluble fertilizer in spring.
Maintenance: Easy to care for, deadhead to prevent self seeding.
Other: Long living perennial for zones 3-9.
---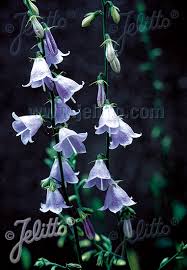 TRN200 Ladybells ( Adenophora liliifolia )
This perennial spreads prolifically by seed as well as with aggressive runners. Large groupings can be quite striking with delicate purple-blue nodding bells born atop light green foliage, blooming from late summer to autumn.
Ladybell's supporting stems are tall and strong. This long lived perennial is well suited for containers, which will keep it from spreading aggressively as these plants are prone to do.