Agapanthus Seed ( Perennial )
Agapanthus africanus ( Lily of the Nile ) is native to Southern Africa. It is grown for the dark, glossy, strap-shaped leaves that arch gracefully. Flowers are borne on long erect stems 3 feet or taller. Agapanthus make good background plants or edging along a fence, driveway, or wall. These plants can thrive on conditions of neglect and naturalize readily. They also make excellent tub and container specimens and can be used in cut flower arrangements. In cold winter areas they can be brought indoors for the winter.
Click on any thumbnail image for a larger photo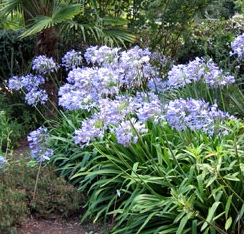 JF243 Peter Pan ( Agapanthus )
Dwarf, bushy, swordlike leaf, many blue flowers. Grows only about 48" tall. Hardy to zone 7 outside.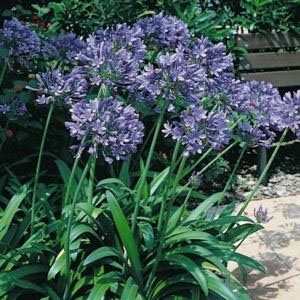 TRN288 Blue Lily of the Nile( Agapanthus africanus )
Easily grown from seed this popular plant is for warmer zones or the greenhouse. It develops a tremendous quantity of long strap-like green leaves which will flow over the sides of a container.
Numerous erect flower stems rise from the leaf mass and they are topped by a large display of violet-blue funnel form flowers. Grows about 24" tall. Hardy to zone 7 outside.