Ageratum Seed ( Annual )
Gardening info:
Ageratum flower, also known as floss flower or Ageratum houstonianum, is an annual garden flower valued for its colorful, long-lasting blooms and ease of care once established. Although easily grown from seed, container-grown ageratum plants are sometimes found in nurseries or garden centers in early spring. One of only a few annuals that can tolerate light shade, ageratum flower thrives with very little maintenance if provided with well-drained soil and adequate water. Ageratum flowers appear in mid-summer through mid-fall in shades of blue, purple, pink and white, depending on variety, although blue blooms are most popular.
Ageratum is an annual except in zones 9 and 10, where it may survive as a perennial.
Start ageratum seeds indoors about 8 to 10 weeks before the final frost in your area, usually around February or March. Fill a seed-starting tray with sterile seed-starting mix. Sprinkle the fine seeds on the surface of the soil and tamp them down, but don't cover with soil, as light is required for germination.
---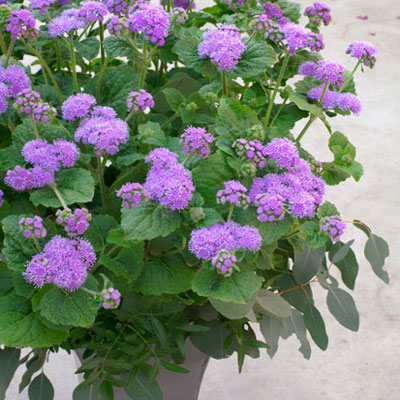 3509 Blue Planet F1 Hybrid
Cut flower growers and florists love this cut flower Ageratum. The height makes it ideal for cutting. Sell on its own for wholesale markets, or is a great addition to mixed bouquets.
Height: 30", 15 to 18" spread.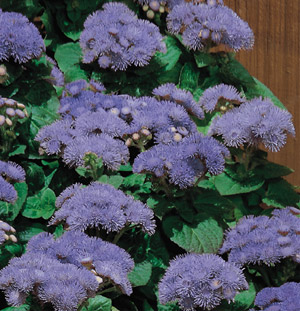 TRM667 Ageratum Hybrid Hawaii Blue Pelleted Seeds ( Houstonianum )
Mid blue, re-hybridized to reestablish compactness and uniformity, well branched. An excellent performer in both packs and pots! Compact 8-inch plants with small leaves are extremely floriferous; they keep their neat habit all season, especially in warm climates.
Pelleted Seeds for easy sowing.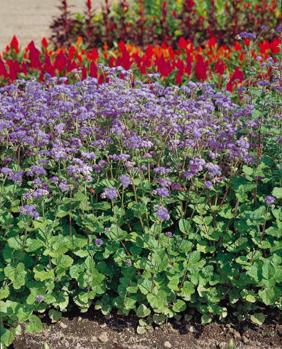 TRN031 Ageratum Hybrid Blue Horizon Pelleted Seeds
A tall variety with pretty 3-4" pale blue clusters, growing about 15-18 inches tall. The hundreds of soft, charming, tiny cushions are suffused with color. A striking presence in borders, or massed in drifts. Tall, upright, hardy plants are steady source of cut flowers.
Pelleted Seeds for easy sowing.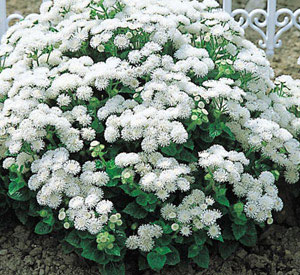 TRN030 Ageratum Hybrid Marie White ( Houstonianum )
A very compact and dainty snow white form. Grows six inches tall, blooms in 11 weeks from seed.