Thanksgiving Weekend Sale!
Save 25% on everything we offer from now to midnight Monday! Simply type in TK2015 ( case sensitive, no spaces ) into the coupon field of the shopping cart when you check out, and the discount will be applied. ( You must use the code in the coupon field to get the discount )
Anaphalis "Pearly Everlasting" ( Perennial )
---
Pearly Everlasting are clump forming plants with many small, clustered together, white-silver colored flower heads that have white bracts. Plants do well in full sun to light shade in moisture retentive soils but well drained. Attractive silver-green leaves and stems. Great for dried flower arrangements (Cut just before flowers are mature and hang upside down in a dry, dark, open, airy place) and for fresh cutting for the vase. Blooms the first year, with an early spring sowing, from mid to late summer.
Find your zone using Garden Web's Zone Finder
---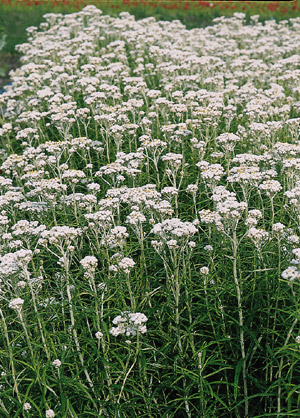 JF231 New Snow Pearly Everlasting ( Anaphalis margaritacea )
Long racemes of bright small white flowers. Perennial, good for zones 3-8. Grows about 20" tall.