Aruncus Seed ( Perennial )
Commonly called Goat's Beard, this shade garden plant is well suited for areas of partial shade, in fact, itis one of the best perennials for shade.
Growing from seed is so rewarding, and each spring and early summer you'll enjoy sprays of creamy white flowers, and fern-like foliage that stays attractive all season.
A second botanical name is Aruncus sylvestris, and some gardener's also refer to it as Aruncus dioicus Bride's Feathers.
Aruncus seeds germinate best with a cold/moist stratification. Some gardeners will direct sow in the late fall.
---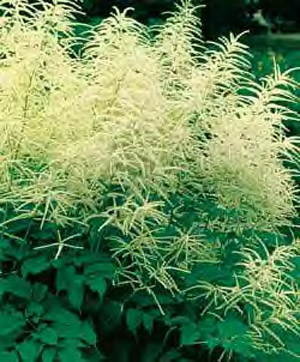 IP247 Goat's Beard ( Aruncus dioicus )
Tall, graceful, robust perennial plant with creamy white plumes for shade, summer bloom. Plant in rich, moist soil in full sun to partial shade. Grows 4-5' tall. Flowers in summer. Hardy in Zones 3-8.
Excellent background plant for shady, moist spots in the border or in a woodland, wild or native plant garden. Plant as a specimen or in groups along streams or water gardens.