Astilbe Seeds
Useful gardening information
Also known as False Goat's Beard, Astilbe plants can be used at the front of borders, at the edges of pools or in containers. Astilbe are perennial plants that do best in the shade, but will handle partial sun in cooler areas and if kept well watered.
This flower will brighten up your shady areas!
Astilbe seeds are usually sown indoors in early spring and transplanted outside when the weather is warmer. Use a loose, soft soil mix, and plant the seeds on the surface, pressing them into the soil.
Make sure that the soil drains well and is able to keep the flower seeds moist, but not wet, at all times. For the best results, add in a little fertilizer that has a high concentration of nitrogen.
Keep the plants inside until the seedlings reach about 2 inches in height. Transplant after last frost.
---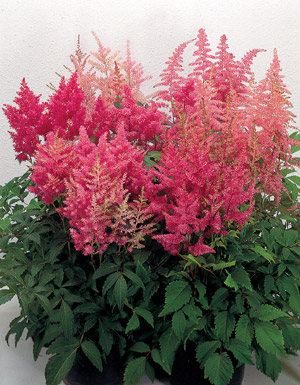 TRN419 Bella ( Astilbe arendsii )
Dense flower heads on compact plants, for garden or 6" pots, Mixed colors, grows about 20" tall.
Perennial for zones 4-9.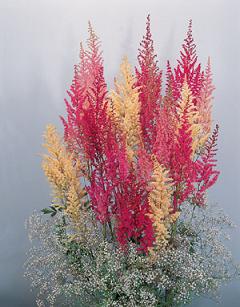 3612 Grande ( Astilbe arendsii )
Great for garden or cutting, a tall variety with superb flower quality, mixed colors, grows about 30" tall.
---
Share a growing tip or recipe and help other gardeners!

Click on the Contact Form link, place "Tip" in the name line and fill in your information. If we accept your Astilbe growing tip, we will post it on this page.