Baby's Breath Seeds
Annual Baby's Breath is one of the very easiest flowers to grow from seeds, and it gives so much beauty and complements other flowers so nicely in the flower garden. Baby's Breath is an annual, so it grows quickly, blooms heavily, and dies.
Many gardeners plant Baby's Breath seeds successively every 2 - 3 weeks to keep a continuous supply of color in the garden and blooms for cutting to make flower arrangements.
Baby's Breath plants are fairly hardy, tolerating some drought and light shade. It does well everywhere, coastal areas to high elevations; it is widely adaptable.
Useful gardening information
Average Germ Time: 10 - 20 days
Light Required: Yes
Depth: 1/16 inch
Sowing Rate: 6 - 8 seeds per plant
Moisture: Keep moist until germination
Plant Spacing: 10 inches
Links to useful information on the web:
How to grow Baby's Breath
---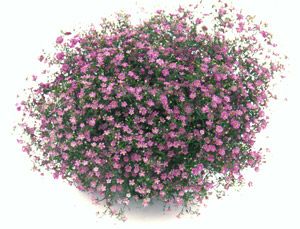 TRN576 Gypsy Deep Rose MSP ( Gypsophila muralis )
AAS, produces thousands of tiny blooms in new deep rose color, for pot or garden, reliable, easy, low maintenance plant.
Multiseed Pellets ( 8-10 seeds in each pellet) of above for easier sowing.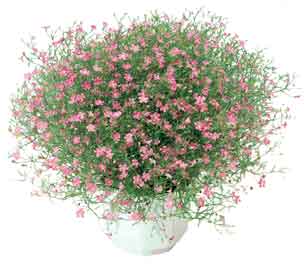 TRM702 Garden Bride Dwarf Baby's Breath ( Gypsophila )
This AAS winner produces a cloud of soft pink single flowers on a neat mounding habit. Plants are long-lived heat tolerant and grow 8"-10" tall. Annual. Multiseed pellets for easy sowing. Each pellet contains 4-7 seeds.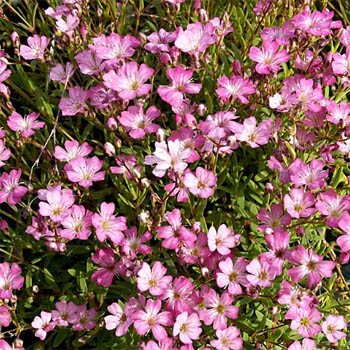 W265 Rose Baby's Breath ( Gypsophila repens )
Dwarf, trailing plant with tiny flowers, for border or rockery, "walk on" good groundcover plant for rocky slopes and eyesore hills. Grows about 6" tall. Hardy to zone 6.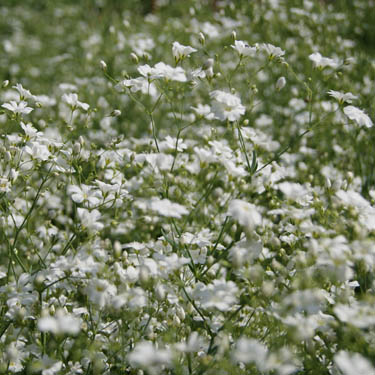 TRN580 White Baby's Breath ( Gypsophila elegans )
No plant is easier or quicker to grow for masses of delightful blooms than this annual Baby's Breath plant. In just 6 - 8 weeks from sowing seeds, you'll begin enjoying the tiny, pure-white blooms, which are set at the tips of rather stiff, very well-branched stems.
Invaluable for bouquets and arrangements both fresh and dried, they are also a fine source of airy, misty color in the garden, particularly effective with large, brightly-colored blooms or with vertical ornamental grasses. If you want a steady supply of flowers from spring to fall, just sow the Gypsophila seeds directly in the garden every 2 - 3 weeks as soon as the soil can be worked in spring. Gyposophila elegans will grow in any region of the U.S.
Baby's Breath is one of the most popular wildflowers and it is easy to grow from flower seed. Everything looks better with Baby's Breath around it! Plants grow upright 12 - 24 inches tall and as wide. It is quite drought tolerant. The flowers are single form, one half inch across, abundant and typically white but there are cultivars available in pink and rose. Its leaves are 3 inches long, lance shaped and fleshy. Unfortunately, it is a very short-lived annual dying after only 5 - 6 weeks. Successively planting the flower seed every 2 - 3 weeks should ensure never being without it during the growing season.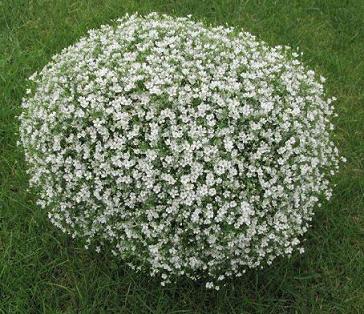 1A403 Baby's Breath ( Gypsophila muralis )
A hardy annual able to withstand periods of short term drought. Native to Europe, it has naturalized throughout the eastern United States. Flowers are white, forming dense delicate clusters. Prefers full sun in well-drained soils. Baby's Breath cannot tolerate an acid soil. Sow in early spring, seedlings are not winter hardy.
Cut the flowers for arrangements when half the blooms are open to extend vase life. The ice white blooms provide a brilliant backdrop for other wildflower varieties. Does not transplant well. A nice flower for bed mixtures, flower gardens.
Seedman Basic Info:
Grows about 16 inches tall, will germinate in about 10-20 days depending on soil and weather conditions, germinates best if soil temperature is in the 70°F range.
Cover seeds about 1/8" deep, blooms from April to August.
---
Share a growing tip or recipe and help other gardeners!

Click on the Contact Form link, place "Tip" in the name line and fill in your information. If we accept your Baby's Breath growing tip, we will post it on this page.