Banana Plant Seeds
Growing bananas from seed info:
Commercially grown bananas that are cultivated specifically for consumption do not have seeds. Over time, they have been modified to have three sets of genes instead of two (triploid) and produce no seeds.
If you want to grow banana plants from seed, be aware that the resulting fruit will not be like those you buy at the grocers. They will contain seeds and, depending upon the variety, might be so large that the fruit is difficult to get to.
Bananas grown from seed are normally for ornamental purposes, we do however offer a few varieties that will produce edible bananas ( with seeds of course ), and they have a wonderful flavor superior to store bananas.
Bananas are one of the more difficult seeds to germinate in terms of time and effort required, especially compared to vegetable and flower seeds most gardeners are familiar with, but they can be germinated at a decent rate if one is diligent.
The first thing to understand is that banana seed take a long time to germinate! Nature has built in natural germination inhibitors to insure they do not germinate in the wild too soon.
We have been germinating banana seeds in our germination trials for over 25 years. The normal germination range in our greenhouse trials varies from 1 to 6 months. We have had some varieties germinate in just a few weeks, only to have the same variety take several months during the next germination trial, you cannot predict how long they will take to germinate.
The basic things to remember if you are germinating banana seeds are:
1. Always soak seeds before sowing. We recommend 24-48 hours.
2. Use a well draining soil mix. A mix that holds water will rot the seeds in place.
3.Soil temperature must be at least 68 degrees or warmer for part of the day. But, seeds need alternating temperatures for germinating. We found that just putting a heating mat under the seeds and leaving temperature constant was not nearly as effective as heating the soil for a few hours a day, then allowing it to cool.
4. Keep soil damp, but not wet! Wet soil will rot seeds quickly. Placing the seed tray inside a plastic bag is a good way to keep moisture constant.
5. Be very, very patient. Seeds can easily take several months and in most cases will.
---

Important Note: The seeds on this page will benefit greatly from using the CAPE Smoke Seed Germination Primer that we use in our own greenhouses. We find we receive significantly better germination results when we use this primer on Musa seeds.
---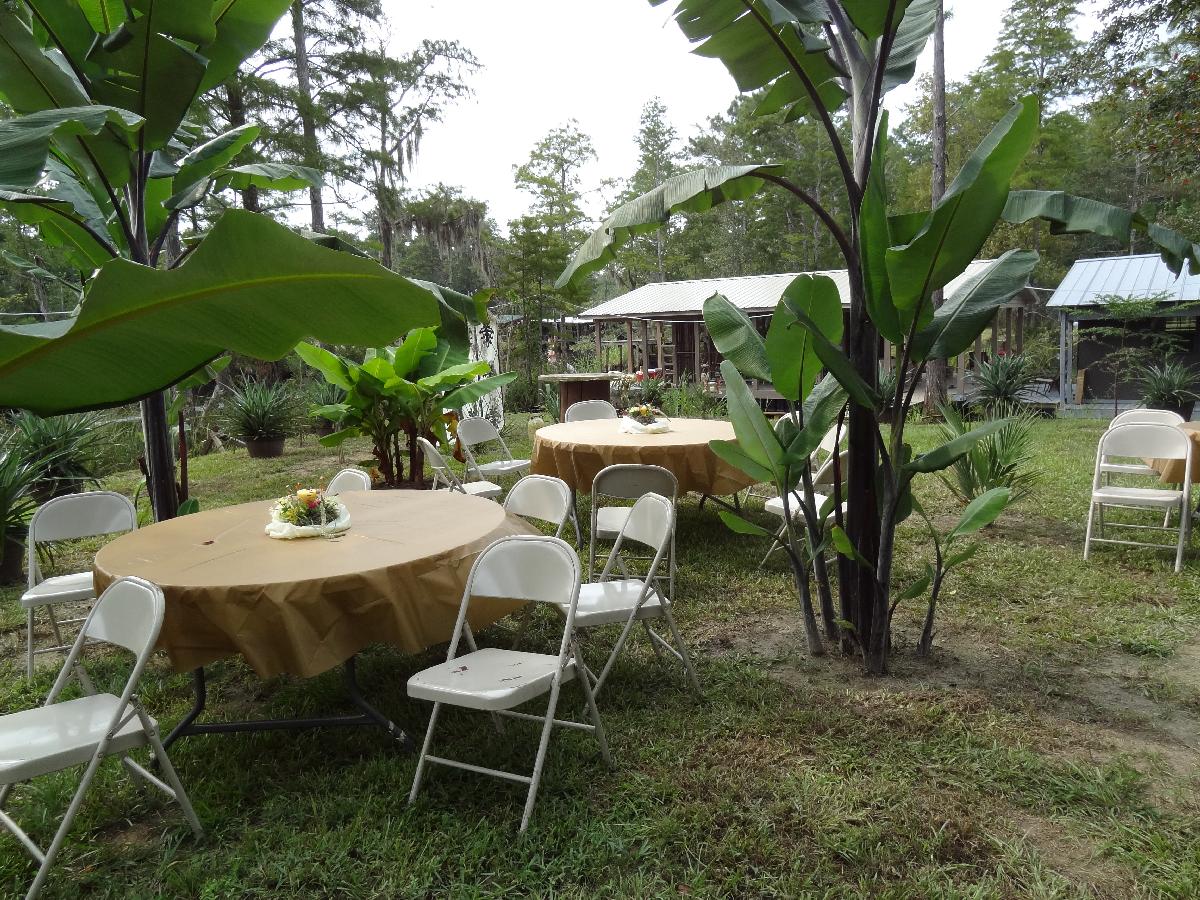 AW24 Thailand Black Stem Banana ( Musa balbisiana atia )
Please click on this photo to see the large image that details the wonderful color of the stalks!
This is a wonderful, fast growing banana with tremendous ornamental appeal. The picture shows 2 year old plants started from seed growing on one of our bayou properties on the Gulf Coast. The more exposure to sunlight, the darker the stem gets. Will grow to a massive 18 feet or taller outside, or can be grown in a container where growth will be limited by container size. Very cold hardy, probably down to 15 degrees if mulched heavy, and loves hot, hot weather as well!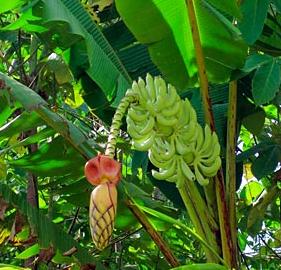 RHM152 Manila Hemp Banana ( Musa textilis )
Musa textilis is a moderately large banana, apparently originally native to the Philippines but widely cultivated elsewhere for its quality fibers (hence the name manila hemp), among other places in Borneo. The Bornean plants seem somewhat different though forming a very colorful inflorescence bud. A very easy to grow and highly ornamental banana for the tropics.
This item is currently out of stock, if you would like to be notified by E-mail when it becomes available again, simply enter your E-mail address in the field below and hit "Submit".