Bean Seeds
---
Useful gardening information
Dry Field Beans
Dry edible beans, or field beans, come in a wide variety of market classes, including kidney bean, navy bean, pinto bean, and black bean. These beans, although differing in the size and coloring of the seed, are all just different types of a single species, Phaseolus vulgaris L. Originally domesticated in Central and South America over 7000 years ago, dry beans moved their way northward through Mexico and spread across most of the continental U.S. These beans were commonly grown with corn, and sometimes squash. Now, instead of the Native American practice of dry beans and squash planted right among corn plants, a different bean, soybean from China, has found its place with corn.
Dry beans are the same species as green beans (snap beans) commonly grown in gardens. If you've seen green beans growing, you have a good idea what dry beans look like, with the difference being that dry bean varieties have higher seed yields. Some dry bean varieties are viney like garden bean varieties, while others are more of an erect, bushy plant, like soybeans. Dry beans do not grow as vigorously as soybeans, usually reaching only about 18 to 24 inches in height. Pods, each containing 2 to 4 seeds, are borne upon the length of the stem. Dry beans average about 22% protein in the seed. The amino acid profile of dry beans complements that of corn and other cereal grains, which is why the corn-bean diet was so standard through the Americas. The various market classes of dry beans are sold in a variety of forms. Great Northerns, navy beans, or mixes of beans, are the most likely to be sold as whole seeds in unprocessed form. Navy beans and kidney beans are both found in canned form, with kidney beans also common in chill mixes. Pinto beans and black beans are both made into refried beans, among other uses. Red beans are used for baked beans. Dry beans which do not meet quality standards for food use are typically sold for livestock feed. Like soybeans, dry beans have a trypsin inhibitor which prevents protein digestion in non-ruminant animals, including humans. Heat, applied during processing or home cooking, is needed to break down the trypsin inhibitor and make the beans fully digestible.
Growing Bush Beans
No garden is complete without bush beans. There are many varieties of bush beans to choose from and every gardener is sure to find one to suit their tastes. Bush beans do well in almost any garden as they are not too fussy about soil.
To ensure the best flavor, bush beans should be picked while still slender and no inner bean is well developed. For fresh bush beans all summer, plant every two weeks and pick frequently.
Direct seed bush beans after risk of frost when soil warms to 18-24°C (65-75°F). Sow bush beans 1" deep and 2" apart in rows 18" (bush beans) to 24" apart (shell beans). Reseed until mid summer for a constant supply all season long. If using untreated bush beans seed, plant thicker and thin to desired density.
Try companion planting with bush beans. Bush beans are excellent grown with most vegetables except the onion family, basil, fennel, kohlrabi.
Most bush bean types require a full sun location, soil pH of 6.5-7.5, and well drained soil. Good air circulation around bush bean plants is essential, especially for late shelling or dry type beans, as they are very susceptible to fungal diseases which prevail later in the season. Bush beans are light feeders; compost or well rotted manures worked into the soil at the time of planting is sufficient.
Harvest once the bush beans are smooth, firm and crisp. Keep bush beans constantly picked to ensure a fresh supply. Bean formation in the pod is a sure sign of over-maturity. Dry and Shell Beans: Harvest when the bush beans pods are completely dry and brittle. Cut or pull pods from bush bean plants and shell the beans. Store beans in an air tight container in a cool dry spot. For fresh eating of horticultural or shell beans, harvest when bean formation starts to take place within the pod.
Growing Pole Beans
Most of the gardening techniques that work with bush beans also work for pole beans. The two types require slightly different care at planting time to ensure their best growth. Pole beans offer great use of vertical space since they climb up poles, trellises or homemade tepees. They also have a longer growing season and are more tolerant of hot temperatures than bush beans, which mean they will yield two to three times more than bush beans from the same amount of space.
Because pole beans quickly grow into large, heavy plants, you should install your trellis at the same time as you plant and sow the seeds.
To start the pole bean seeds, use your finger to push the seeds about 1 inch into the soil. I sowed five to six seeds around each pole 6 to 8 inches away from the base. This is more seed than you'll need for each pole but it allows you to come back after the seeds have germinated to thin out the weaker plants. Use your hands to cover the seeds with an inch of soil and lightly tamp the soil. Finally, lightly mist the dry soil with a garden hose.
As vegetable plants grow from seeds to seedlings, water requirements will change. Beans require little care except regular weeding and watering if the weather is dry. Bean plants need about an inch of water per week. The beans should be watered in the morning so the foliage is dry before dark.
Bush beans will mature in 50 to 60 days; pole beans in 60 to 90 days. Beans are light feeders and do not need extra fertilizing as long as you plant in an enriched soil. You should fertilize young bean plants with an organic fertilizer, such as fish emulsion, every two weeks for the first six weeks, then once every three to four weeks.
Informative articles found on the web:
How to grow pole beans
BeanBible.com
features tons of recipes and useful bean information
Bush Beans
---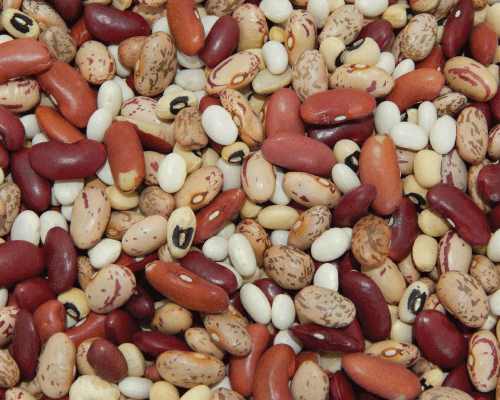 TST110 Bean Soup Blend ( Excellent for container growing )
Grow your own delicious bean soup.
This easy to grow "Bean Soup" seed blend is equal blends of Vermont Cranberry Shell, Blackeye #5, Light Red Kidney, Dark Red Kidney, Pinto and Navy bean seeds. This combination creates a rich and creamy bean soup that is a delight to eat! 50 days.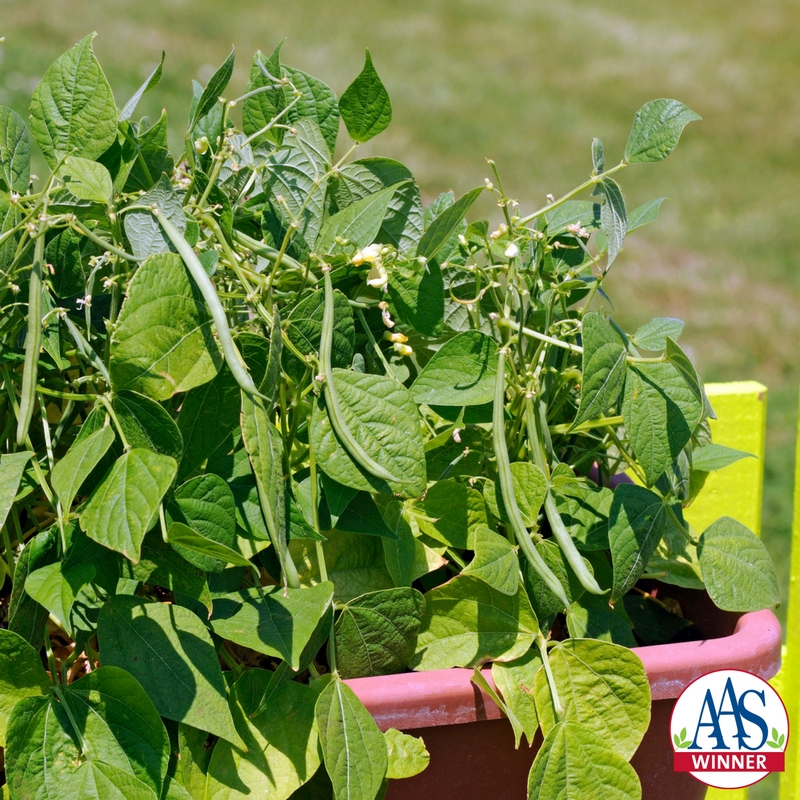 TST056 Mascotte ( Excellent for container growing )
AAS, Perfect for patio pot or window box, compact 16" plant, steady yield of 6" stringless slim green beans, 50 days.