Black Cardamon Seeds
Black cardamom is aromatic with a hint of smokiness. Camphor can be detected in its aroma. Native to the mountainous area of the Himalayas and stretching to Southern China, it is also grown in Cameroon, Madagascar and Somalia.
Considered an aphrodisiac, cardamom has properties that cool the body when it's hot and warms it when it's cold.
Some say that black cardamom is an inferior pod when compared to fancy green, but this simply isn't true. Black pods are spicier and more appropriate for rustic dishes. Black cardamom can be used liberally and won't dominate a dish, in fact it enhances and intensifies the flavors of the other ingredients. Black cardamom is a key ingredient in our Marrakech Moroccan blend. To fully release the flavor of these pods, crush them slightly before using, but not enough to release the seeds themselves.
Useful gardening information
Temperature: 77 - 86F for 4 - 5 weeks, then 36F for 2 - 3 weeks
Average Germ Time: 42 - 80 days
Light Required: No
Depth: 1/4 - 1/2 inch
Sowing Rate: 2 - 3 seeds per plant
Moisture: Keep seeds moist until germination
Plant Spacing: 36 - 60 inches
tart the Cardamom seeds indoors in the winter. These herb seeds can be slow to germinate. Amomum subulatum is a clumping evergreen plant. It flowers from late spring through mid-summer. In the wild it is found growing under the shade of trees and in areas where there is plenty of moisture. Protect Cardamom herb plants from cold temperatures and freezing.
---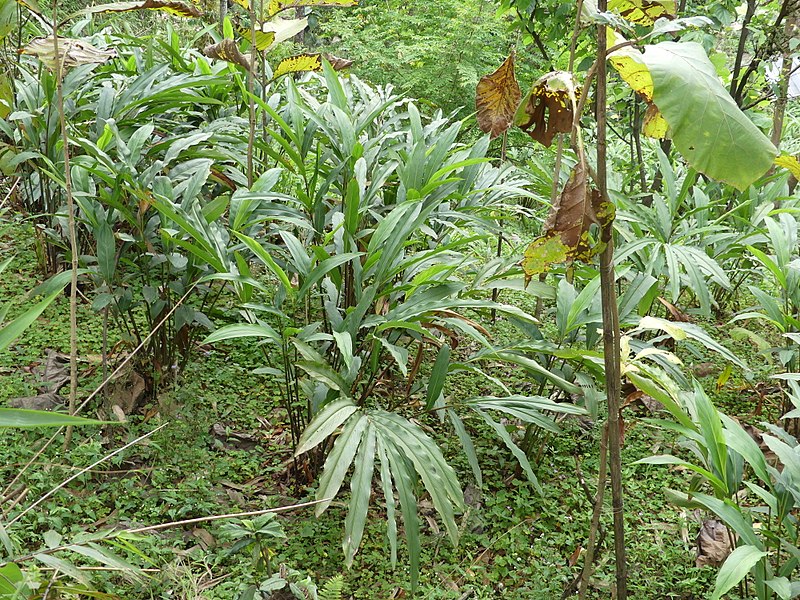 RLP035 Black Cardamom, Nepal Cardamom Amomum subulatum
A small ginger, native to valleys from the eastern Himalayas to central China, produces an underground rhizome that gives rise to clusters of evergreen, leafy shoots to about 5 feet tall. The pretty, ivory flowers appear in compact inflorescences at ground level and are followed by seed pods that, in dried condition, are widely know as black cardamom or Nepal cardamom and as such very popular in Indian cuisine.
It is a culinary herb that is used in Chinese, Vietnamese and Indian cooking. Vikings are said to have taken the spice to Scandinavia where it is used in baking breads and pastries still to this day. In the Arabic culture, Cardamom is used to flavor coffees and teas. The flavor of Black Cardamom is said to be a dark, smoky flavor with a taste of camphor and mint.
The Cardamom spice is found in the dried seedpods and seeds. The small, brown-black sticky seeds are contained in pods which are collected just before maturity. Keep the Cardamom seed in its seedpods as husked seed and ground seed loses its flavor quickly. Always store it in an airtight container. Black Cardamom herb was used in Chinese medicine as a medicinal herb. It was said to treat stomach ailments and malaria. Cardamom is rich in vitamins and minerals. The essential oil is used as an antiseptic and local anesthetic.
Black cardamom pods can be used in soups, chowders, casseroles, and marinades for smoky flavor, much in the way bacon is used.
The green cardamom, with smoother, lighter colored pods, and more familiar to westerners, is produced by the plant Elettaria cardamomum. Amomum subulatum is also a great ornamental, suitable to all mild and warm temperate climates that do not experience excessive freezes.
For zones 9-10 outside, it can be container grown in large tubs inside.
---
Share a growing tip or recipe and help other gardeners!

Click on the Contact Form link, place "Tip" in the name line and fill in your information. If we accept your Black Cardamon growing tip or recipe, we will post it on this page.