Burnet Seeds
Commonly known as Salad Burnet. As an herb, salad burnet offers a clean, cucumber-like flavor. It's an easy growing plant that appears early in the season and holds up well in heat.
Salad burnet plant is a Mediterranean native with hardy tolerance. It is a perennial herb, which is naturalized in Europe and North America. Salad burnet herb is a member of the rose family and is used as an erosion control, salad green and used for flavoring in vinegars and sauces. There are also old cosmetic and medicinal applications for the plant. Salad burnet is easy to grow and makes a useful addition to the herb garden or perennial bed.
Useful gardening information
Salad burnet grows well in containers and in gardens as long it has 5 hours of sun a day. It is good in zones 3 to 10 and prefers full sun to light shade, likeing a well-drained soil. Late fall or early spring is the time to dig up and divide Salad burnet for transplanting. It can be grown from seed, but is very slow to germinate meaning most plants grown from seed barely reach a mature size and usually give little harvest the first year. Planting them 12 inches apart will give them space to spread.
Links to useful information on the web:
Growing and using Burnet
---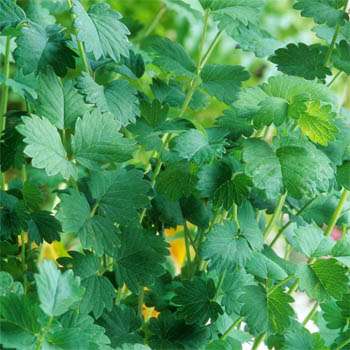 HR109 Burnet ( Sanguisorba minor )
Used to flavor cold drinks and herb vinegars. Tender, young leaves add a hint of cucumber to soups, casseroles and salads.
The plant has edible leaves that have been traditionally used as an herb and added to salads since ancient times and up until the nineteenth century. Nowadays they are still eaten in parts of Spain, particularly Catalonia.
A hardy perennial for zones 3-10.
---
Share a growing tip or recipe and help other gardeners!

Click on the Contact Form link, place "Tip" in the name line and fill in your information. If we accept your Burnet growing tip or recipe, we will post it on this page.