Our favorite Cactus Seeds from around the world
I know of no other plant that can take as much abuse and neglect as the cacti and still provide us with profuse blooms and its unique appearance. They are hardy, resilient and take up very little space. Often they will grow where no other plant will. They are truly the perfect windowsill plant. I hope my low prices will make it possible for you to enjoy these magnificent plants. I have listed a few of my favorites below.
---
Many thanks to our friends at
Sticky Situation Cacti
for the use of their photos. Please visit their site for live plants.
Also, check out our:
Succulent Plant seeds
Yucca Plant seeds
---
Most cacti seeds require light for germination. For maximum germination, we highly recommend using our VG07 Seedcover for tiny and pelleted seeds.
---
1A001 EASY GROW CACTI BULK MIXTURE ( Over 1,000 Seeds }
We have packaged together a wonderful selection of easy to germinate, easy to grow cacti seeds in a bulk package for cacti lovers everywhere. This package has over a thousand seeds and includes: Lemaireocereus thurberi, Lemaireocereus prunosis, Echinocactus ingens, Ferrocactus stainsii, Pilocereus palmeri, Saguaro, Pachycereus pringlei and engelmaniana. ( Seeds are mixed, not separated by species )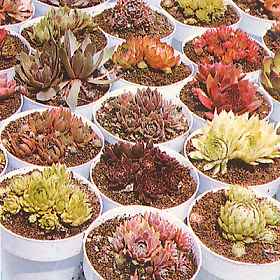 W257 Compact Forms Mix
A mix of many types of small, ornamental compact cactus, for use as pot plants. This mix changes often, so we do not list species, we are constantly trying to provide the most ornamental, compact varieties.