Thanksgiving Weekend Sale!
Save 25% on everything we offer from now to midnight Monday! Simply type in TK2015 ( case sensitive, no spaces ) into the coupon field of the shopping cart when you check out, and the discount will be applied. ( You must use the code in the coupon field to get the discount )
Christmas Cherry (Solanum Seed, Annual )
---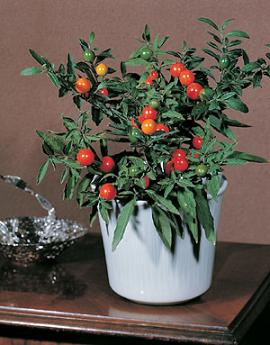 IM070 Christmas Cherry "Joker" ( Solanum pseudocapsicum )
Rare dark foliage, early yellow berries turn orange then red, grows 10" tall. Annual. Not Edible!
This item is currently out of stock, if you would like to be notified by E-mail when it becomes available again, simply enter your E-mail address in the field below and hit "Submit".