Thanksgiving/Small Business Saturday/Cyber Monday Weekend Sale!
Save 25% on everything we offer from now to midnight Monday! Simply type in TK2017 ( case sensitive, no spaces ) into the coupon field of the shopping cart when you check out, and the discount will be applied. ( You must use the code in the coupon field to get the discount, we cannot apply discount after order is placed )
Chaenorrhinum Seed ( Perennial )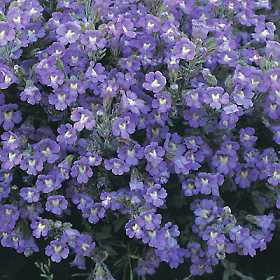 3540 Blue Eyes ( Chaenorrhinum origanifolium )
Compact mound, covered in mid blue flowers with white eyes, for small pots and bedding, grows about 18" tall, hardy to zone 6. Loves heat, blooms first year from seed.
Seedman Basic Info:
Very tiny seeds. Sow seed in cell packs or flats, press into soil and barely cover. Kept at 55-65°F. germination is in 21-40 days. Transplant into the garden 8-12 inches apart after all danger of frost.