Holiday Savings!
Now is the time to buy the perfect gift for the gardeners in your family. All of our items ( including Gift Certificates ) are discounted 20% from now to Christmas Day.
Our Gift Certificates never expire, and they make a wonderful quick gift that can be E-mailed to someone who loves gardening.
Simply type in XMAS2016 ( case sensitive, no spaces ) into the coupon field of the shopping cart when you check out, and the discount will be applied. ( You must use the code in the coupon field to get the discount )
Chaenorrhinum Seed ( Perennial )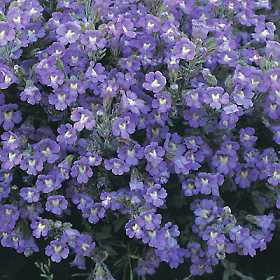 JF402 Blue Eyes Chaenorrhinum origanifolium
Compact mound, covered in mid blue flowers with white eyes, for small pots and bedding, grows about 18" tall, hardy to zone 6. Loves heat, blooms first year from seed.
Seedman Basic Info:
Sow seed in cell packs or flats, press into soil and barely cover. Kept at 55-65°F. germination is in 21-40 days. Transplant into the garden 8-12 inches apart after all danger of frost.