Citron Melon Seeds
This variety of watermelon was used in the 19th century for making preserves, candied citron, pies and more. The firm white flesh is not good for fresh eating but has many holiday uses in the kitchen.
These are rock hard and keep for months. Citron type melons are the ancestors to domestic watermelons and still grow wild in Africa. These are very easy to grow as they resist almost everything.
Huge vines; 10-lb. fruit have bright red seeds.
Useful gardening information
Sow seeds outdoors in 12" diameter hills after danger of frost has passed and soil has warmed.
Space hills 8' apart in all directions. Seeds will germinate in 4-10 days. Can also be started indoors 4 weeks before transplanting out. Watermelons love heat and prefer sandy or light-textured soils.
Links to useful information on the web:
Citron Recipes.
Five great citron recipes: Citron Melon Jam with Orange and Star Anise, Citron Melon Jam with Ginger and Lime, Candied Citron Melon, Citron Melon Mostarda and Vegan Mincemeat with Citron Melon and Apples.
---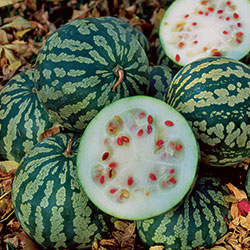 SF112 Citron Melon ( Citrullus lanatus )
Not your typical watermelon, white flesh is hard and tasteless when raw. Citron has been grown for centuries and used to make preserves, pickles, and "sweetmeats."
This variety has vivid red seeds and a light green rind with dark green stripes. Fruits can be stored for up to a year. Extremely productive, drought tolerant, and resilient. 90-100 days.
---
Share a growing tip or recipe and help other gardeners!

Click on the Contact Form link, place "Tip" in the name line and fill in your information. If we accept your Citron Melon growing tip or recipe, we will post it on this page.






Watermelon Fruit Blotch Disease
Watermelon Fruit Blotch Disease continues to be one of the risks of watermelon cultivation. We will sell you watermelon seed only if you are willing to take the total risk and full responsibility for any damages caused by Watermelon Fruit Blotch Disease.
The causal organism of Bacterial Fruit Blotch is Acidovorax Avenae Subs Citrulli. This bacteria may be seed borne, but infection may also occur from many types of secondary sources before or after planting. The most pronounced spread of Bacterial Fruit Blotch occurs in greenhouses, where optimal conditions for the spread of the disease occur.
In young seedlings, the disease can cause water soaked lesions to appear on the leaves of the plant, and in some cases on the stem as well. They will change, turn nektonic with yellow halos around the necrosis, possibly appearing on the leaves during any stage of plant growth. However, the real damage from this disease occurs after fruit set, when these lesions appear on the fruit. The fruit will begin to decay and make it unmarketable.
While Bacterial Fruit Blotch can be a devastating disease, early detection can help minimize losses. Research has shown that the early detection of the disease, followed with timely applications of copper based fungicides, can greatly reduce the spread and subsequent damage caused by the disease.
Too date, their is no way to prove if this disease is present in seeds, and their are many other possible sources for contamination.
Our seeds are from growers who have tested for this disease by growing isolation lots from seeds and inspecting for the disease, which is the only known way to test seeds for the disease at this time.
We have talked to many watermelon seed producers and it appears that this disease is almost always found from transplants grown in warm, humid greenhouses. If you can direct seed into the garden, rather than starting seedlings in the greenhouse, you should.
By purchasing our watermelon seed, you hereby release us from any and all liability for Watermelon Fruit Blotch Disease , under any and all legal theories. If giving us this release is unacceptable to you, then you must not purchase watermelon seeds from us. We will not accept fax or mail in orders for watermelon seeds.