Dill Seeds
Useful gardening information
Dill is an annual, self-seeding plant with feathery green leaves. It is used most commonly in soups, stews, and for pickling. Dill is easy to grow and attracts beneficial insects to your garden, such as wasps and other predatory insects.
Sow dill seeds about 1/4-inch deep and 18 inches apart in rich soil, then gently rake the seeds into the soil. The soil should be around 60 to 70°F for best results.
Dill does not grow well when transplanted, so start the seeds fresh in the garden in early summer. Make sure to shelter the plants from strong winds.
After 10 to 14 days, the plants should appear in the soil. Wait another 10 to 14 days, then thin the plants to about 12 to 18 inches apart.
In your garden, plant dill next to cabbage or onions, but keep the dill away from carrots.
Links to useful information on the web:
How to grow dill
---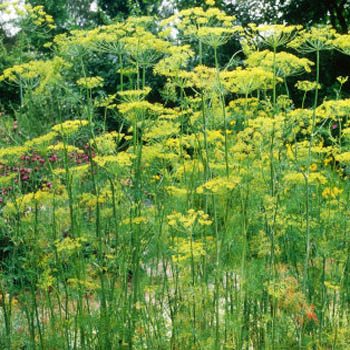 G040 Pickling Dill ( Anethum graveolens )
Dill is very easy to grow and is used to flavor pickles, salads, soups and more. To harvest Dill, cut flowering stems when in full bloom. Spread out to dry on trays. When dry, rub off flowers and stems and discard the stems. Store the flowers and stems in an airtight container until ready to use.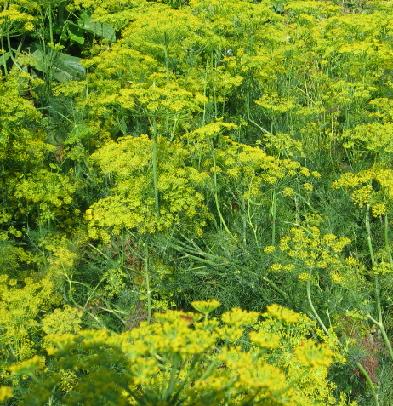 TRM484 Vierling Dill ( Anethum graveolens )
Deep, blue-green color and finely cut foliage. A good late flower strain for commercial leaf production; it is also used as a cut flower, as it produces attractive, light greenish flowers.
It's a great selection for dill seed. Both its foliage and seeds are touted to be extra fragrant and delicious.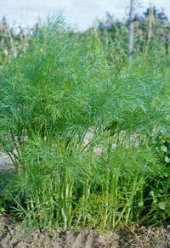 2265 Dill "SuperDukat" ( Anethum graveolens )
Maturity: 40-55 days to leaf harvest; 85-105 days to seed. High essential oil content for potent flavor. The flower heads are uniform in height and the plant is straight and clean for easier harvesting. A week later to flower than Bouquet. Edible flowers: break into florets and mix in cheese, omlets or soft cheese. Use whole heads in pickles.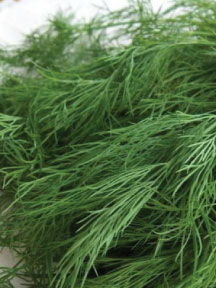 Dill "Mammoth" ( Anethum graveolens )
An old heirloom dill growing to 4' tall. A large vigorous plant with an abundance of feathery foliage and lots of seeds.
Note: The price of this item has been slashed to Ninety Five cents per pack! To order this and fifty other vegetable seed selections for only 95 cents per pack, please visit our GoodCentsVegetables Seed List.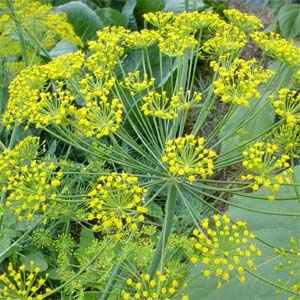 IP053 Seed-A-Plenty Dill Anethum graveolens
Wow! This dill plant is the best we have ever tried for harvesting lots of seeds for flavoring foods and pickling, early, high seed yield, nice aniseed flavor. Grows about 24" tall, can be started inside, or directly in the garden after frost.
---
Share a growing tip or recipe and help other gardeners!

Click on the Contact Form link, place "Tip" in the name line and fill in your information. If we accept your Dill growing tip or recipe, we will post it on this page.