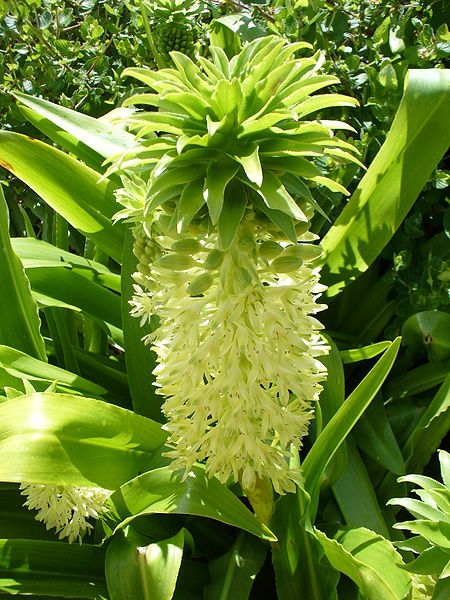 TRM925 Autumn Pineapple Lily ( Eucomis autumnalis )
A stunning, deciduous perennial that grows from an underground bulb and produces broad, light green leaves and a robust inflorescence densely set with greenish to white flowers and a terminal tuft of short leaves.
The plant (including the inflorescence) can grow up to 24 inches tall. The single inflorescence is a cylindrical raceme atop a stout stem, carrying more than 100 flowers, greenish-white in colour. The raceme is tipped with a tuft of leaf-like bracts, looking somewhat like the leaves on a pineapple top (the reason for the common name for this genus).
When the flowers have been fertilised, the flowers turn green, making the inflorescence decorative while the trilocular (three-chambered) fruit ripens to produce shiny black round seeds. Plant them in groups in the herbaceous border, in large pots, or in rockeries. The flowers last well, in the garden as well as the vase, and after flowering, the ripening fruit on the inflorescence are also decorative.
Easy to grow, these bulbs should be planted with their tops at ground level. They prefer a position of full sun (though they will tolerate partial shade), and prefer a rich and well composted soil. Adding well-rotted compost every spring and lots of water during the growing season will result in better flowering in the coming seasons. These plants are winter dormant, and frost hardy to Zone 9 or about 20°F.