Holiday Savings!
Now is the time to buy the perfect gift for the gardeners in your family. All of our items ( including Gift Certificates ) are discounted 20% from now to Christmas Day.
Our Gift Certificates never expire, and they make a wonderful quick gift that can be E-mailed to someone who loves gardening.
Simply type in XMAS2016 ( case sensitive, no spaces ) into the coupon field of the shopping cart when you check out, and the discount will be applied. ( You must use the code in the coupon field to get the discount )
Garland Chrysanthemum Seeds
---
A note from Jim:
Edible Garland Chrysanthemum, also called Shingiku in Japan and Choy Suy Green in old Chinatown, is an annual leafy plant. This vegetable grows very well in mild or slightly cold climates, but will go quickly into prematured flowering in warm summer conditions. Sow seeds in early spring and fall. Young leaves and stems are used for flavoring the soup and stir-fry.
---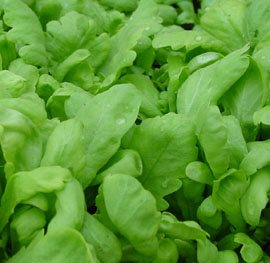 W201 Tiger Ear Garland Chrysantheum ( Chrysanthemum coronarium )
Tiger Ear is a variety native to Taiwan. Large and soft young leaves have relatively stronger aroma flavor than other varieties. This vegetable is very popular in Taiwanese stir-fry and soup cooking. Plants grow best in slightly cool climate, suitabe for spring and fall crops. Fast growing plants can be harvested at any growing stage.