Seeds for Ground Cover Plants

Important Note about starting Ground Cover Seeds: Ground Covers should be started as "plugs" inside in plug starting trays and then transplanted outside as plugs in order to establish a ground cover. You can use peat pots and peat pellets to start you plugs. You should not try to direct sow seeds outside, you will receive very poor results this way, and we will not warrant the seeds if this method is used, we will only warrant seeds if they are started as plugs.
---
Find your zone using your zipcode at Garden Web's Zone Finder.
---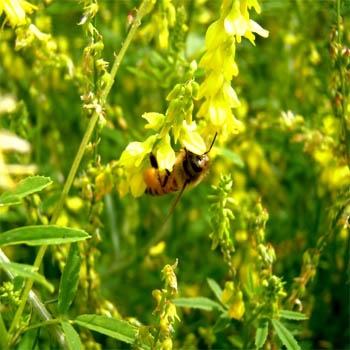 8SER61 Yellow Flowered Sweet Clover ( Melilotus Officinalis )
Sweet clovers are widely used as erosion controls, ground cover, forage, and honey production. Clover is a legume and has nitrogen fixing capabilities, thereby improving soils for other crops. The plant is a biennial and was introduced to the United States in the 1700s.
Biennial sweet clover thrives under a wide range of soil and climatic conditions. However, it will not tolerate acid soils. It is drought resistant, winter-hardy and productive throughout all 50 states.
1 pound will cover 1/10th of an acre.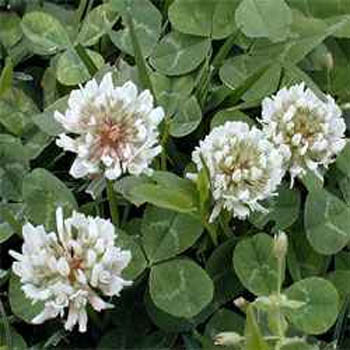 8SER73 White Dutch Clover ( Trifolium Repens )
A low growing perennial which can be sown into long season row crops during the season to provide a living mulch. Widely used for erosion control, ground cover, forage, and honey production.
Many homeowners include White Dutch clover in their lawn seed mixture because clover sprouts fast and grows so dependably that it's a valuable aid in getting a new lawn started. White dutch clover is the most popular clover seed for lawn alteratives, due to the fact it is cheaper than miniclover.
1 pound will cover 3,000 sqare feet.
---
The following seeds can be sown directly into soil and do not need to be "plugged". Wild Flower Mixes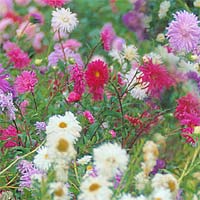 WF114 Sunburst Ground Cover Mix
Annual varieties in this mix have a spreading or mounding growth form which creates an even, 12-inch tall carpet of brilliant flowers in sunny hues.
Contains a mixture of:
*Candytuft, Rocket *Poppy, California Mixed Colors *Calendula *Marigold, French *Marigold, African *Alyssum, Sweet "Royal Carpet" *Petunia, Wild *Zinnia, Creeping
Alternative Lawn Mixes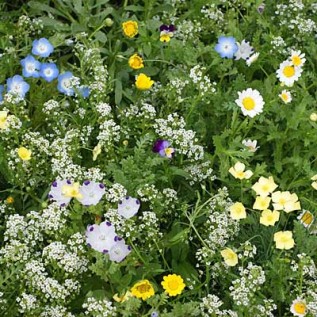 DMC007 Alternative Lawn Mix
This mixture was developed for use as a flowering lawn or low-growing ground cover. It is an attractive mixture of fine fescues, flowers and clovers and provides a colorful and diverse alternative to grass lawns.
Mix contains Baby Blue Eyes, Creeping Clover, Creeping Daisy, Dwarf California Poppy, English Daisy, Five-Spot, Johnny Jump-Up, Roman Chamomile, Sheep Fescue, Strawberry Clover, Sweet Alyssum, Wild Thyme and Yellow Daisy.
---
Wild Game Groundcovers
---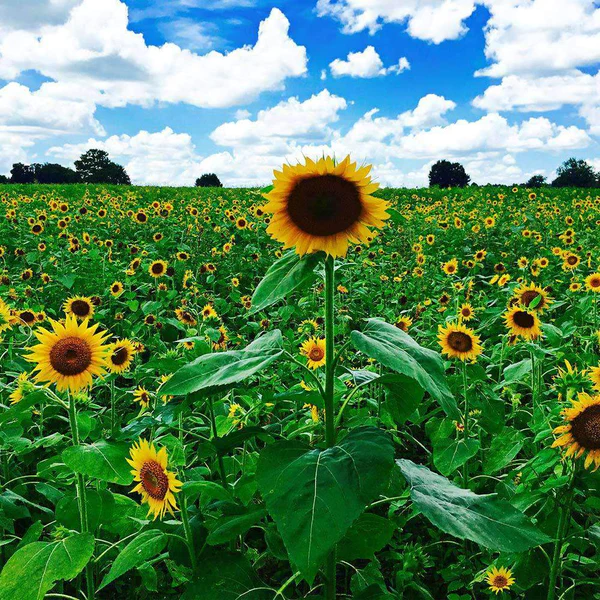 DCM002 Peredovik Sunflower
Frequently used in bird seed mixes and called 'black oil' sunflower seed. A fast growing sunflower producing lots of small seeds in a short period of time. This sunflower is excellent for dove, quail and deer. It reaches a mature height of 4' to 5' after only 12 weeks. This Russian cultivator has the additional benefit of producing small, black seeds that yield more oil than most other sunflowers. Excellent bird food crop. One pound bag will cover 1,800 square feet.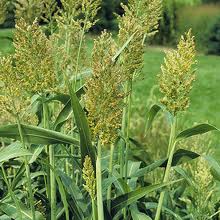 DCM003 Wild Game Sorghum
Wild game food sorghum is an early maturing sorghum reaching mid-bloom at about 40-50 days after emergence. It is bird-resistant which keeps migrating flocks of blackbirds from stripping it in late summer. A mature plant will be 26-30" tall with seed becoming marginally palatable at maturity. As it stands in the weather, it loses tannic acid and becomes more and more palatable through the fall. This sorghum makes excellent seed for all game birds, including quail, turkey, pheasants, doves and ducks. Deer will also feed heavily on the grain in fall and winter. One pound bag will cover 3,000 square feet.