Hyssop Seeds
This hardy perennial likes full sun and well-drained, alkaline soil. It is a bushy plant with woody stems and small leaves. Pollinators love Hyssop flowers, and in mid-summer there are many spikes of violet-blue flowers. Grow plants in the herb garden where they can be pruned into a nice hedge. It also grows well in window boxes and other containers.
Hyssop is a good expectorant and antiviral herb commonly used to treat respiratory conditions such as influenza, sinus infections, colds, and bronchitis. Most of its medicinal properties are attributed to the essential oil of hyssop. Hyssop oil can be diffused in a sickroom to help control germs and clear the air.
Useful gardening information
After danger of frost has passed, start seeds directly outdoors. Cover seeds lightly with soil and keep moist until germination. The plants require little maintenance except for pruning occasionally and removing the spent flower heads. Harvest just before the flowers begin to open. Tie bunches of stems together, hang upside down in a warm, well ventilated room. After drying, remove the leaves and flowers and store in airtight containers. Cut the plants back to 8 inches in the fall.
Links to useful information on the web:
Hyssop: Herb to Know
---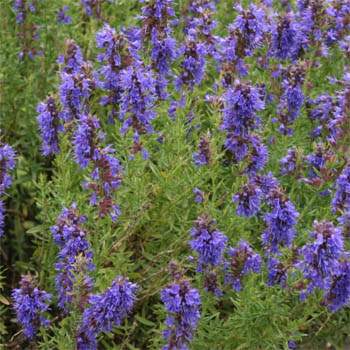 HR145 Hyssop ( Hyssopus officinalis )
The Hyssop herb is an aromatic plant, and the young leaves are somewhat bitter and minty in flavor. A widely used culinary herb, both the flowers and leaves are used in salads although the leaves are much stronger in flavor. It is also used to flavor pork, chicken, soups, teas and stuffing.
Hyssop is also considered to be a medicinal herb, with the oil obtained from the leaves used to make herbal baths and facials.
Hyssop is an excellent bee plant. Legend has it that beekeepers rubbed their hives with hyssop and other herbs to encourage bees to stay. Hyssop also attracts hummingbirds and butterflies; claims that it keeps cabbage butterflies away from crops or repels flea beetles have not been substantiated.
A perennial hardy growing about 24" tall in zones 3 to 10.
---
Share a growing tip or recipe and help other gardeners!

Click on the Contact Form link, place "Tip" in the name line and fill in your information. If we accept your Hyssop growing tip or recipe, we will post it on this page.