Iris Seeds
The word "iris" comes from Greek, meaning "rainbow." The mythical Iris of Greek legend personified the rainbow, acting as the messenger from heaven to earth. This flower also appears in ancient Egyptian sculpture and tradition, as a symbol of life and power. Native Americans and early settlers found a practical use for this plant, using the valuable fibers from the leaves to make ropes, nets, and string.
It's a magical time when irises unfurl their pencil-slim buds to reveal a kaleidoscope of color in spring. Once commonly called flags, these perennials flourish in USDA Zones 3-9, where winter temperatures dip below freezing and allow the plant to go dormant before next year's growth.
Useful gardening information
The distinctive flowers have three large outer petals called "falls" and three inner upright petals called "standards." The falls may have beards or crests. Bearded iris are so-called because they have soft hairs along the center of the falls. In crested iris, the hairs form a comb or ridge.
Most irises flower in early summer. Some, mostly bearded hybrids, are remontant, flowering again later in the summer.
Irises need at least half a day of sun and well-drained soil. Without enough sun, they won't bloom.
They prefer fertile, neutral to slightly acidic soil. If your soil is very acidic, sweeten it with a bit of lime, and forbear summer watering, which can lead to rot. Bearded irises must not be shaded by other plants; many do best in a special bed on their own.
Soil drainage is very important. Loosen the soil with a tiller or garden fork to a depth of 12 to 15 inches, then mix in a 2- to 4-inch layer of compost.
Links to useful information on the web:
How to grow Iris
---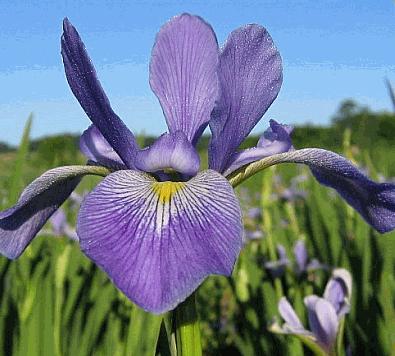 SF091 Northern Blue Flag Iris ( Iris versicolor )
The Northern Blue Flag is the most well-known of the native irises.
It is also kown as Dagger Flower, Water Iris, Liver Lily, and Harlequin Blue Flag. Grows 24-36 inches tall. Full Sun to Part Shade. Produces a plant with stiff, sword-shaped leaves and 3-4" pale to bright lavender blossoms with darker purple veins and white or yellow markings at the center.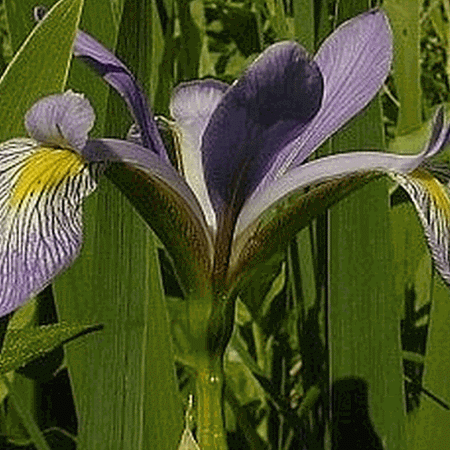 SF092 Southern Blue Flag Iris ( Iris virginica shrevei )
Bloom time is from late spring to early summer. The bloom color is somewhat variable but is most often a medium to pale blue violet. There is a yellow blotch on the lower sepal where it joins a small upper lip; a mark that helps to distinguish the flower from those of Iris versicolor, Northern Blue Flag Iris.
Sword-shaped medium green leaves can top 6 feet tall when grown in shallow water. This heat and moisture lover is native to coastal plains from Virginia to Louisiana. May be grown in a border if kept consistently moist.
Care: Provide full sun to part shade and moist to wet soil.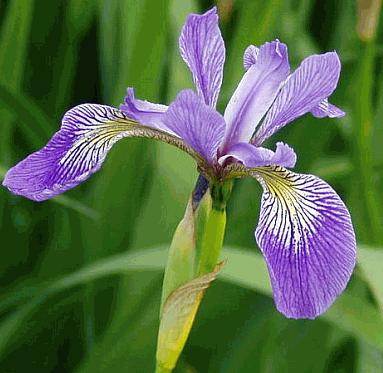 SF093 Wild Blue Iris ( Iris missouriensis )
Once established, these pretty blue flowers will spread rapidly through division of rhizomous bulbs. One to three flowers on sturdy stems are blue with white and purplish veins. The leaves are long, and strap-like. Keep these moist but not wet and out of pastures as the rhizomes are mildly toxic.
Also known as Rocky Mountain Iris, Blue Flag, Flag Lily, Water Flag, Dragon Flower Grows 12 to 24 inches.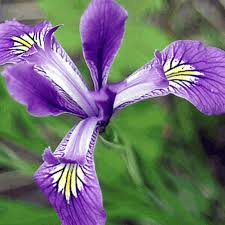 SF094 Oregon Iris ( Iris tenax )
Flowers are showy and range in colors from pale purple to white and creamy yellow. Flower stalks are usually shorter than the leaves, blooming between April and June.
Like most irises, it has large and showy flowers. The flowers bloom in mid to late spring and are usually lavender-blue to purple, but blooms in white, yellow, pink, and orchid shades are known to sometimes occur. The leaves are very slender for an iris, seldom over 5 mm broad; the plant is often mistaken for a type of grass when not in bloom. Its rhizomes spread slowly, causing the plant to grow in a tight clump.
---
Share a growing tip and help other gardeners!

Click on the Contact Form link, place "Tip" in the name line and fill in your information. If we accept your Iris growing tip, we will post it on this page.