Jack In The Pulpit Seeds
Jack-in-the-Pulpit is a perennial herb which grows in the moist under story in woodland habitats. It has one or two trifoliate leaves and flowers in the spring. Plants can remain vegetative or may produce a single male female inflorescence or clustered arrangement of flowers.
The inflorescence consists of a central spadex which holds the flowers surrounded by a tube with a hood or spathe on top. The spathe can range in color from green to purple.
The flowers are located at the base of the spadex. The spathe or hood acts as a "kettle trap" of pollinating insects. Male plants have a small hole at the bottom of the spathe.
Insects enter through the top and are drawn to the light (and pollen) at the bottom where they exit. Females do not have an escape route so once an insect enters through the top, there is a very small chance that it will find its way out.
Useful gardening information
To break its dormancy this seed needs a period of cold moisture, a period of warm moisture, followed by another period of cold moisture. Mix the seed with moist sand ( or use our
Cold Stratification Kits )
and store it in the refrigerator for 60 days, then move it to a 70-75 degrees F location for 30-60 days, followed by another 30-60 day period in the refrigerator before planting.
To accomplish this naturally, simply plant the seed in late fall and wait until the second spring after planting for germination.
In late fall or early spring, direct sow the treated seed 1/4" deep and 12-15" apart in rich, moist soil. Germination should take place within 14-20 days. This plant grows best in moist soil and dappled shade.
---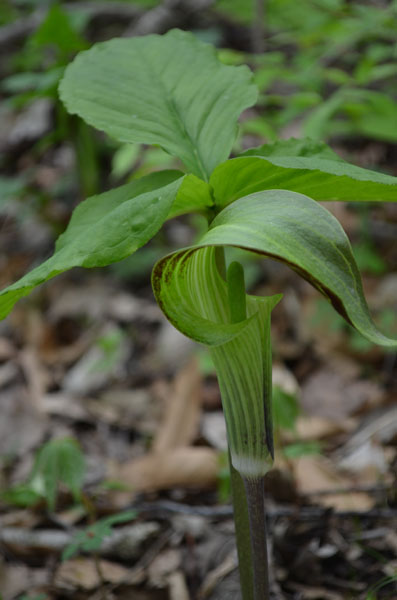 TRFRID007 Jack-in-the-Pulpit ( Arisaema triphyllum )
Jack-in-the-pulpit is an excellent woodland garden plant. It is easy to cultivate and requires very little care once established. It thrives under a variety of conditions, but grows most vigorously in moist, shady, seasonally wet locations. Deer will not eat this plant!
The "Jack," is the spongy cylindrical structure inside a leaf-like structure that is rolled into a deep cup with an overhanging roof, the "pulpit". The whole ensemble somewhat resembles a minister in an old-fashioned pulpit.
The fruit are smooth, shiny green, 1 cm wide berries clustered on the thickened spadix and ripen in late summer and fall, turning a bright red color before the plants go dormant.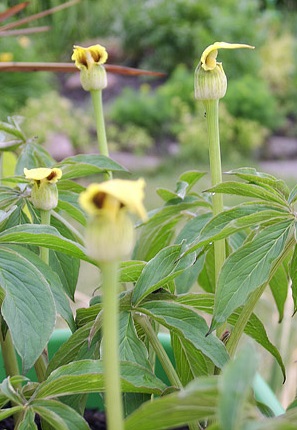 TRM810 Yellow Jack-in-the-pulpit ( Arisaema flavum )
This attractive small aroid has a huge distribution area from the highlands at the Horn of Africa through the mountains of Arabia and Afghanistan and the Himalayas to southern central China.
It sports palmate leaves and a pretty, yellow inflorescence followed by reddish fruits in autumn. In cultivation it does best in temperate climates in USDA Zones 7 to 9 but with heavy mulching can also grow in colder climates.
---
Share a growing tip or recipe and help other gardeners!

Click on the Contact Form link, place "Tip" in the name line and fill in your information. If we accept your Jack In The Pulpit growing tip or recipe, we will post it on this page.