Lavender Hyssop Seeds
The crushed leaves of Lavender Hyssop, also known as Anise Hyssop, have a fragrance of mint and licorice. The bright purple flowers and textured foliage make this an excellent choice for sunny prairies, open oak woodlands, and savannas. This pollinator favorite and butterfly magnet is an excellent addition in herb gardens, borders and perennial gardens. Agastache foeniculum is biennial, and self-sows readily on open soil.
Useful gardening information
Germination details:
Temperature: 68F
Average Germ Time: 14 - 21 days
Light Required: Yes
Depth: Do not cover the seed but tightly press into the soil
Sowing Rate: 2 - 3 seeds per plant
Moisture: Keep seeds moist until germination
Plant Spacing: 18 inches
---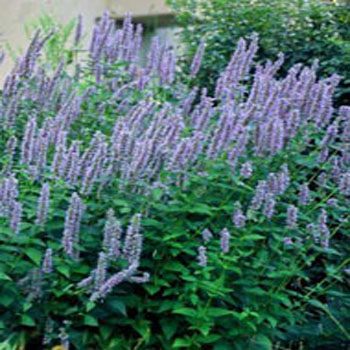 TPF173 Lavender Hyssop Agastache foeniculum
Attractive honey plant; produces abundant nectar which yields a light fragrant honey.
Strongly anise-scented, it is delightful for tea or as culinary seasoning.
Deer cannot stand the aromatic foliage.Beautiful, fragrant purple flowers growing 12-36" tall. Perennial. Zone 4-7.
---
Share a growing tip or recipe and help other gardeners!

Click on the Contact Form link, place "Tip" in the name line and fill in your information. If we accept your Lavender Hyssop growing tip or recipe, we will post it on this page.