Winter hardy to USDA Zone 7-10 where it is best grown in deep, moderately fertile, evenly moist, well-drained soils in full sun to part shade. Trees perform well in a variety of different soils as long as they are well-drained. Trees perform much better in Mediterranean-type climates with mild summers than in climates with hot summers.
This is an interesting and unusual ornamental landscape specimen. Monkey puzzle tree does not generally perform as well indoors as a houseplant as does Araucaria heterophylla, commonly known as Norfolk island pine, however it does very well in containers when young and makes a great patio plant in cooler zones. In winter in colder zones, bring inside and place plants where they will receive bright indirect sunlight, and mist foliage regularly.
Monkey puzzle tree (also commonly called Chilian pine) is an evergreen conifer that is native to woodland volcanic slopes up to 6,000 feet in elevation in the Andes Mountains in Chile and Argentina. It is the national tree of Chile. It reportedly has the best winter hardiness of any tree native to areas in the world south of the equator.
It typically grows to 20-30' tall in cultivation, but may reach 90-130' tall in its native habitat. It is noted for its unique shape. Trees are loose-pyramidal and open when young, but develop an umbrella-like crown with loss of lower branches as they age. Horizontal, upward-arching branches appear in whorls around the trunk with rope-like branchlets. Bark is gray-brown and ridged. Dense, leathery, triangular, radially-arranged leaves (to 2" long) have sharp points. Individual leaves persist for 10 to 15 years. Trees are dioecious (separate male and female trees).
Female cones (to 6" long) take 2-3 years to mature, disintegrating at maturity to release the nut-like seeds (each to 1 1/2" long). Seeds (pinones) are edible and reminiscent of pine nuts.
Common name reportedly comes from a comment made in England in the mid-1800s where an observer of a specimen tree growing in Cornwall remarked that it would puzzle a monkey to climb that tree.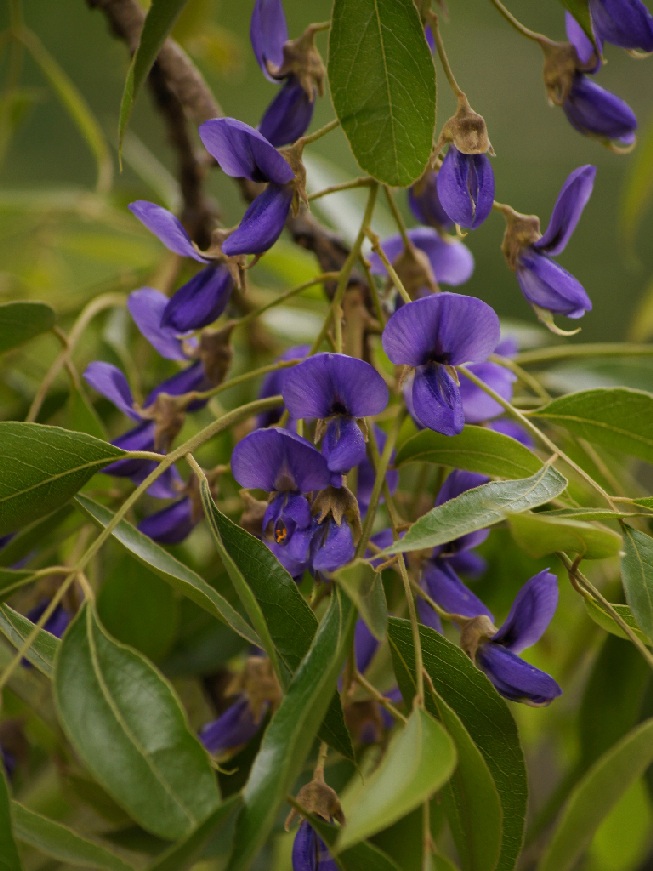 3451 African Wisteria Tree ( Bolusanthus speciousus )
In full bloom, Bolusanthus speciosus creates a display of unequalled splendor. This spectacular small to medium sized tree with graceful drooping branches, covers itself with trusses of fragrant, violet-blue flowers throughout spring and early summer.
Although it is deciduous, the Tree wisteria is only without leaves for a short time in early spring. The conspicuous dark, brownish black trunk, offsets the light green leaves and the magnificent flowers to perfection.
It is a protected species in South Africa which means that no wild specimens may be damaged, cut down or removed.
The unsurpassed beauty of the Tree wisteria as well as the non invasive root system makes this one of the most successful garden trees. Bolusanthus speciosus is perfect for enhancing any area where space is at a premium and is the perfect choice for townhouse gardens. This magnificent tree looks stunning in a mixed border to add colour and height or as a single specimen on a lawn or alongside a patio.
When planted in a group of 3 or 5 the effect is superb while an avenue of these lovely trees along a driveway or street is always a showstopper. When planted in large pots the Tree wisteria creates a stunning focal point for patios and paved areas. This tree is very popular with Bonsai enthusiasts.
The beautiful, hard wood of Bolusanthus speciosus is used to make excellent quality furniture and household articles. Being termite resistant, the straight stems are used for fence posts. Both the roots and parts of the bark are used medicinally to treat ailments such as various stomach problems and abdominal cramps.
Winter Hardiness: 25-30°F
This item is currently out of stock, if you would like to be notified by E-mail when it becomes available again, simply enter your E-mail address in the field below and hit "Submit".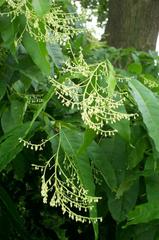 TRM539 Lily of the Valley Tree ( Oxydendrum arboreum )
Also known as Sorrelwood and Sourwood. The Lily of the Valley tree is one of the most beautiful and unusual trees. Masses of fragrant urn-shaped flowers in drooping clusters followed by an excellent contrast of brilliant red fall leaf color and long white seed pods.The LOTV is a deciduous, medium sized tree that grows to heights of 30 to 60 feet. The tree has a slender pyramid form often with a curved or leaning trunk. In spring and early summer the LOTV changes almost overnight from a pretty green shade tree into a white cloud of thousands of fragrant Lily of the Valley like flowers. Due to the similarity of the flowers and its fragrance, this tree is also commonly called the Lily of the Valley tree.
It holds its fragrant white flowers against lustrous foliage for almost a whole month and creates quite a show. When in bloom the honeybee will seek out the trees' abundant white flowers that it uses to create a delicious treat. Superior quality LOTV honey is produced from the flowers pollen. Then the first frost causes the whole tree to turn to a brilliant flaming or crimson red which is rivaled by only a few other trees. There are few sights that are as striking as a row of LOTV in fall color.
Site Requirements/ Soil tolerances: Best grown in acidic, moist, organically rich, well-drained soils in full sun but is adaptable. Tolerates part shade, but with somewhat diminished flowering and fall color. Intolerant of drought and pollution.
Culture: Difficult to transplant. Young or recently moved trees lack full cold hardiness in zone 5. Uses: Beautiful small specimen flowering tree with multi-season interest for lawns, patios, shade gardens or open woodland areas. Plant with azaleas and rhododendrons or other plants that share the same acidic soil preferences. Zones 5-9. Tiny seeds can be somewhat difficult to germinate.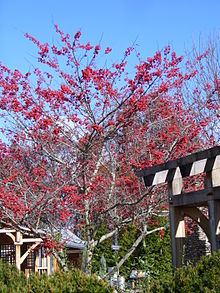 E3161 Winter King Hawthorn ( Crataegus viridis Winter King )
This cultivar is one of the best hawthorns for landscape purposes and features color throughout the year.
A small deciduous tree with a rounded, vase-shaped habit which typically grows 25-35' tall. In spring, it features profuse white flowers in 2" diameter clusters that cover the plant with a dazzling white showcase that can be seen from a distance. After the flowering has finished, it features toothed, elliptic, glossy green leaves which turn red to purplish red in fall.
The small, crabapple-like fruits about one third inch diameter mature in fall to a bright red and persist throughout the winter. In late fall, hawthorns are typically covered in the bright red or orange fruit, and since they are not particularly tasty to birds until late winter, gardeners are able to enjoy the fruit throughout most of the winter season adding color to the winter landscape.
Fruits are edible, but are best left for the birds. Stems are an attractive silver-gray. The bark of older trunks often exfoliates to expose an orangish-brown inner bark, again adding color in winter to contrast with the berries.
Unlike most hawthorns, this is largely spineless, with only occasional small thorns.
Zones 4-8.
Note: These seeds need to be cold statified before sowing. We recommend using the Seedman's Cold Stratification Kits for cold stratification.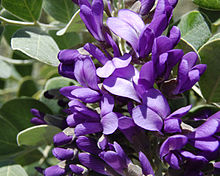 AW41 Mescal Bean Tree ( Sophora secundiflora )
Also known as Texas Mountain Laurel, this is a small North American native evergreen, growing 15- to 25-feet-tall with a 10-foot-spread but is capable of reaching up to 50-feet-tall in its native habitat.
It has a narrow upright silhouette and dense foliage which lends itself well to being pruned into a tree form. Texas mountain laurel can be used as a specimen, patio, or street tree and is ideal for use as a screen, bank cover, or an espalier. The 2-inch-long, dark green leaves are glossy, thick, and leathery.
In spring, Texas mountain laurel is a beautiful sight as it displays its dense, 2- to 5-inch-long, pendulous clusters of purple/blue, extremely fragrant flowers.
The extremely fragrant purple flowers, resembling the smell of grape soda, are produced in large clusters in March and April.
The hairy seedpods which follow are 8-inches-long and ripen to reveal the inner, bright red seeds. These seeds are quite decorative and have been used to make necklaces but they are also poisonous. The fissured bark is dark gray to black.
Hardy for zones 7b-10.
We are not sure where the name mescal bean tree comes from, the beans were in fact once used by some native American tribes as a hallucinogen, before being supplanted by peyote. This plant does not contain any mescaline, however; all parts of it are highly poisonous, due to the principal alkaloid cytisine, which is chemically related to nicotine.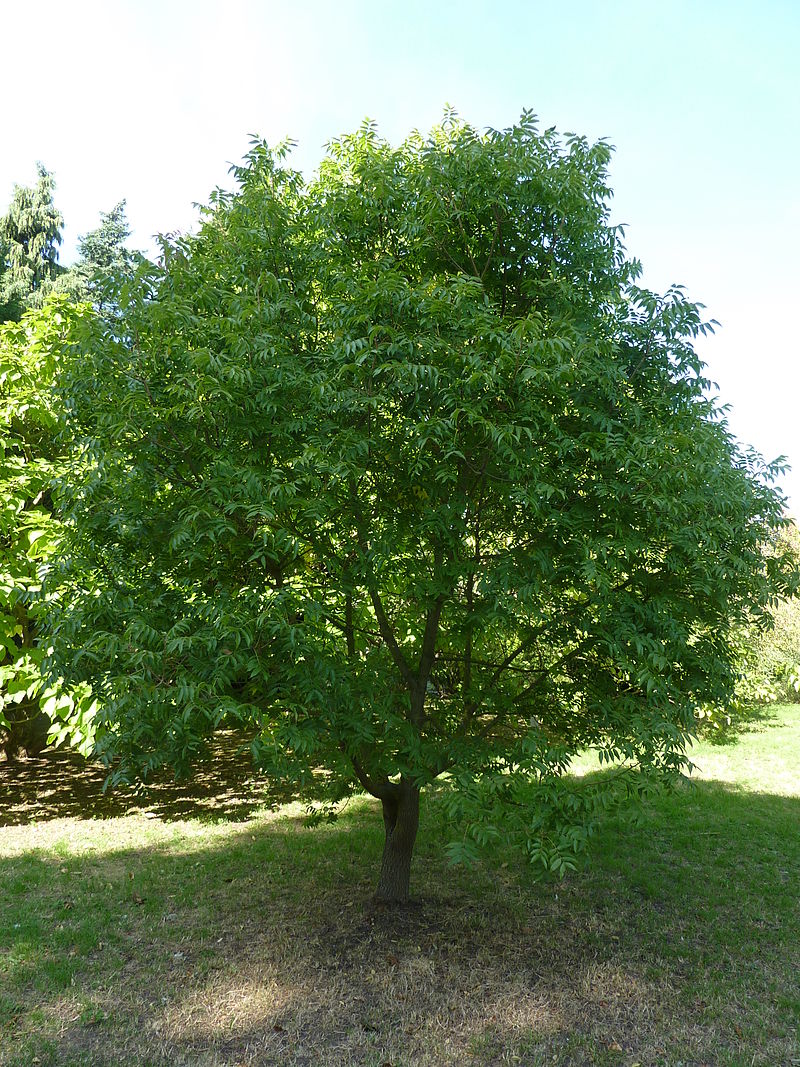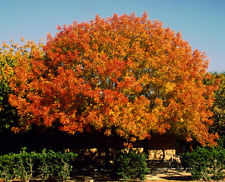 IP131 Chinese Pistache ( Pistacia chinensis )
This is a wonderful lawn and street tree that features easy starting, fast grown and little care.
Chinese pistache has moderate growth and is relatively long-lived. It tolerates many soil types and water conditions, even poor alkaline soils and nearby lawns as long as the soil is well-drained. Its deep, non-aggressive roots make it a sturdy tree in the wind and a safe selection near patios and sidewalks.
Rather slender looking when young, as it matures, it develops a rounded crown with an umbrella-like canopy.
Not only is an established Chinese pistache heat and drought-tolerant, it is winter-hardy to 20°F and it is pest and fire resistant.
While its leaves are lightly fragrant and an attractive dark green during the summer, its primary season of interest is the fall when those leaves turn brilliant colors that rival any other autumn foliage. You can use it as a single specimen planting, or, if you have a long driveway, lining one or both sides with pistache will result in a spectacular display.
While related to the pistachio tree, this species does not produce nuts. However, if a male Chinese pistache is planted nearby ( seeds produce both female and male plants, but you do not know which is which till they bloom ), the female tree can develop clumps of ornamental, inedible bright red berries in fall, which turn blue-purple in winter. The berries are a source of food for birds.
For zones 6-10.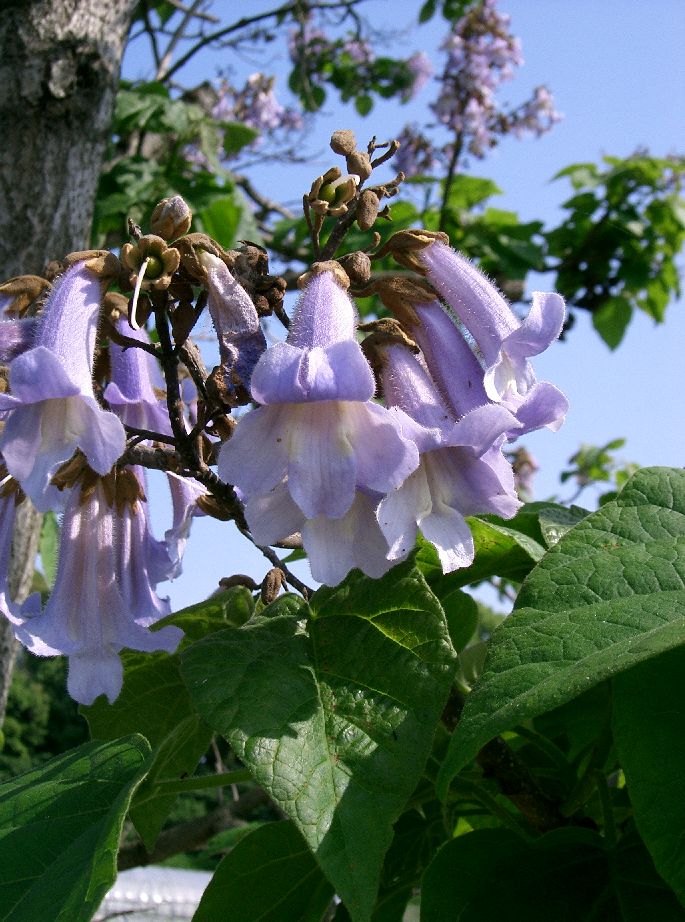 D2921 Princess Tree ( Paulowinia )
A wonderful lawn tree that can be grown almost anywhere as it will tolerate extreme temperature ranges from -10 to 110 degrees°F.
Large clusters of fragrant violet flowers in some seasons plus large exotic leaves. Amazing growth rate, a single shoot will often reach up to 8ft in a season.
The wood is easy to work with and suitable for the manufacture of furniture, plywood, moldings, doors and many other uses. The flowers are colorful and beautiful in spring and the trees are green and shady in summer.
Paulownia Trees are drought resistant once established. Their roots tend to go deep into the ground in search of water, rather than on the surface. This makes planting around the tree easy and makes it friendlier to nearby walkways or fixtures.
TRZ022 Bronze Loquat ( Eriobotrya deflexa )
Here is a lovely tree that has everything going for it, everything that is except cold hardiness. This is one of the more tropical loquats and is even more limited in range than its better known cousin, the Japanese loquat, or Eriobotrya japonica. But the lack of cold tolerance may not be too big of a problem if it is kept in mind that Bronze loquat is small enough for pot culture or could be accommodated in most greenhouses and its assets are so excellent that its more than worth the extra effort. And for those who live in warm weather areas such as the southern USA, then this is a must-have garden treasure.
Bronze loquat has a neat habit and compact growth making it an ideal specimen or patio tree, or even street tree since it can be grown beneath power lines. It also blends well into a shrub border and can be espaliered against a south facing wall.
Bronze loquat only reaches a height of 15 to 20 feet with a 10 to 15 foot spread if grown in full sun. Its chief asset is the large, heavily textured, evergreen leaves, which, when emerging in spring, are bright red-bronze and burnished copper. And they maintain this color for a considerable period of time before eventually turning a rich dark green for summer.
In addition to the striking foliar display there are small, white flowers, produced on showy panicles in spring. The flowers are also fragrant and will perfume your garden for weeks. These are followed by small fruits, similar to the Japanese loquat but not as palatable, though the wildlife will appreciate them.
Bronze loquat should be well watered until established, but can then survive periodic droughts. It should not be over fertilized since this may increase the risk of fire blight. Other than that it is quite healthy and maintenance free. It is a great choice for warm winter areas or the conservatory.
Zones 9-11.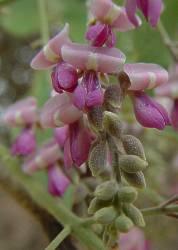 TRM537 Apple Leaf Tree ( Philenoptera violacea )
Philenoptera violacea is a medium to large-sized, deciduous to semi-deciduous tree up to 40 feet tall with a wide-spreading, dense and rounded crown. Main stem is tall, straight and bare but invariably bent and twisted. Bark grey and flaking on older branches and stem, but smooth, light grey and covered with dense hairs on younger branches, exuding a sticky red sap when cut.
Flowers scattered, usually borne in dense terminal sprays at the tips of the branches, varying in color from white and pink to bluish-pink, mauve or deep violet, and are sweet-scented. The tree is a good garden subject owing to its graceful habit, pale foliage and beautiful flowers. Although it grows slowly, it is an interesting ornate tree which gives a stunning display when in flower.
Will tolerate light frosts.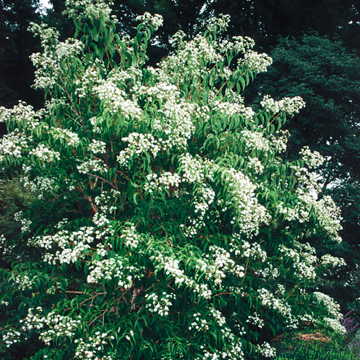 TRM549 Seven Sons ( Heptacodium miconioides )
Heptacodium miconioides is a large, fountain-shaped, multi-stemmed, deciduous shrub that typically grows 15-20' at maturity with a 10' spread.
Native to China, is rare and may no longer exist in the wild. However, it has somewhat recently become available in commerce and is increasing in popularity as an ornamental shrub, though it may be difficult to find.
May also be trained as a single-trunk tree. Features terminal clusters of fragrant, creamy-white flowers in late summer to early fall. Flowers appear in whorls within each branched cluster, with each whorl containing 7 tiny flowers (hence the common name of seven-son flower).
Flowers are followed in fall by an equally showy (if not showier) display: small, purplish-red fruits (1/2-inch-long drupes) crowned by five very showy, sepal-like rose calyces which elongate after bloom and last into late fall. Tan bark exfoliates to reveal attractive brown inner bark, which provides good winter interest. Leaves are narrow, shiny, ovate-oblong and medium-green. It is a good source of nectar for butterflies in the fall.
For zones 5-9.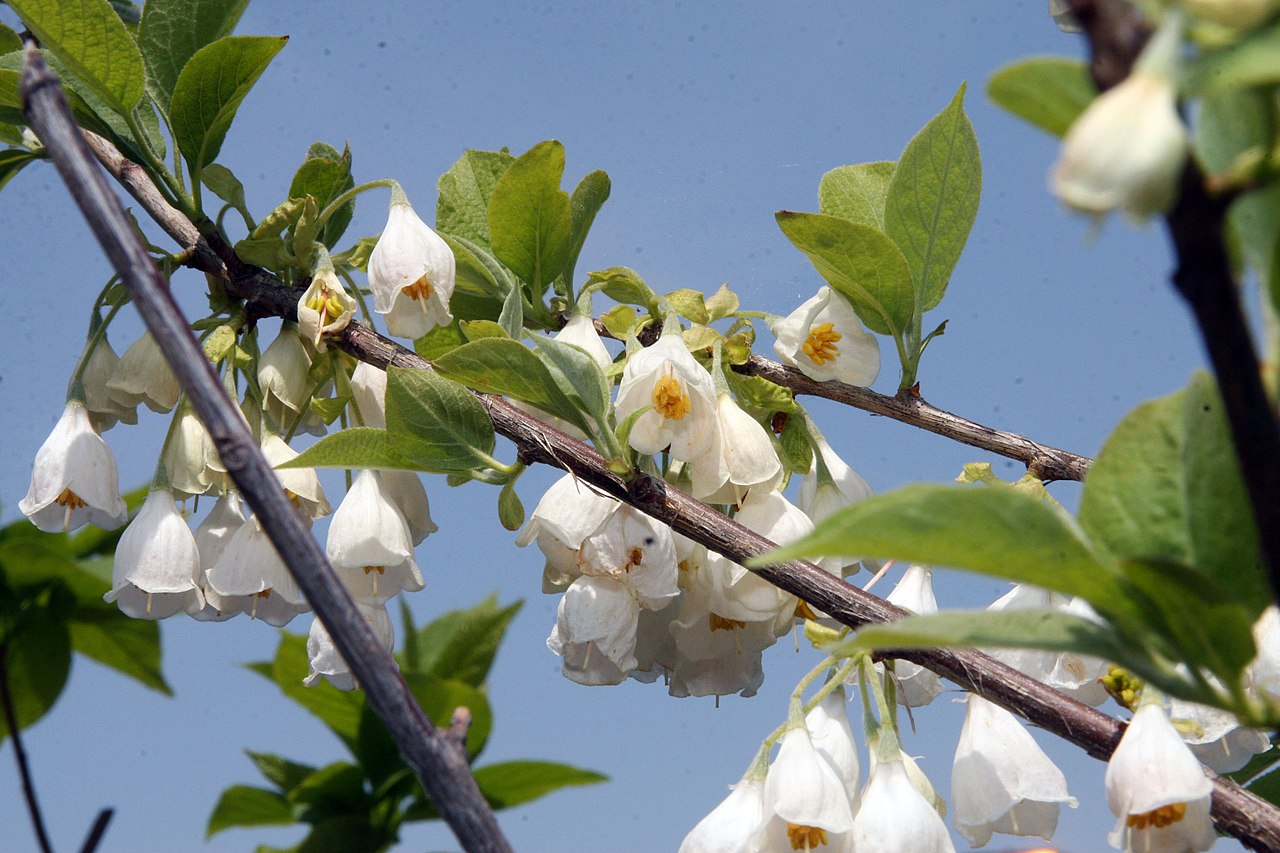 AW36 Carolina Silverbells ( Halesia carolina )
A nice addition to any lawn, this flowering shrub features interesting bark, is a native plant, has showy flowers, and showy seed heads.
Attractive, small tree or large shrub for the shrub border or woodland garden. Interesting specimen for the lawn. Grows well with rhododendrons and azaleas.
Easily grown in average, medium, well-drained soil in full sun to part shade. Prefers moist, acidic, organically rich soils in part shade. May be grown as a large, multi-stemmed shrub or trained as single trunk tree. Zones 4-8.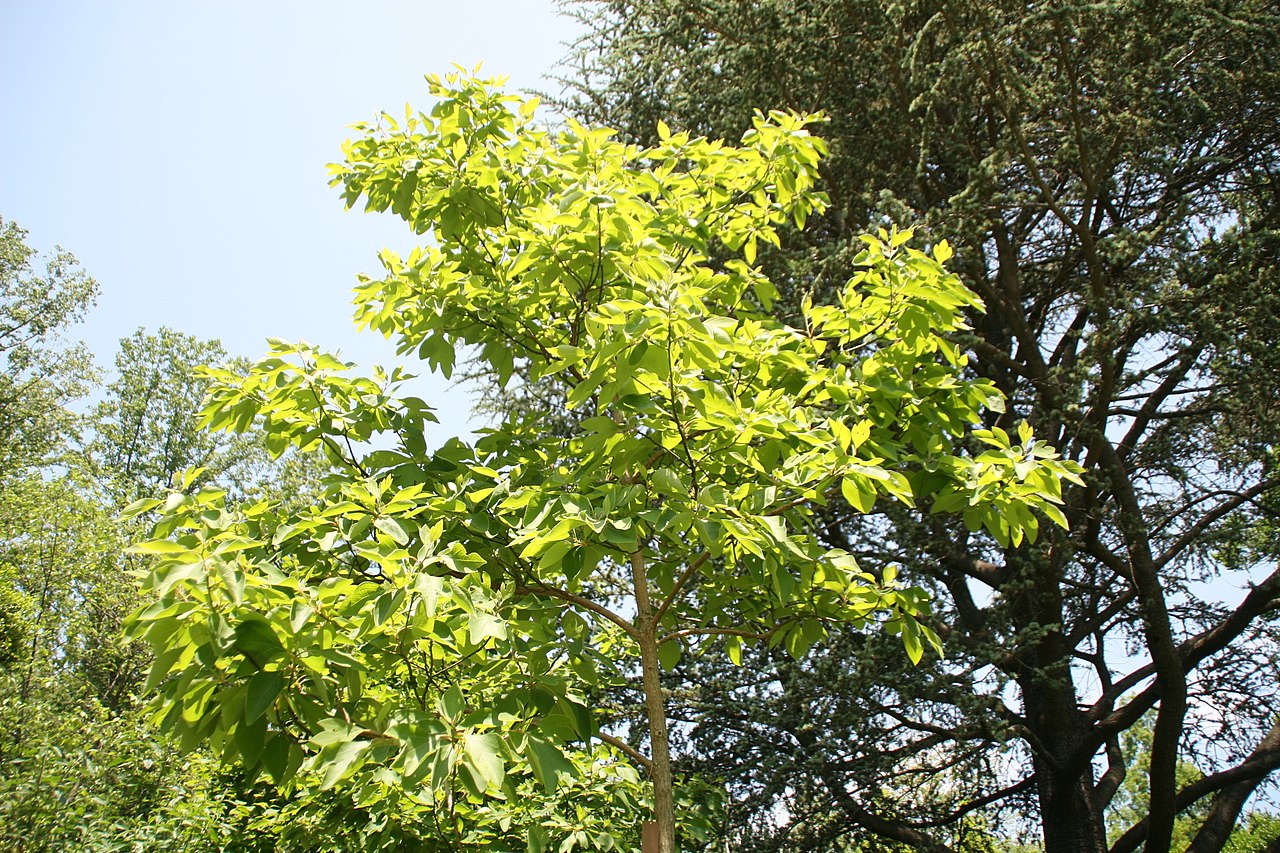 RLP128 Sassafras ( Sassafras albidum )
An ornamental, small to medium-sized deciduous tree which occurs in wood margins, fence rows, fields, thickets and roadsides. Shrubby in youth, but matures to a dense, pyramidal tree up to 60' tall.
Spreads by root suckers to form large colonies in the wild. All of the trees in a colony may rise from the same parent. Dioecious (separate male and female trees). Attractive, greenish-yellow flowers appear in clusters at the branch ends in spring. Flowers on female trees (if pollinated) give way to small pendant clusters of bluish-black berries (drupes) which are borne in scarlet cup-like receptacles on scarlet stalks (pedicils). Fruits mature in September.
Variable, 4-7" long leaves in three shapes (ovate, mitten-shaped and three-lobed) are bright green above and glaucous (albidum meaning white) below. Excellent yellow, purple and red fall color.
If you tear or crush the leaves, they smell like root beer.
To Native Americans, sassafras oils were freely used in tonics as medical panaceas. Culinary uses have included: sassafras tea (bark), root beer flavoring (root oil) and a gumbo-thickening agent called file (stem pith).
More recently, sassafras oils have been determined to contain a carcinogenic substance (safrole) and many of the former uses for the oils are now banned by the U.S. Food and Drug Administration.
Excellent for naturalized plantings or screens where they are given lots of space to colonize. Also can be grown as lawn specimens. Zones 4-9.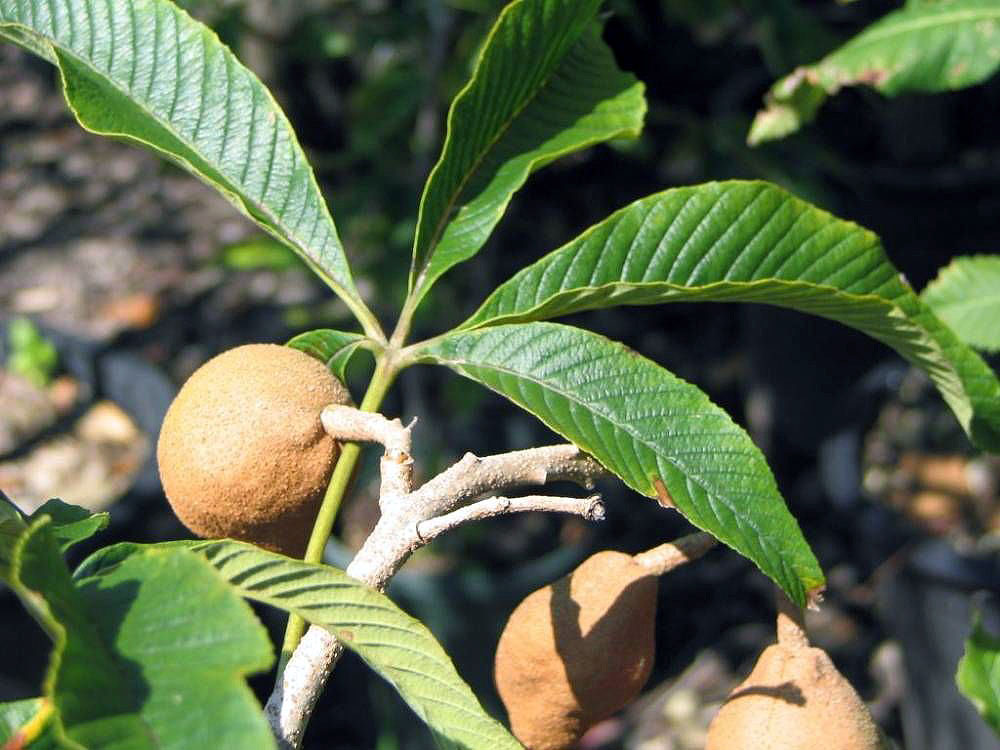 FDR104 Red Buckeye ( Aesculus pavia )
Also known as the Firecracker Plant and Lucky Nut Plant. This is a fine plant for naturalizing in moist soils and where there is some shade. When grouped or massed in light shade provided by pines the effect can be spectacular.
With an attractive springtime display of showy, deep red flowers, this tall shrub or small tree is quite a delight to many hummingbirds. Drooping, large 3"-6" dark green leaves emerge in early spring before oaks and maples show any sign of life. This plant is for the eagerly desirous as it has a tendency to bloom when it is just 3 feet tall. Likes moist, well-drained soil and partial shade to full sun. Grows 10'-20' high with an equal or larger spread. Makes a great specimen tree.
The flowers are attractive to hummingbirds as well as bees. The fruits are rich in saponins, which are poisonous to humans, though not particularly dangerous because they are not easily ingested. The oils can be extracted to make soap, though this is not commercially viable.
It is reported that the Cherokees used to carry the buckeye nut around for good luck and to prevent rheumatism.
USDA zones 5-9.
This item is currently out of stock, if you would like to be notified by E-mail when it becomes available again, simply enter your E-mail address in the field below and hit "Submit".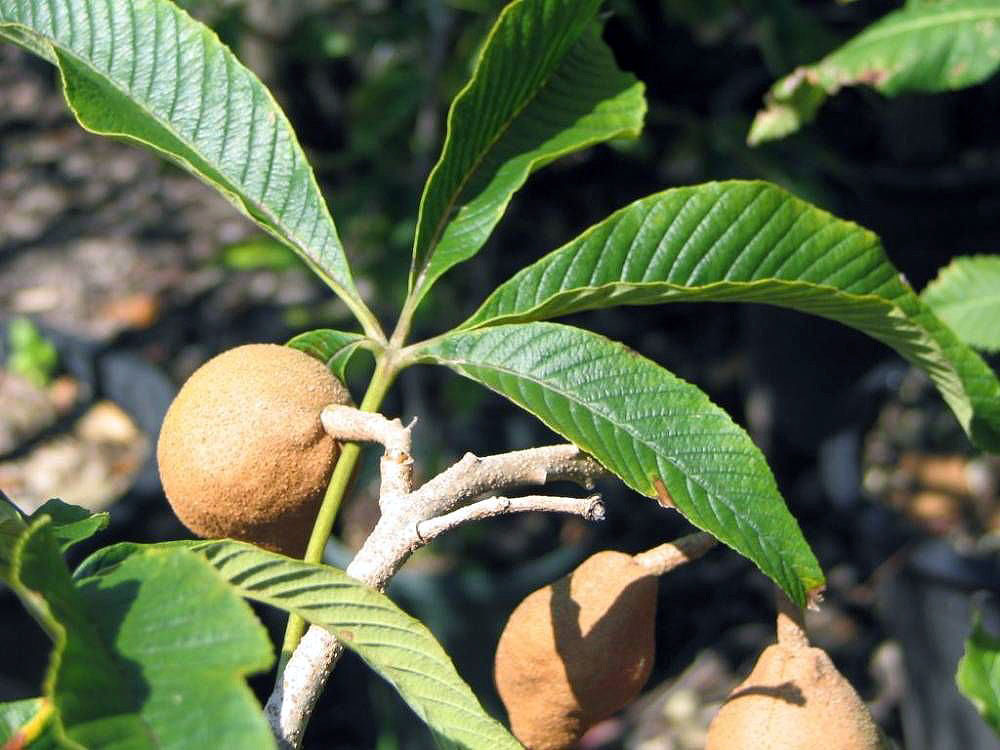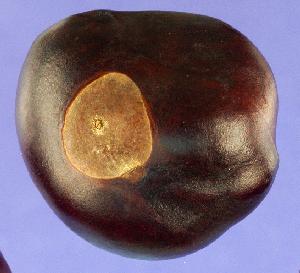 FDR105 Ohio Buckeye ( Aesculus pavia )
The state tree of Ohio. A nice specimen tree growing 20-40 feet tall and wide when mature. Dark green leaves colors and defoliates early in fall with color ranges from yellow to red-brown; usually pumpkin orange. Fragrant flowers in spring. Native Americans reportedly called the fruit of this tree "hetuck" meaning eye-of-the-buck in reference to the supposed resemblance of the shiny dark mahogany brown fruit to the eye of a buck deer. The common name of buckeye evolved therefrom. Ohio buckeye is native from western Pennsylvania to Iowa south to Alabama and Arkansas.

The fruits are rich in saponins, which are poisonous to humans, though not particularly dangerous because they are not easily ingested. Squirrels love them and will quickly gather the nuts as soon as they fall.
USDA zones 3-7.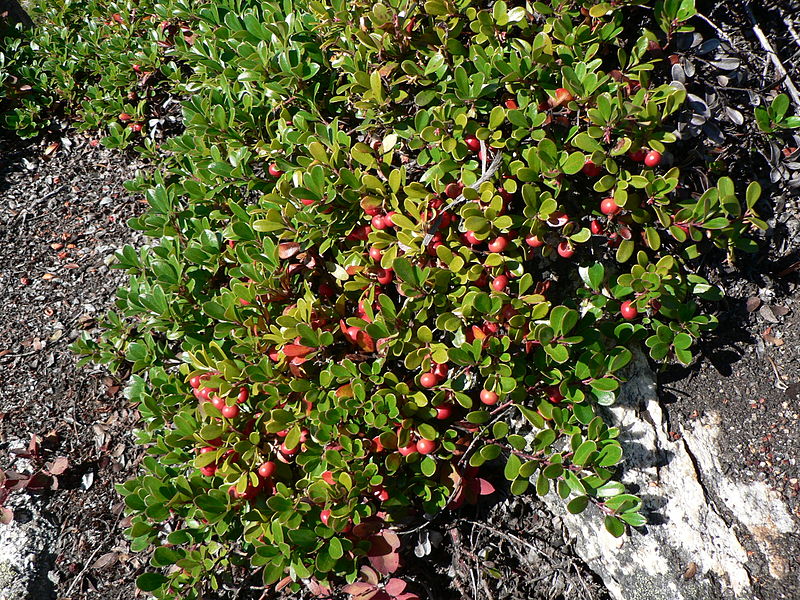 H039 Bearberry ( Arctostaphylos urva ursi )
A perennial shrub for zones 2-6. An excellent, slow-growing, evergreen ground cover which provides year round interest. Can provide good erosion protection for slopes and hillsides. Good with azaleas. Green leaves and red berries are often used for Christmas decorations.
A winter hardy, prostrate, slow-growing, evergreen shrub or ground cover that will typically grow to 6-12" high and 3-6' wide. Over time, and in the proper environment, bearberry can spread (by stem rooting) to cover a very large area of up to 15' in diameter. Features reddish-gray, peeling bark and small, lustrous, dark green leaves (turning reddish brown in winter). Nodding racemes of white, heather-like flowers with a pink tinge appear in April-May. Flowers give rise to bright red fruits which last from August through the winter. The fruits are readily eaten by birds, but are not recommended for human consumption.
Species name of uva-ursi means bear's grape in reference to the fact that bears (as well as birds and rodents) feed on the fruits of this species in the wild.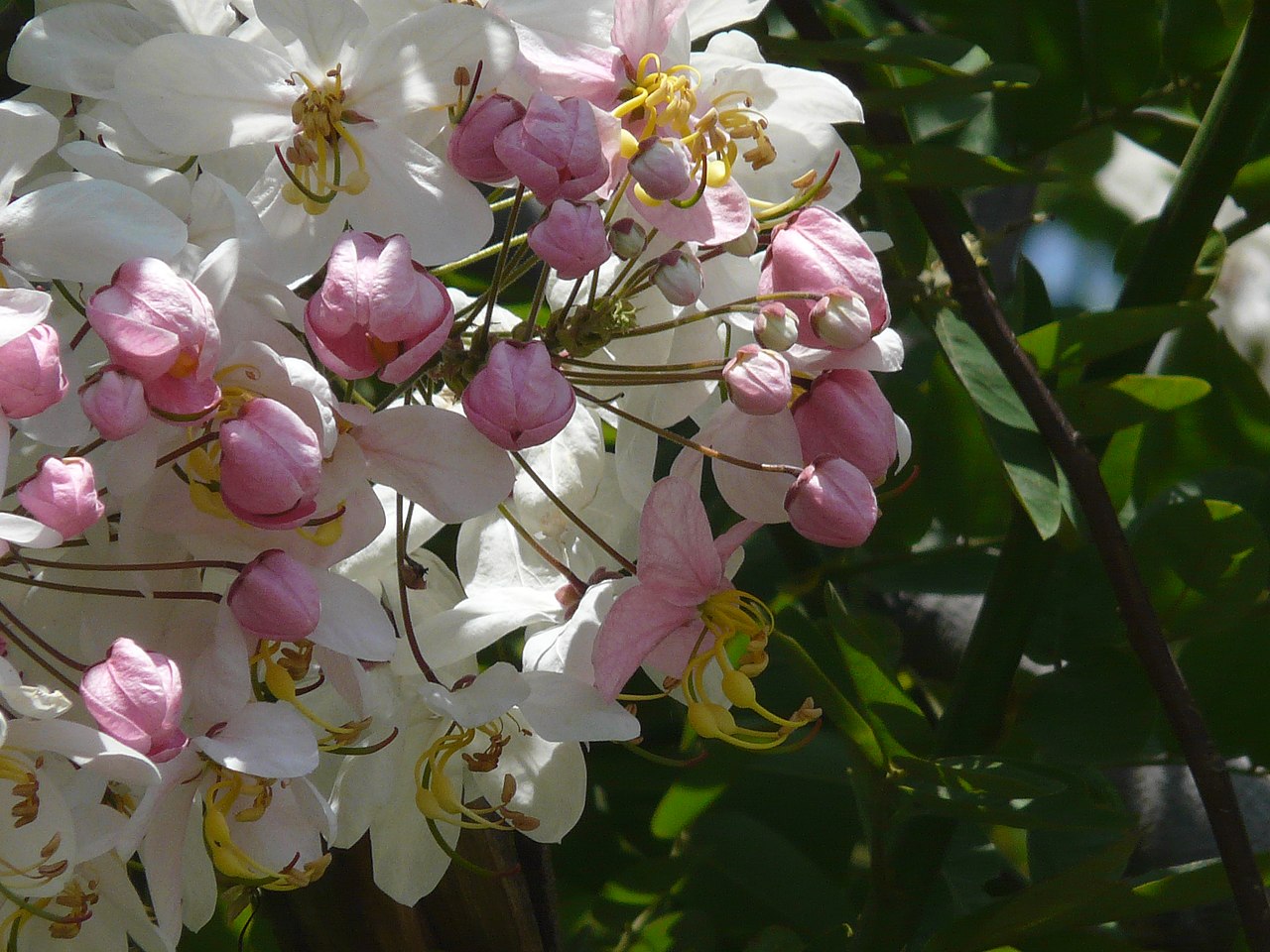 RLP115 Pink Shower Tree ( Cassia grandis )
The Pink Shower Tree can be grown best in zones 10-11 or any frost free areas. Cassia Grandis can be grown in most gardens where it is frost free, or if protected from freezing.
Cassia Grandis is a shapely, lovely small, medium to large canopy tree The size will depend on where and how you cultivate it. with blooms of pink and white that will completely cover the tree when in bloom. In zones 10 and up, where it is hardy, the tree often explodes into flower after the first rains of spring arrive. It can reach 50 feet tall and is a medium to fast growing tree.
This item is currently out of stock, if you would like to be notified by E-mail when it becomes available again, simply enter your E-mail address in the field below and hit "Submit".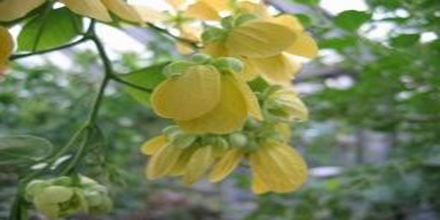 RLP116 Yellow Shower Tree ( Cassia fruiticosa )
A yellow version of the famous Pink Shower Tree can be grown best in zones 10-11 or any frost free areas. Can be grown in most gardens where it is frost free, or if protected from freezing.
A shapely, lovely small, medium to large canopy tree The size will depend on where and how you cultivate it. with cascading blooms of white to yellow that will completely cover the tree when in bloom. In zones 10 and up, where it is hardy, the tree often explodes into flower after the first rains of spring arrive. It can reach 40 feet tall and is a medium to fast growing tree.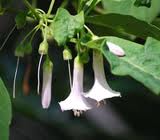 TRM067 Mini Angel's Trumpet ( Iochroma australe )
A rare plant, it is cultivated as an ornamental and can be found in a few botanical gardens.A small shrub, generally to 3-6ft, sometimes to 10ft. Flowers are borne in clusters of up to 6-12 and sometimes more. Flowers grow to about 2-3", are snow-white in color and can remain on the branches for a while. Flowering may occur for much of the warmer months. There are blue and violet colored types as well.
Cold hardy to 24 degrees.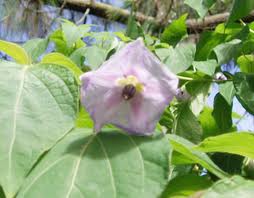 TRM068 Lilac Lycianthes ( Lycianthes quichensis )
This exceedingly rare shrub from Guatemala belongs to the Solanum family, same as the tomato, the blue potato bush, the white potato jasmine vine and many more wonderful plants.
This is a good container plant or garden background plant.
A rare ornamental related to the potato bush. It grows into a bushy habit. A medium-sized perennial with felty, soft to the touch, heart-shaped leaves, it has huge, almost flat, light purple flowers with a little magenta tint in the yellow center.
Bright red fruits follow. Hardy to the 20's. Great in sun or shade.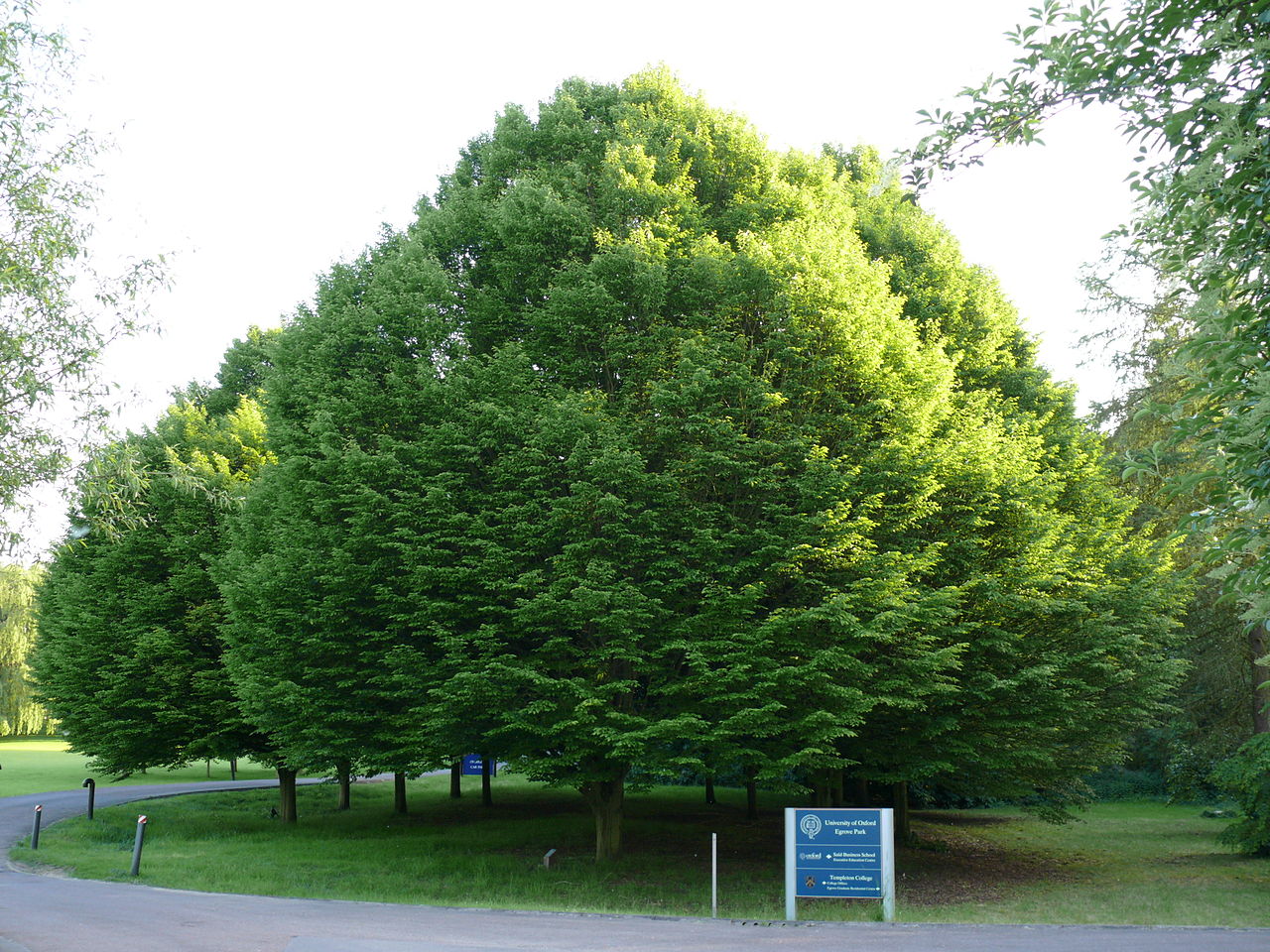 B1719 European Hornbeam ( Carpinus betulus )
A low maintenance tree that can be used as a hedge, shade tree, lawn or street tree. It has showy flowers in spring and good colored leaves in fall. Grows in most soils and tolerates air pollution well.
A medium-sized, deciduous tree that grows 40-60' tall with a pyramidal to oval-rounded crown. Ovate, sharply-toothed, dark green leaves (to 5" long) are clean and attractive throughout the growing season. Foliage turns yellow to orange in fall.
Fruits are small nutlets that appear in drooping 5" long clusters in summer. Trunks have smooth gray bark and distinctive muscle-like fluting.
For zones 4-8.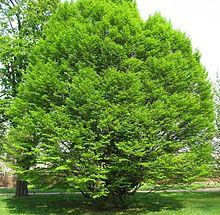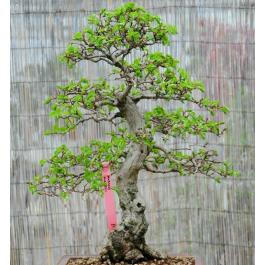 TRM230 Korean Hornbeam ( Carpinus Turczaninowii )
A deciduous tree growing up to 40 feet. Oval shaped canopy. Used as a bonsai and as a beautiful lawn tree, Carpinus turczaninowii has smaller leaves than its european cousin. It has a very twiggy and fine branching combined with small light green leaves that have a spectacular autumn display of yellow, orange and red. Has for long been a favorite in Japanese Bonsai with many specimen trees around. For zones 5-9.
This item is currently out of stock, if you would like to be notified by E-mail when it becomes available again, simply enter your E-mail address in the field below and hit "Submit".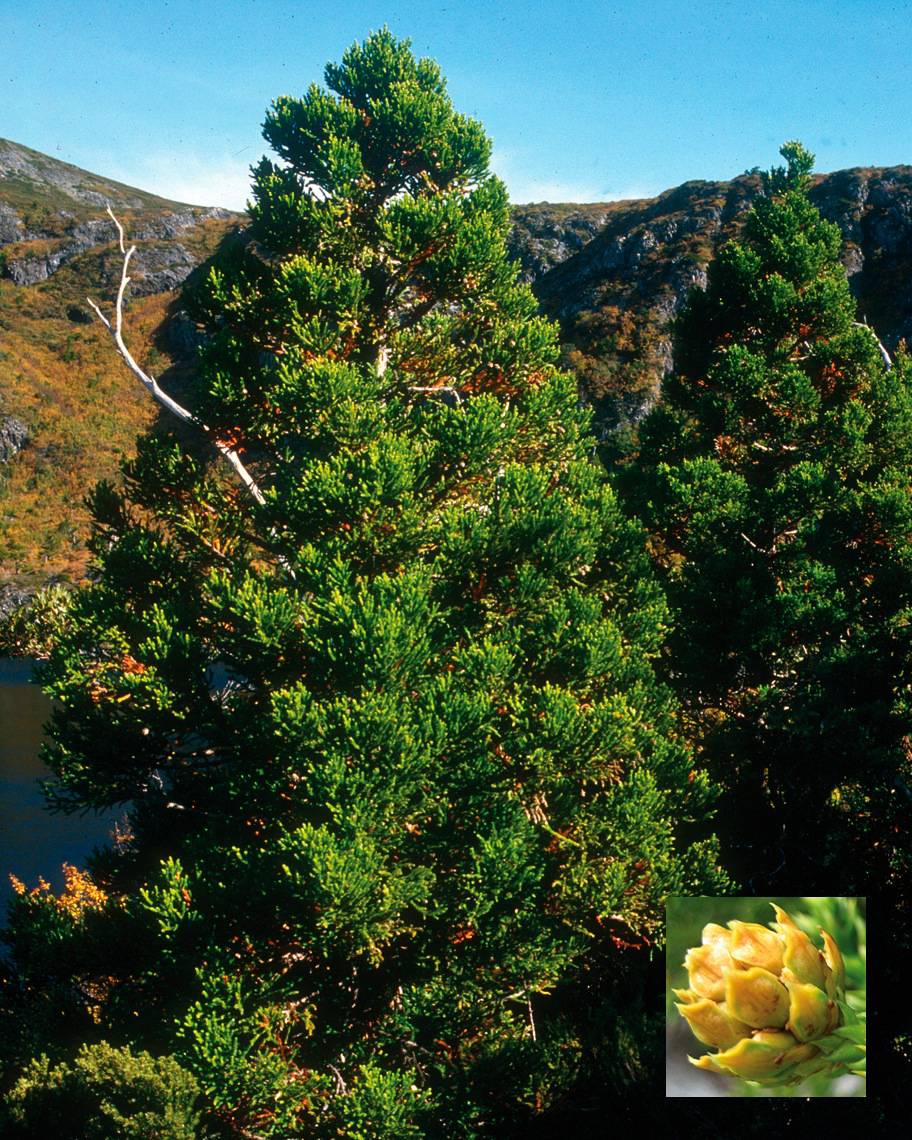 RLP094 King Billy Pine( Athrotaxis selaginoides )
An evergreen conifer, reaches 70-80 feet tall and is native to Tasmania, where it usually grows in mountain regions. It produces a tall trunk covered with orange-brown bark that holds a crown with upright branches, shiny green, nearly scale-like foliage and woody, orange-brown female cones. Its wonderful light, durable, rot resistant, pink to reddish brown wood is rather rare. Prefers cool, humid summers and is hardy to USDA Zone 8.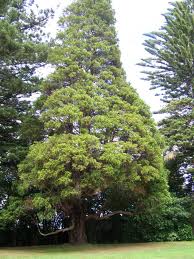 RLP095 New Zealand Cedar( Libocedrus plumosa )
A large conifer growing to about 80-100 feet or more tall with a conical crown of thick, spreading branches. The trunk can reach to 10 feet in diameter and is covered in reddish brown bark that sheds in long strips. The scale-like leaves densely cover the finely pinnate branches. It is native to warm temperate rainforests below 600 m (2000 ft.) in northern New Zealand. The dark red, fine-grained wood is very attractive and durable but splits easily. It is suitable for USDA hardiness zones 8 to 10.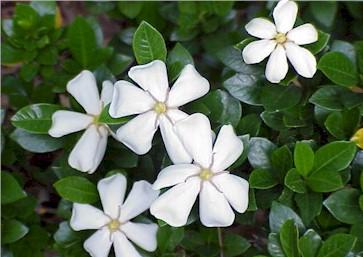 FA01 Gardenia ( Gardenia Jasminodes )
Also know as Cape Jasimine, native to China, Gardenia's evoke images of exotic, sweet-scented flowers and soft, island breezes. Glossy, dark green leaves provide a luxuriant backdrop to heavily-scented, double, creamy-white blooms. Grown in dappled shade, Gardenia's like well amended and well drained ( 5-6 pH ) acid soil and will reach a height of 4-6 feet. Blooms are long lasting and are ideal for cut flowers. Hardy to 20 F. and in zones 8-10.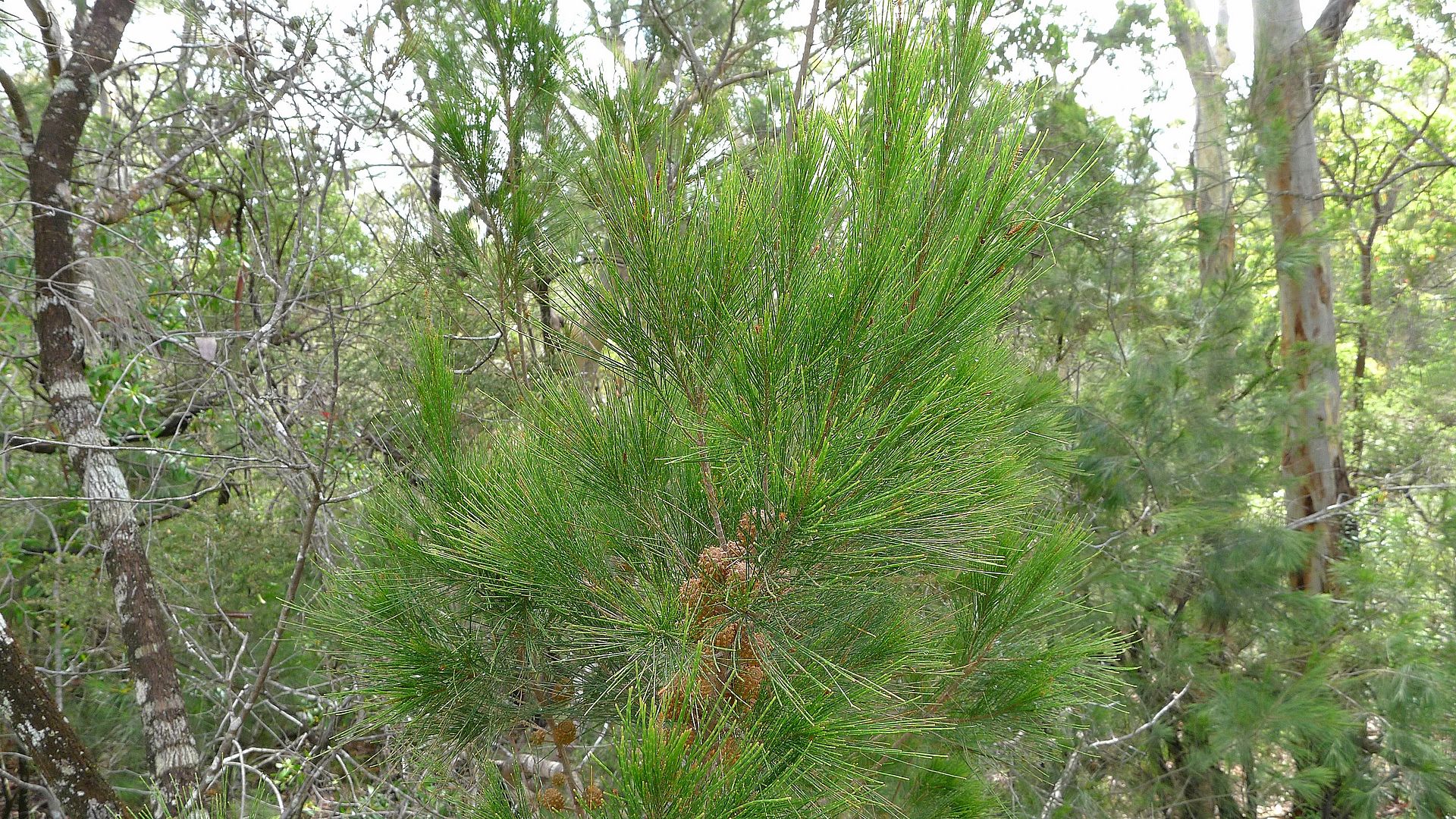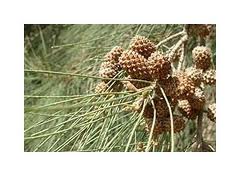 RLP070 Black She Oak ( Allocasuarina littoralis )
This is a beautiful Australian tree that looks more like a pine than an oak. They get great green pine like foliage and small red flowers amongst the foliage.
A great bonsai specimen.
These beautiful plants grow best in full sun to part shade and they are hardy to zone 8.
Evergreen small to medium tree, with ascending branches. Found native on dry ridges and hillsides of the Blue Mountains and along the east coast of Australia. Fine bright green cladodes (leaves) and fine branchlets on ascending branches.
Female flowers reddish to crimson, male flowers dark brown held on spikes.
Dark black fissured bark on the trunk. Tolerant of a wide range of climatic conditions and soil types from sandy to heavy clay and moderate soil salt tolerance Performs best on well drained sites.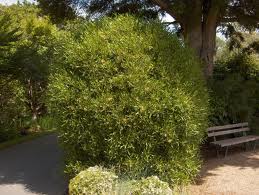 RLP071 Hop Bush ( Dodonaea viscosa )
Hop Bush (also known as Hopseed Bush) is a drought-tolerant shrub with an upright, branching form. It reaches a height of 12 feet with a 10 foot spread. Its willow-like leaves are 4 inches long.
The foliage is a bronzy-green color that turns a reddish shade in the winter months. Small clusters of yellowish-green flowers bloom in the spring and are followed by winged seed pods. The winged seeds look similar to hops from which beer is made, hence the name.
Makes a very nice informal hedge plant and a good xeriscape plant. Cold hardy to about 15 degrees.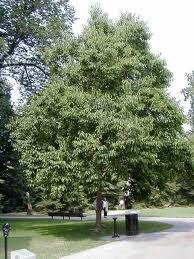 3391 Hardy Rubber Tree ( Eucommia ulmoides )
Very nice shade tree for lawns or parks. Street tree for zones 4-8. Hardy rubber tree is typically grown as an ornamental shade tree because of its attractive glossy green foliage and its excellent resistance to insect and disease problems. It is native to China, but is possibly now extinct in the wild. It is a low-branching tree that typically grows 40-60' tall with broad ascending branches and a rounded spreading crown. Dioecious with insignificant apetulous greenish brown male flowers (in clusters) and female flowers (solitary) on separate trees.
Flowers bloom in April. Female flowers give way to flattened ash-like winged seeds (wings to 1.5" long). Serrate, elliptic to ovate, pointed, elm-like, glossy dark green leaves (3-6" long) remain attractive throughout the growing season. No fall color. Ulmoides means resembling elm in reference to the similar leaf shape. As the common name suggests, rubber can in fact be made from the tree sap, but the extraction process is complicated and too costly for commercial application. Tear a leaf, break a twig or peel off some bark and a stringy latex-like sap appears.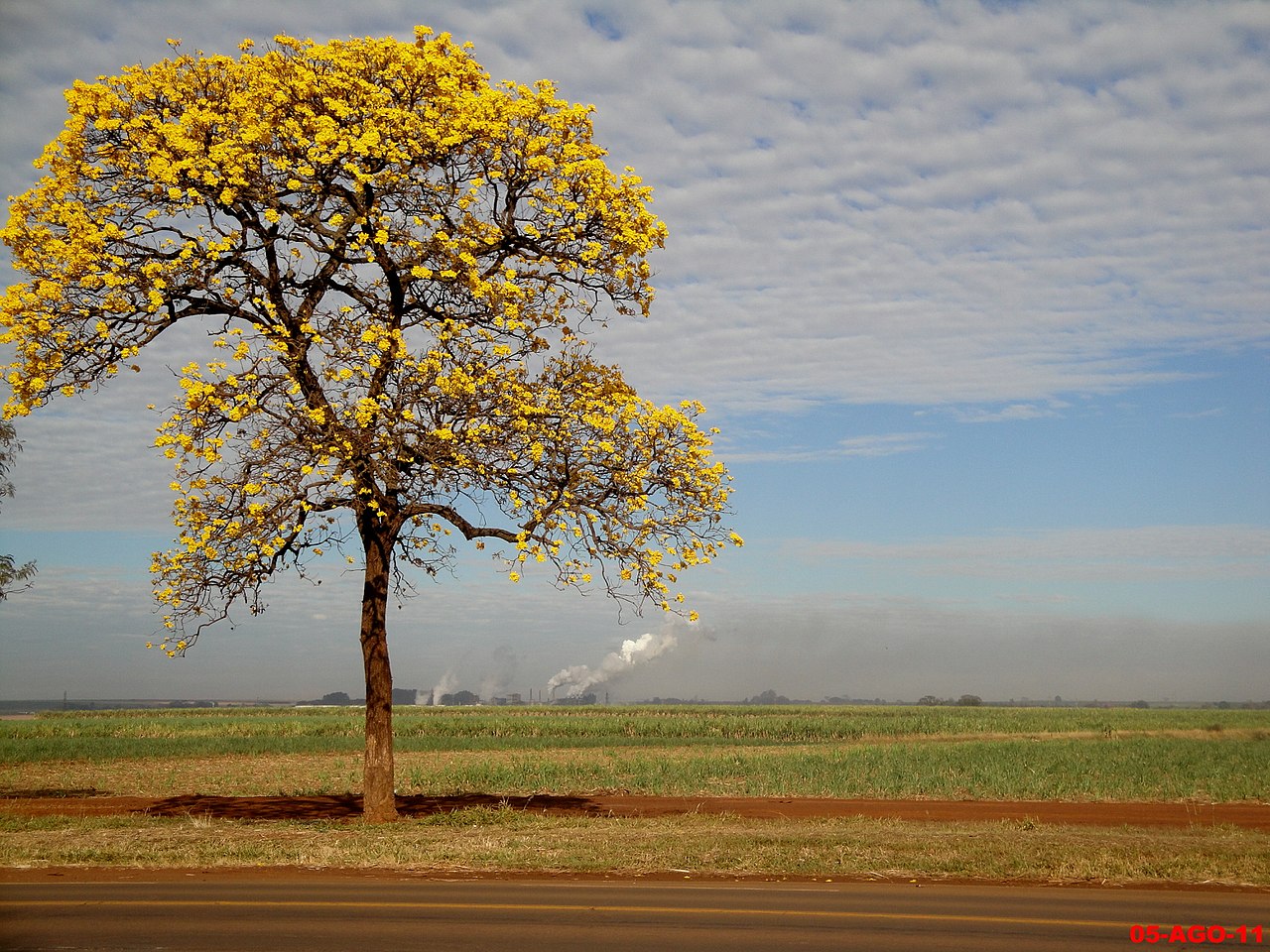 3337 Golden Trumpet Tree ( Tabebuia chrysotricha )
This yellow flowering deciduous Tabebuia comes from Brazil. It is a low branched brown-barked tree with a rounded head to 25 to 30 feet and stems and branches are covered with tawny fuzz. It presents a dazzling display of yellow 2-3 inch long flowers in late winter on bare branches that are shortly thereafter followed by the compound leaves, composed of 3 to 5 leaflets that are dark green and prominently veined above and roughed textured olive green below. Hardy to 24° F. Plant in full sun.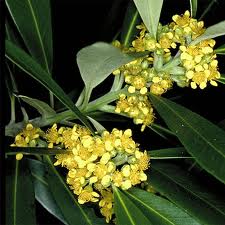 3332 Fragrant Kanooka (Water Gum)( Tristaniopsis laurina )
This is a slow growing upright evergreen tree that occurs naturally on moist, well-drained sites along the east coast of Australia that with great age can reach to 45 feet tall but more typically it is found as a 15 to 30 foot tall tree. It has narrow glossy leaves that are darker above and paler below and turn more reddish with the onset of cold weather. The leaves are borne on mahogany-colored young branches with larger branches having an attractive smooth bark that becomes more scaly with age. The fragrant yellow flowers appear in late spring to early summer and are attractive to bees. Plant in sun or part shade in a wide range of soil types, including sandy loams or even heavier clay provided that there is decent drainage. Irrigate regularly to only occasionally. It is a good candidate for a lawn tree and its slow growth rate makes it a good choice for smaller gardens or street plantings. Hardy to 20 to 25 F.