Growing to 12 feet tall, with massive, 11-foot flower stalks, this is one of the largest Lily relatives around. A native of eastern Australia, it is disappearing fast there due to habitat destruction. Here in the U.S. it is rarely seen for sale. In the right environment, it's an easy-to-grow plant, and an amazing conversation piece!
Grows best in partial shade but will tolerate full sun. Frost hardy although flowers can be damaged by heavy frost. Excellent accent plant or large container plant. Although the seed germinates readily, Doryanthes palmeri grows very slowly, taking several years to reach flowering size. Mature height:5 to 8 feet, even 10 feet in it's natural habitat. Cold hardy to about 25 degrees.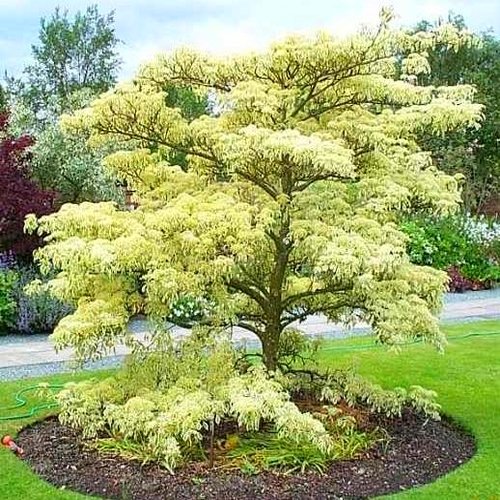 RHM155 Giant Dogwood ( Cornus controversa )
Giant Dogwood, a fast-growing deciduous tree that reaches 30 to 50 feet in height, eventually displays attractive horizontal branches clothed in large, five to eight-inch-long leaves, dark green above and silver/green beneath, which turn a lovely red color in the fall. In the middle of springtime, the trees produce a multitude of flat, white clusters of bloom in dense cymes up to five inches across. These blooms are followed by showy, blue/black berries which are quite attractive to birds and other wildlife. The branching pattern is more upright in youth, spreading as it grows.The spreading, tiered branches along a central leader of this dogwood offer a remarkable waterfall effect of leaves with bold, creamy white margins and giant blossoms, followed by intensely deep blue-black fruit. Hardiness Zones: 4-9
This item is currently out of stock, if you would like to be notified by E-mail when it becomes available again, simply enter your E-mail address in the field below and hit "Submit".

RLP063 Copper Beech ( Fagus sylvatica purpurea )
Copper Beech is an excellent formal garden hedge plant that makes a bold statement and provides great contrast for green leaved plants and lawns located in front of it. Clipped beech hedges hold onto their autumn leaves in winter. Beech is suitable for any well drained soil, but is not recommended for shady sites, it does require full sun.
Copper Beech can be grown as a hedge of any height, it will reach 75 feet tall if it grows freely as a tree.
Leaves are a rich copper color in spring, changing to purple in early summer and darkening even more as summer wears on. Healthy lawns look great in front of a copper beech hedge because the contrast will make the greens stand out even more. The autumn color of copper beech is warmer than green beech, with more of an orange hue.
Hardy to zone 5.
Seeds need cold stratification before sowing.
This item is currently out of stock, if you would like to be notified by E-mail when it becomes available again, simply enter your E-mail address in the field below and hit "Submit".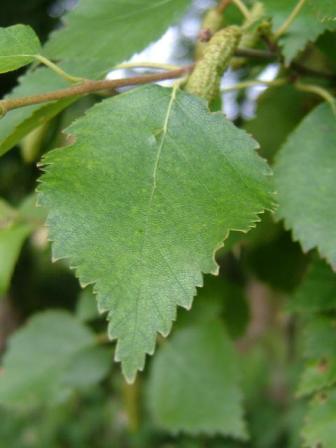 TRM116 Downy Birch ( Betula pubescens )
Native to Europe and northern Asia, the downy birch is often mistaken for the common silver birch: it also has white bark and differs by being less weeping and by having smooth downy shoots. A fast growing tree reaching 25m (80 ft+), and growing to 8m (25 ft) ten years after planting. Likes damper locations than the silver birch, soils on the acid side, and tolerates part shade; extremely hardy, to -35 or -45°C. Like the silver birch, the plant has numerous uses: the wood is used for fuel, furniture, utensils, turnery, wooden nails, cooperage, flooring, handles, clothes pegs etc. Edible parts include the leaves, sap (tapped in the same way as maples), and inner bark; these parts have also been used medicinally. The branches make good besoms. The tree acts as a green manure tree by shedding nutrient-rich leaves which enrich the surrounding soil.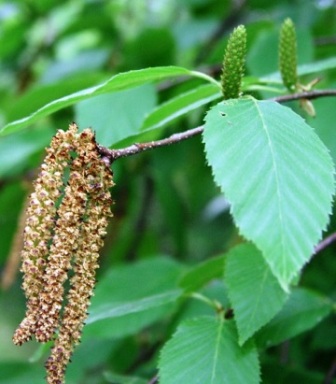 TRM117 Sweet Birch ( Betula lenta )
Large tree from Eastern North America, growing to 25 m (80 ft) high there. The sap is edible when tapped; also eaten are the leaves, young shoots (made into a tea) and bark. A medicinal oil (wintergreen) is distilled from the bark which is itself used medicinally. The bark has been used for roofing and waterproofing canoes; and the timber is valued for construction etc. Likes a sunny well-drained site; hardy to -35°C. Stratify seed before sowing.
This item is currently out of stock, if you would like to be notified by E-mail when it becomes available again, simply enter your E-mail address in the field below and hit "Submit".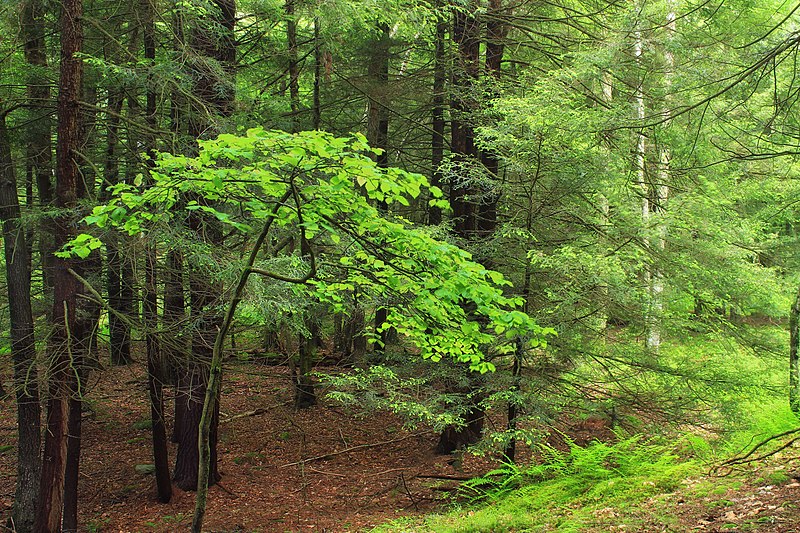 3388 Witch Hazel ( Hamamelis virginiana )
A decidious Shrub growing to 16 feet by 15 feet at a slow rate. It is hardy to zone 5. It is in flower from Sep to November, making it one of the last woody plants to flower, and the seeds ripen from Aug to September.
Flowers have a spicy scent, the clear yellow fall leaf color is a nice touch in lawns. Ornamental Uses: Good for borders, naturalistic areas, for late fall bloom effect and fragrance, shady areas, and for fall color of foliage.
Medicinal Uses: Witch hazel bark is a traditional herb of the North American Indians who used it to heal wounds. The bark and leaves were used by native Americans in the treatment of external inflammations. Pond's Extract was a popular distillation of the bark in dilute alcohol.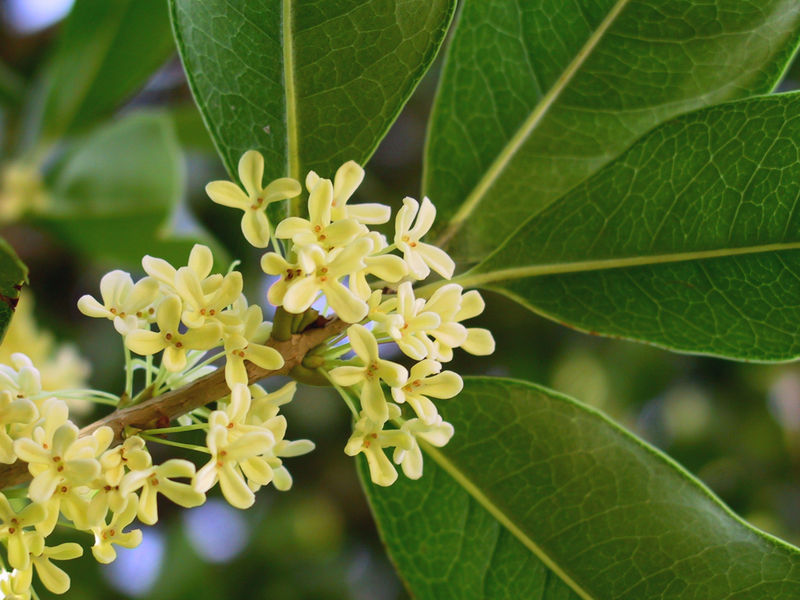 3385 Tea Olive ( Osmanthus fragrans )
Tea olive has deliciously fragrant flowers that smell a lot like those of fringetree (Chionanthus virginicus), which is in the same family. Tea olive is a traditional element in the southern garden landscape and a whiff of its scent carried on a cool winter breeze makes a memorable impression.
Tea olive is a large upright shrub that can reach 20 ft (6.1 m) tall and 6-8 ft (1.8-2.4 m) wide, but is usually seen in landscapes at 6-10 ft (1.8-3.1 m) high. The opposite leaves are a dark, shiny green and the edges may be finely toothed or smooth with both types present on the same individual. As the plant matures, most of the foliage is held at the outermost ends of the stems, but the plant retains a handsome appearance despite the legginess. In autumn, winter and early spring white flowers cover the shrub. It also blooms sporadically throughout the summer.
Individually the blossoms are small and inconspicuous, but the fragrance is powerful and exquisite.
Tea olive is rather slow growing and is usually quite long lived. Tea olive prefers reasonably good soil, but is adaptable except in the poorest, sandy soil. May be pruned to maintain size and encourage branching, but thrives equally well with neglect. Tea olives are sometimes attacked by scale insects, but usually only when growing conditions are poor. Light: Sun to partial shade; morning sun with afternoon shade, or high, shifting shade is ideal.
Plant tea olives where their lovely fragrance can be enjoyed! Situate a tea olive wherever there is foot traffic near windows or doors and in outdoor sitting areas. Incorporate tea olive into foundation plantings at the corners or use as an accent between windows. A row of tea olive makes a very attractive hedge or screen. In areas where it is tender, grow tea olive as a container specimen so it can be protected indoors in winter.
USDA Zones 8 to 10.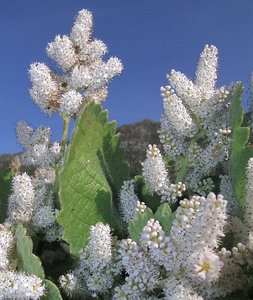 TRM124 Ginger Bush ( Tetradenia riparia )
The ginger bush is a tall, aromatic shrub up to 3 m in height, occasionally reaching 5 m. The stems are brown and smooth, except for the younger portions which are covered with glandular hairs and have a ruby tinge. The glandular hairs also cover both surfaces of the leaves and make them slightly sticky to the touch.
The ginger bush is no relation of the true ginger plant of which the underground stem is commonly used for flavouring and in preserves.
This is a rewarding garden plant which is fast growing - up to 80cm per year and which will flower in its first year. It grows easily in light, well drained and well composted soil. It prefers water in summer but not as much in winter.
Plant in full sun, except in very hot areas where midday shade or light shade will be beneficial. Also used as a bonsai.
The flowers usually appear when the plants are bare and are carried in the top section of the branches. The name ibosa was derived from the Zulu word referring to the aromatic leaves - they use this plant medicinally. The Zulu people have many uses for the plant including the relief of chest complaints, stomach ache and malaria. Inhaling the scent of the crushed leaves apparently also relieves headaches.
They also used it as a hallucinogenic herb (used like tobacco). The plant is frost tender and best suited to pot culture in colder regions. This is a rewarding garden plant which is fast growing - up to 80cm per year and which will flower in its first year. It grows easily in light, well drained and well composted soil. It prefers water in summer but not as much in winter, thus making it is a good water wise plant for summer rainfall areas.
It should be pruned back hard after flowering to keep it neat and promote flowering. Plant in full sun, except in very hot areas where midday shade or light shade will be beneficial.
This item is currently out of stock, if you would like to be notified by E-mail when it becomes available again, simply enter your E-mail address in the field below and hit "Submit".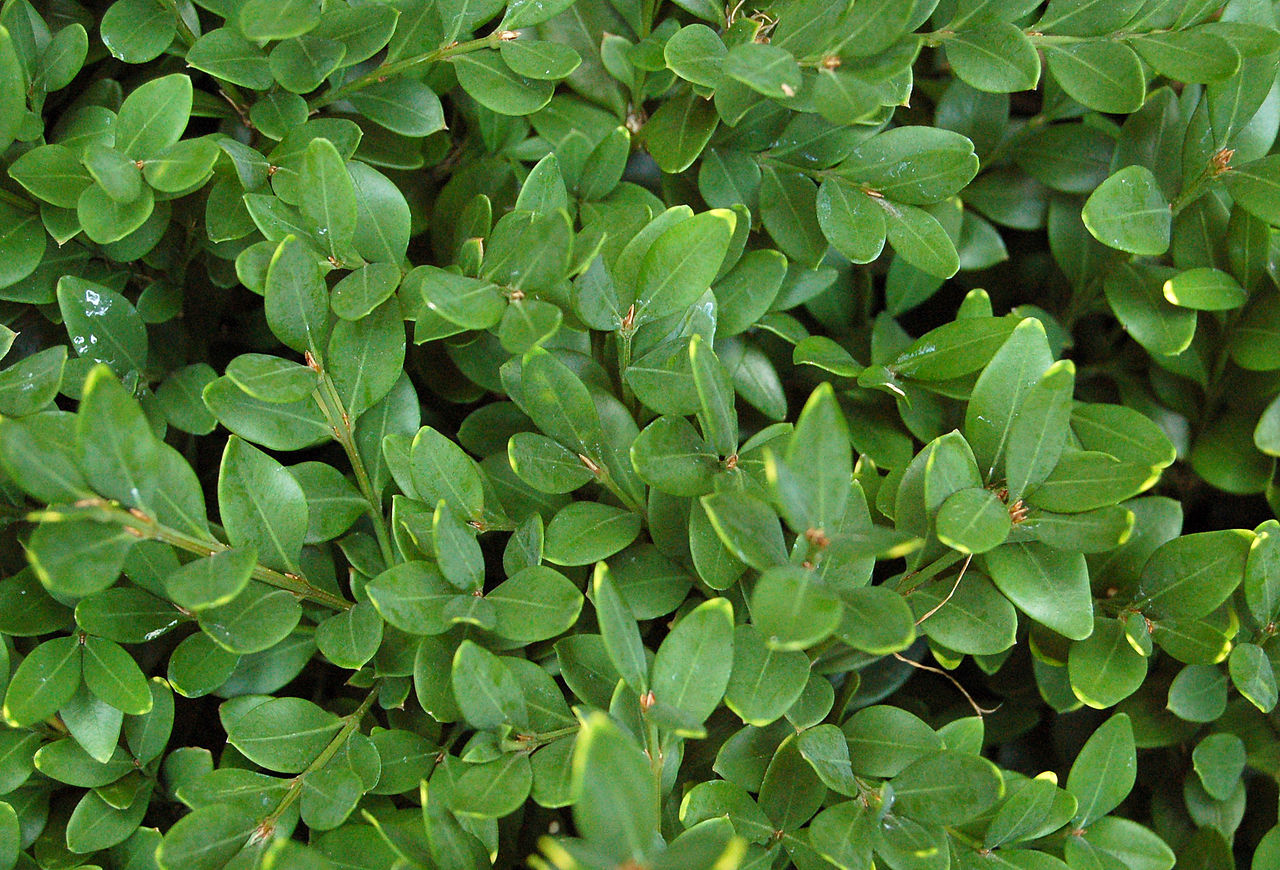 W207 Korean Boxwood ( Buxus microphylla koreana )
Great landscaping shrub that will grow 3-4 feet tall and wide if left untrimmed, but can be prunded to almost any size. The boxwoods are among the most common hedge plants, but they also can be used for almost any landscaping application. Individual plants or small groups, unpruned, make fine specimens in dappled shade; planted close together and pruned to a smooth, undulating surface, boxwoods make a striking ground cover; the small cultivars can be used in knot gardens or as edging around borders.
Boxwoods are, of course, the quintessential foundation plant, used to hide home foundations in American suburbs throughout most of the United States. Boxwoods are commonly used for topiary and they are well suited for bonsai. Korean Boxwood is especially well suited for shaping because its leaves are small and don't look ragged after trimming as do plants with larger leaves. Korean Boxwood has a fine texture and a symmetrical and formal habit. It is a landscaping workhorse. The fragrant blossoms, although not showy, attract bees.
Korean Boxwood responds very well to pruning. Hedges and plants used for edging can be trimmed in summer. Hard, rejuvenating pruning and major shaping should be done in late spring and followed by a dose of fertilizer and mulch. Don't cultivate around the shallow-rooted boxwoods.
Does well in partial shade. Newly transplanted plants especially, should be protected from midday sun. Established boxwoods do fine in full sun up North, but should be positioned in partial shade in the South.
Boxwoods have shallow roots, so they should be mulched well and watered when the soil gets dry, especially if positioned in full sun. Hardiness: USDA Zones 5 - 9.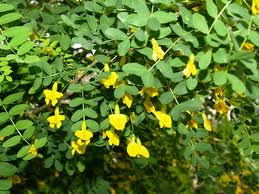 3462 Siberian Pea Shrub ( Caragana arborescens )
18', Zones 2-9. Bright yellow May flowers. Excellent screen or windbreak. Drought tolerant. Widely planted in all conditions. This is a wonderful lawn shrub from China.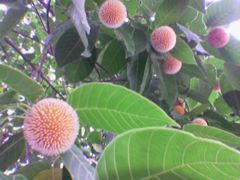 RLP005 Haldu ( Adina cordifolium )
Adina cordifolia, also known as Kadam or Kadamba and Haldu in Hindi, is a flowering plant in the family Rubiaceae, the sole species in the genus Haldina. It is native to southern Asia, from India east to southern China and Vietnam.
It is a deciduous tree that can grow well over 20 metres high. The flowers are insignificant individually but a sight to see when they blossom together in balls with a circumference of 2 to 3 cm. They are usually yellow in colour often tinged with a shade of pink. Kadam is at its blossoming best during winter. From a distance, the flowers resemble a large, woolly tennis ball. The bark of the tree acts as an antiseptic. Specific zone information is not yet established for this tree, but we believe it is best suited for zones 7-9.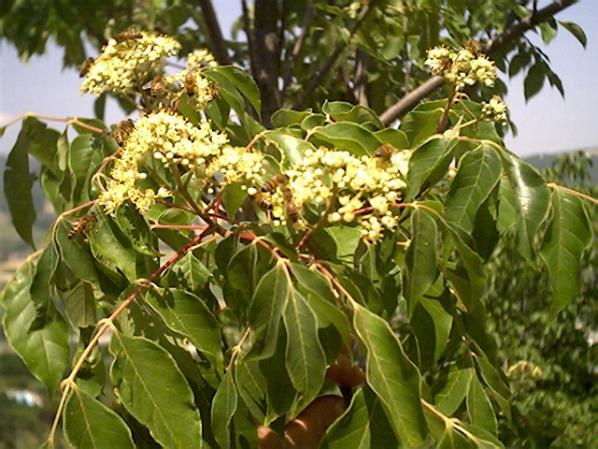 FB153 Korean Bee Tree ( Evodia danielli )
Evodia is a little-grown tree 25 to 30 feet tall. It is a fast grower with no pests, adapted to sunny, well-drained sites. Small white flowers are produced in 4 to 6 inch wide corymbs from June through August which attracts a great number of bees and butterflies. These are followed by fruits which turn from red to black from August through November.
Provides flowers and attractive fruit in a period when few other woody plants are flowering. The plant fits well in smaller gardens and closed areas. Good for zones 4-9.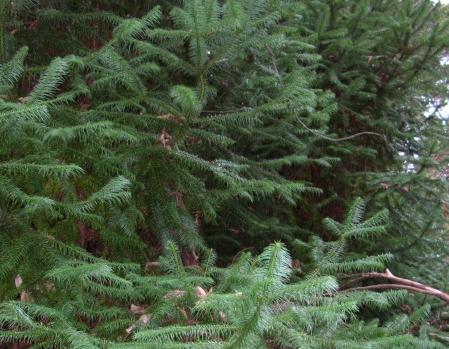 SF089 China Fir Tree ( Cunninghamia lanceolata )
An evergreen tree well suited for zones 7-9. Does well in full sun or partial shade, likes well drained soil, but will tolerate damp, heavy clay. Grows to about 30-75 feet tall, and spreads to 20-30 feet, but makes a wonderful bonsai plant as well.
Has bright green to blue green flat needles; sharp point on end; may discolor in winter to bronze green and bears unique small squarish cones. Image by Forest & Kim Starr.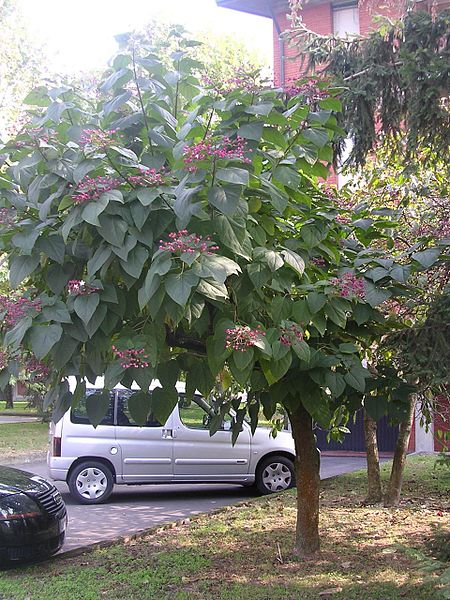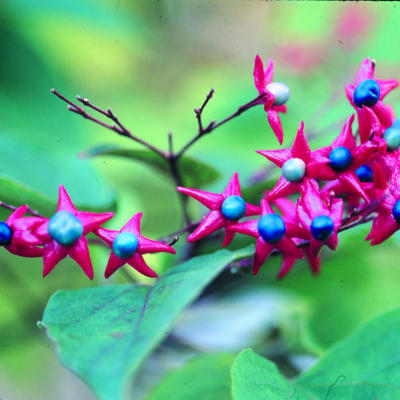 FB156 Harlequin Glorybower ( Peanut Butter Bush ) ( Clerodendrum Trichotomum )
A truly fascinating shrub for zones 7-10. This is a large shrub growing about 8-10 feet that blooms late summer with sweetly fragrant jasmine-like white flowers encased in red tepals and delightfully scented. In autumn the plant will have bright blue berries accented by bright, pinkish-red calyxes. The large heart shaped leaves when crushed smells like peanut butter.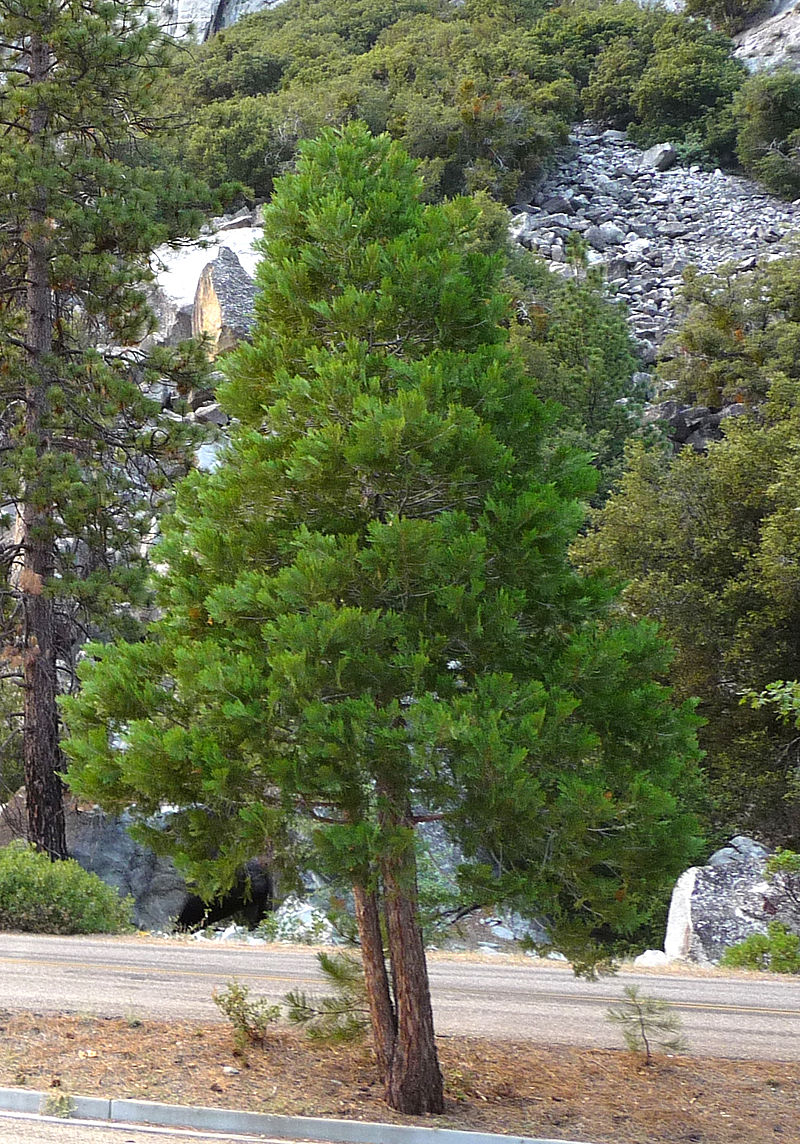 B1708 Incense Cedar ( Calocedrus )
A small pyramidal shaped cedar that is prized for its very fragrant leaves and wood. Easy to start from seeds. A very beautiful bonsai specimen. Incense cedar is an evergreen tree with a skinny, columnar shape in youth, becoming only a little more rounded at maturity. In its native habitat it can get as large as 150 ft (45.7 m) tall with a trunk diameter of 6 ft (1.8 m). In these very large trees, the long straight trunk is swollen and buttressed at the base and usually free of branches for half its length.
Incense cedar does best on well-drained, slightly acidic sandy loams in cool, mountainous areas. Outside its natural range it tends to stay smaller and bushier. Even under ideal conditions, incense cedar is a slow growing tree. But, it can live 1000 years or more. Grows in full sun or part shade. Incense cedar needs lots of moisture to realize its full potential as a large tree. If it gets less water than ideal it will survive, but remain as a smaller, bushy, but still attractive specimen. Hardiness: USDA Zones 6 - 8. Incense cedar does quite well in zones 7 and 8, but usually doesn't get as large as it does up north. Propagation: Incense cedar is difficult, but not impossible, to propagate from cuttings.
The generic name means "beautiful cedar", and that it is. The tall, columnar incense cedar is a handsome specimen for framing a formal landscape. A line of them, like soldiers at attention, adds a formal dimension to driveways and makes a great windbreak or tall screen.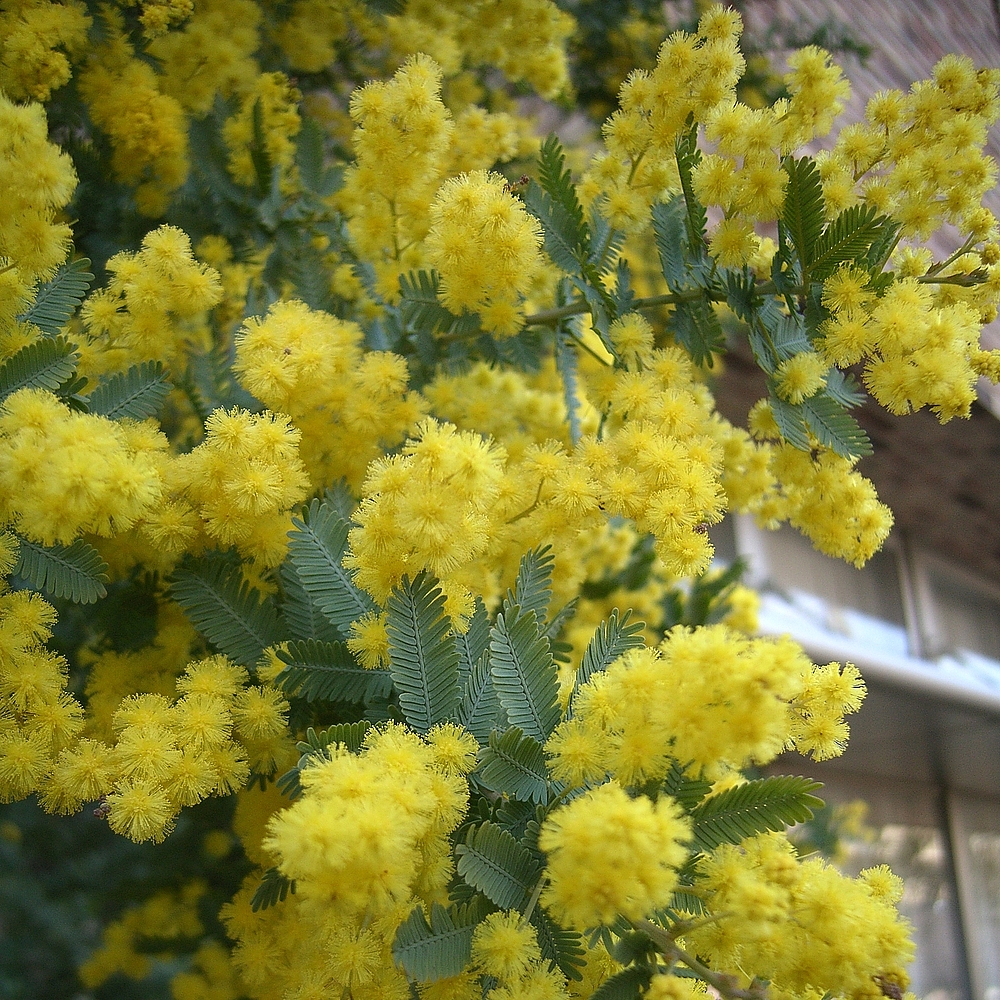 D1164 Golden Mimosa ( Acacia baileyana )
Small graceful tree well adapted to growing inside. Has such a profusion of beautiful flowers that they seem to cover the entire plant. Cold hardy to 18 degrees outside. Good greenhouse/container plant that can be raised inside anywhere or outside in zones 8-10.
Note: We recommend Seedman's Special Seed Starting Cups be used for germinating these seeds.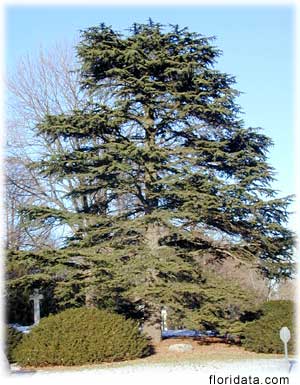 D7866 Cedar of Lebanon ( Cedrus libani )
A mature cedar of Lebanon is a stately and picturesque evergreen conifer. It has a massive (sometimes forked) trunk, very wide-spreading horizontal branches (the lower ones often kissing the ground), and a crown of flat tiers, like table tops.
Although it can get more than 100' tall with an equal spread from its strong limbs, most specimens in cultivation can be expected to top out around 50-70'. In youth the tree is conical and symmetrical. The leaves, about an inch long, are stiff and 4-angled, and arranged in dense clusters on short shoots. The cones are barrel shaped, 3-5" long and held erect, a characteristic of the true cedars (genus Cedrus).
Cedar of Lebanon is very similar to (and very closely related to) Atlas cedar (C. atlantica), and some authorities consider them to be just subspecies in the same species. Michael Dirr, the famous authority on landscape trees from the University of Georgia, says Atlas cedar has a taller, less flattened crown, less densely arranged branchlets, and smaller cones (2-3" long) than cedar of Lebanon.
Location: Cedar of Lebanon is named for the famous forests that grow in Lebanon. The species also occurs in Turkey and Syria. Var. stenocoma is native to southern Turkey.
Culture: The cedars grow well in acidic sands and in thin soils over limestone; pH doesn't matter. Good drainage is essential, however. Cedar of Lebanon has a tendency to produce multiple leaders and the grower may wish to prune out the weaker shoots; do this in autumn. These are slow growing trees.
Light: Young trees can grow in partial shade but will eventually need full sun to realize their potential.
Moisture: Cedar of Lebanon occurs naturally where there is very little summer rainfall, and is quite tolerant of drought. It can thrive where annual precipitation is no more than 15", but it also does well where 80" of annual precipitation is the norm.
Hardiness: USDA Zones 6 - 9.
Usage: The cedars make majestic specimen trees for parks, estates and larger lawns. A mature cedar of Lebanon, especially one with multiple leaders, will be as wide as it is tall, and a truly picturesque specimen.
Features: The taxonomy of the genus Cedrus is debated by the botanists. Depending on who you believe, you can recognize one, two or four species. The splitters recognize Cyprus cedar (Cedrus brevifolia), cedar of Lebanon, deodar cedar (C. deodar), and Atlas cedar.
This item is currently out of stock, if you would like to be notified by E-mail when it becomes available again, simply enter your E-mail address in the field below and hit "Submit".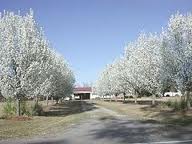 3357 Betulifolia Pear (Pyrus betulifolia )
This very ornamental pear variety is hardy to zone 4. Rootstock especially preferred for oriental and ornamental pears. Similar in most respects to Pyrus calleryana with better cold hardiness. Tolerates calcareous soils. Maintenance free lawn tree that will decorate your lawn with early spring color. Will grow about 20 feet tall when mature.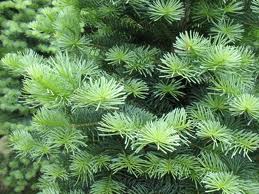 3360 Japanese Umbrella Pine ( Sciadopitys verticillata )
Excellent container plant when young, can later be transferred outside for a wonderful lawn and garden specimen.
Named for the whorls of shiny, deep-green foliage encircling its branches like the ribs of an umbrella, this evergreen stands out in any crowd.
Broadly pyramidal or spirelike in youth, with age it develops pendulous and spreading branches and an open, loose habit. It is extremely slow growing, 6 inches per year on average. Needles radiate around the stem creating an 'umbrella' like effect.
The foliage is dark green and glossy through the seasons. Flowers are inconspicuous, cones are upright 2 to 4 inches long, green in youth, brown when mature. Bark is quite pretty; orangey brown and peeling off in strips, usually hidden by the foliage. It is not subject to disease or pests.
It is an excellent accent tree, very distinctive, but can also be used in a border or rock garden. Natural habitat is sheltered, but steep and rocky locations. Native to Japan.
Hardy for zones 5-9.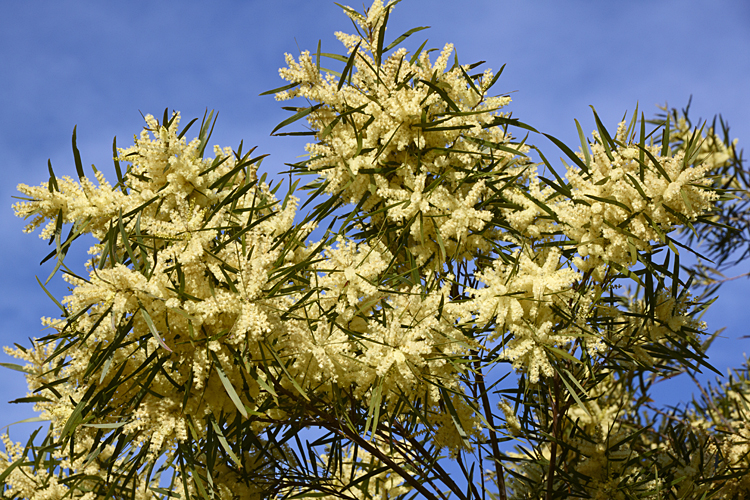 NW46 Profuse Flowering Acacia ( Acacia floribunda )
In case you haven't guessed from the name, this is a very heavy blooming shrub. Has beautiful foliage as well. Good container plant. Beautiful fragrant flowers. Good greenhouse/container plant that can be raised inside anywhere or outside in zones 8-10.
This item is currently out of stock, if you would like to be notified by E-mail when it becomes available again, simply enter your E-mail address in the field below and hit "Submit".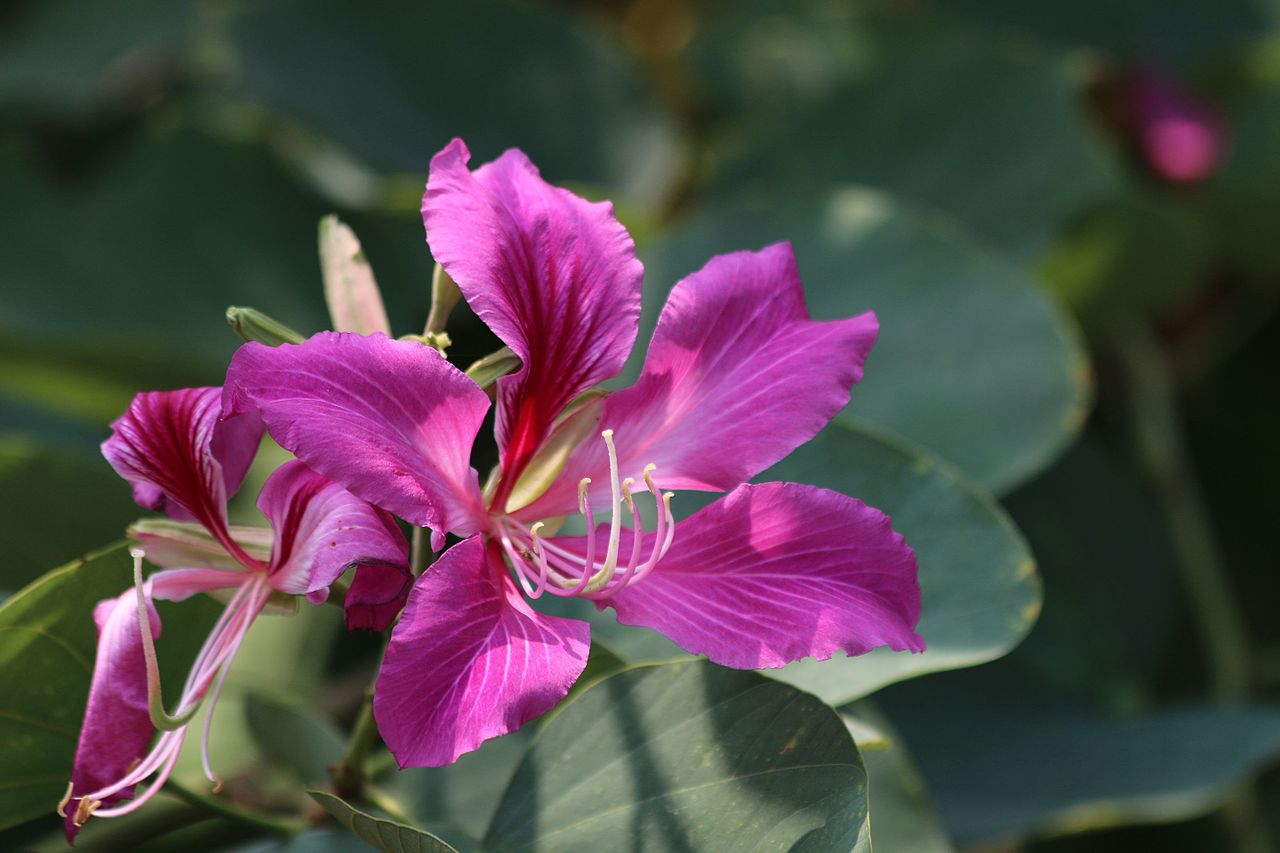 FA47 Butterfly Tree ( Bauhinia purpurea )
Bauhinia purpurea is a species of flowering plant in the family Fabaceae, native to South China (which includes Hong Kong) and southeastern Asia. In the United States of America, the tree grows in Hawaii, coastal California, southern Texas, and southwest Florida. Common names include Hong Kong Orchid Tree, Purple camel's foot, and Hawaiian orchid tree.
It is a small to medium-sized deciduous tree growing to 17 m tall. The leaves are 10-20 cm long and broad, rounded, and bilobed at the base and apex. The flowers are conspicuous, pink and fragrant, with five petals. The fruit is a pod 30 cm long, containing 12 to 16 seeds. For zones 9-10.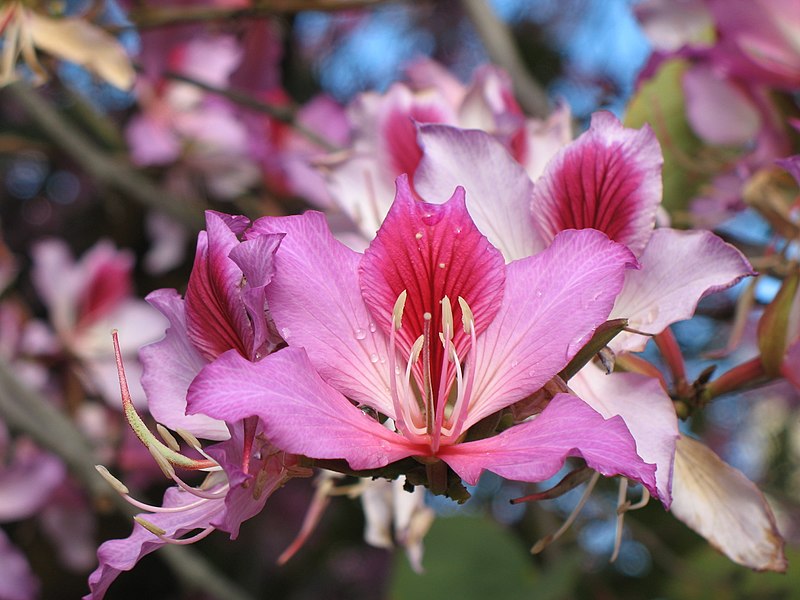 RLP049 Orchid Tree ( Bauhinia variegata )
Also known as Mountain mahogany. This shrubby tree grows to 35 and has round lobed leaves that are 4"-6" across. Large flowers are in short racemes which may be white or in shades to purple. The flowers are edible cooked. Needs bright light. Fertilize monthly. For zones 9-10.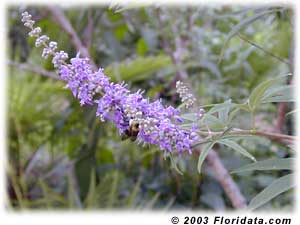 FB131 Chaste Tree, Monk's Pepper ( Vitex agnus-castus )
A small tree growing to 20 ft. or so with spikes of fragrant lilic flowers that are strongly aromatic. Hardy to at least zone 6. Seeds were once used by monks for seasoning as they were said to lessen sexual desire, thus the name. A very attractive lawn bush for warm areas.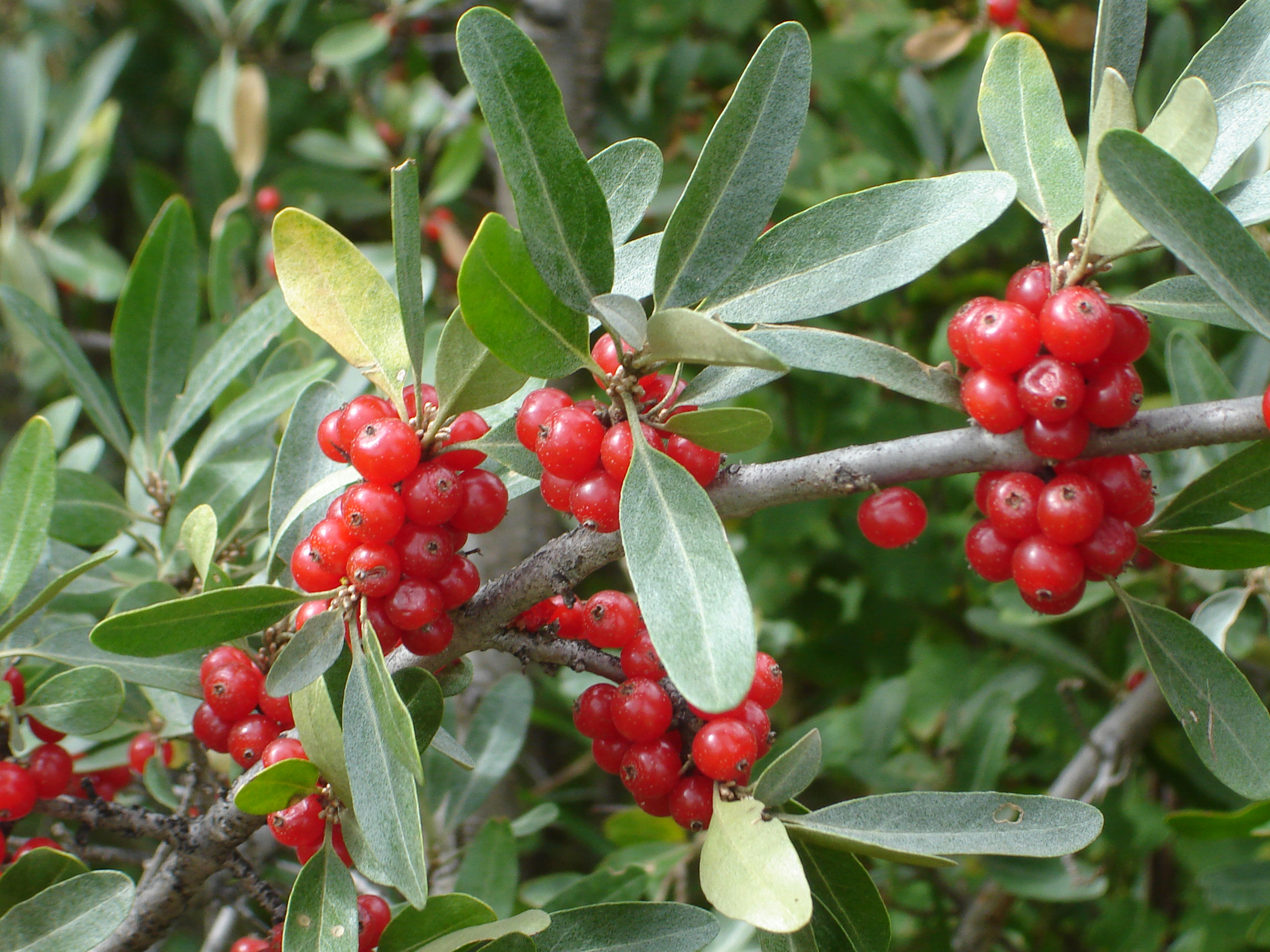 FB129 Silver Buffalo Berry ( Shepherdia argentea )
A native shrub to the northern Great Plains of the U.S., Silver Buffalo Berry is a tough, extremely cold hardy shrub excellent for use as an ornamental shrub, in wind breaks and in confined areas where it can be limbed up for use as a small tree. Although xeric once established, Silver Buffalo Berry will be taller and faster growing when not kept too dry. A highly recommended substitute for Russian Olive. For zones 3-9.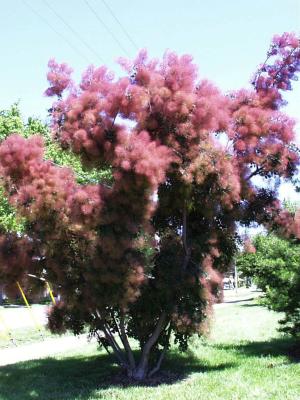 3233 Pink Smoke Tree ( Cotinus coggyria )
An easily grown ornamental tree to 16' for temperate zones (Zone 5 ). Known for its attractive flowering "smoke puffs" that cover the tree in feathery wisps of grey, pinks and brown colors. In the coolness of Autumn the leaves turn from green to yellow to red to pink.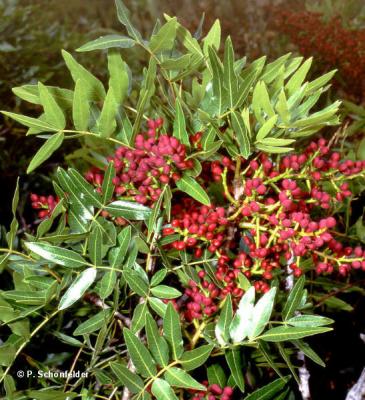 RHM135 Mt. Atlas Mastic Tree ( Pistacia atlanticus )
Zones 9-10. Ornamental tree to 60' with leaves being odd-pinnate 7-11 leaflets lanceolate. Red berried turning gradually green to brown. A source for oleo resin - Mastic. From Middle East - warm, arid zones.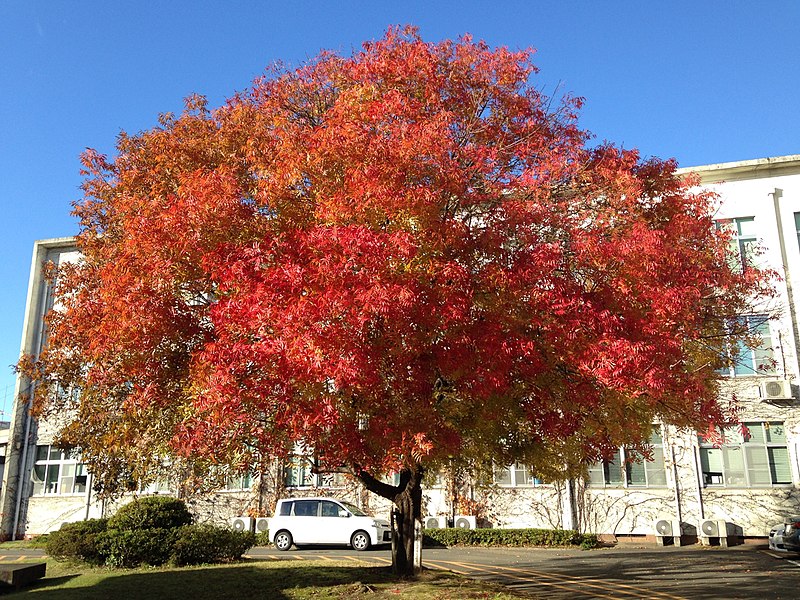 FA53 Chinese Pistachio ( Pistacia chinensis )
The Pistacia Chinensis is a reliable choice for street, lawn or patio planting. Pistacia Chinensis forms a broadly rounded tree 30-40' tall and nearly as wide. It has good orange to red fall color even in the milder climates and will tolerate a wide range of soil conditions.
Once established, the tree is very drought tolerant. A long-lived, winter hardy shade tree with spectacular red, red-orange fall color, with outstanding heat, drought and soil tolerance. It is extremely pest resistant. A superb shade tree for one-story buildings.
Best grown in zones 6-9.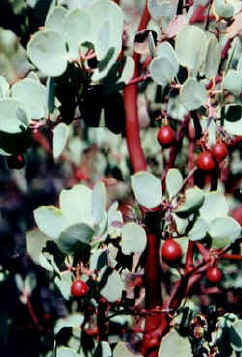 E3125 Manzanita ( Arctostaphylos patula )
An Evergreen shrub that grows to about 6 feet, best suited for zones 4-6. Manzanita is lovely year-round. It is often evergreen in winter snows and its gray and maroon bark are distinctive and beautiful. In the spring drooping clusters of flowers often engulf the bush in pink and white. The green, white, or brown berries attract a wide variety of animals including bears for whom the genus, "arcto", is named. Mature berries are also eaten by grouse, turkey, and song birds.
This item is currently out of stock, if you would like to be notified by E-mail when it becomes available again, simply enter your E-mail address in the field below and hit "Submit".