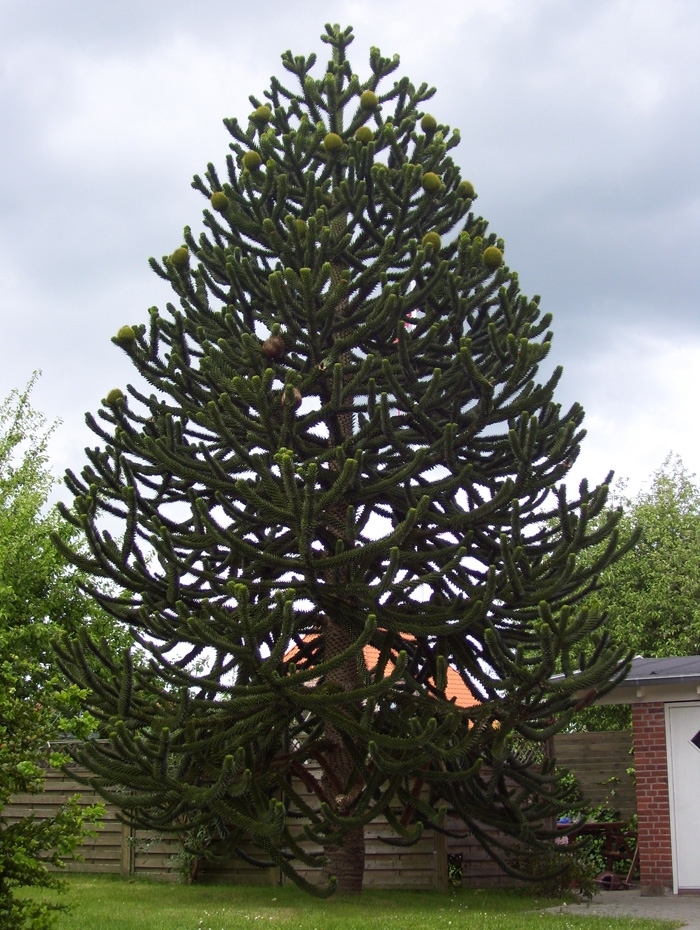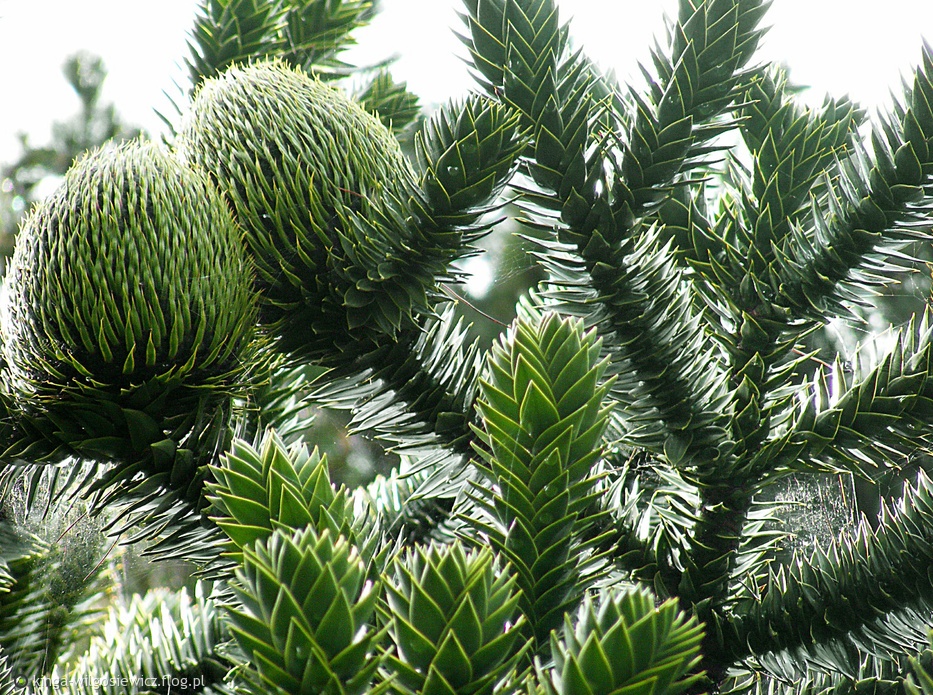 TRZ017 Monkey Puzzle Tree ( Araucaria araucana )
Winter hardy to USDA Zone 7-10 where it is best grown in deep, moderately fertile, evenly moist, well-drained soils in full sun to part shade. Trees perform well in a variety of different soils as long as they are well-drained. Trees perform much better in Mediterranean-type climates with mild summers than in climates with hot summers.
This is an interesting and unusual ornamental landscape specimen. Monkey puzzle tree does not generally perform as well indoors as a houseplant as does Araucaria heterophylla, commonly known as Norfolk island pine, however it does very well in containers when young and makes a great patio plant in cooler zones. In winter in colder zones, bring inside and place plants where they will receive bright indirect sunlight, and mist foliage regularly.
Monkey puzzle tree (also commonly called Chilian pine) is an evergreen conifer that is native to woodland volcanic slopes up to 6,000 feet in elevation in the Andes Mountains in Chile and Argentina. It is the national tree of Chile. It reportedly has the best winter hardiness of any tree native to areas in the world south of the equator.
It typically grows to 20-30' tall in cultivation, but may reach 90-130' tall in its native habitat. It is noted for its unique shape. Trees are loose-pyramidal and open when young, but develop an umbrella-like crown with loss of lower branches as they age. Horizontal, upward-arching branches appear in whorls around the trunk with rope-like branchlets. Bark is gray-brown and ridged. Dense, leathery, triangular, radially-arranged leaves (to 2" long) have sharp points. Individual leaves persist for 10 to 15 years. Trees are dioecious (separate male and female trees).
Female cones (to 6" long) take 2-3 years to mature, disintegrating at maturity to release the nut-like seeds (each to 1 1/2" long). Seeds (pinones) are edible and reminiscent of pine nuts.
Common name reportedly comes from a comment made in England in the mid-1800s where an observer of a specimen tree growing in Cornwall remarked that it would puzzle a monkey to climb that tree.
This item is currently out of stock, if you would like to be notified by E-mail when it becomes available again, simply enter your E-mail address in the field below and hit "Submit".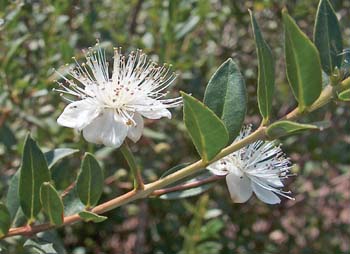 TRM426 Greek Myrtle
( Myrtus communis )
An evergreen perennial that is hardy in zones 8-10, it is often grown in containers as a houseplant or patio plant.
This classic evergreen shrub from the Mediterranean. Fragrant white flowers and leaves are used in potpourri. Spicy leaves can be used in cooking like bay leaf. Essential oil is used for fragrance. Lovely house plant.
A broadleaf evergreen shrub or small tree that is native to the Mediterranean region. It typically grows to 5-6' tall ( smaller in containers ), but may reach 15-20' over time. Pointed, glossy dark green leaves to 2" long are strongly aromatic when bruised.
White aromatic flowers (3/4") with many yellow tipped stamens bloom in late spring/summer (May-July). Flowers are followed by blue-black berries.
Berries are edible and may be eaten raw, but are at best moderately tasteful. Dried flowers, leaves and fruits are used to flavor foods. Leaves are sometimes used as a substitute for bay leaves. Fresh flowers may be added to salads. Wood and leaves are added to charcoal to flavor grilled meats.
Dormant seeds are a bit more difficult than other seeds, but follow instructions on seed packet and you should have no problems.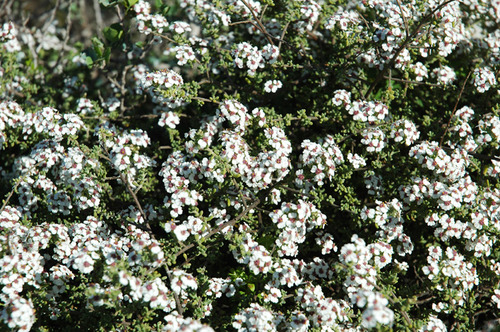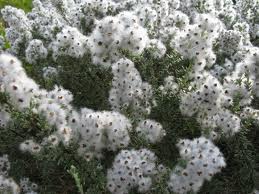 TRM220 African Rosemary ( Eriocephalus africanus )
An evergreen South African shrub growing to about 3 feet tall that does well in rock gardens and xeriscapes. Grows 3-4 feet across. When in bloom, the whole shrub is almost covered with purple-eyed, white flowers, loved by bees. The flowers are followed by fluffy seed heads looking much like cottony wool or snow. Stiffly branching with aromatic needle-like foliage covered with tiny hairs, this bushy shrub displays an overall silvery-grey appearance. It can be trimmed into a hedge, or makes a nice background flowering shrub.
African Rosemary is one of the shrubs that most people in the Cape know because it is so common in the veld and easy to identify with its thin, grey leaves, which smell like Vicks when crushed. It is also a well-known medicinal plant and an excellent shrub for the waterwise garden. Eriocephalus africanus is very variable, especially when comparing plants growing in the salty air along the coast with those growing under much drier conditions inland. In general, they all form bushy evergreen shrubs up to 3 feet with a silvery, grey appearance. Looking at the leaves that are arranged in tufts along the branches, it is easy to see a number of features that help the plant to survive with little water. Special features include the grey leaf colour which reflects sunlight and thereby reduces leaf temperature. The minute, silvery hairs covering the leaves trap moisture and thus reduce transpiration. Best suited for zones 9-10.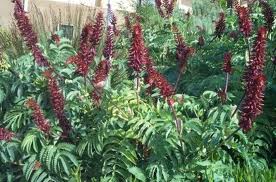 RLP053 Giant Honeybush ( Melianthus major )
Giant Honeybush grows rapidly and within one season can reach six feet tall. It is a rarely grown South African perennial that is becoming very popular. The lush growth, coupled with its large, glaucous leaves, has made it as fashionable as cannas, bananas and tree ferns among those looking to bring a touch of the jungle to their back gardens. The luxuriant foliage is not only sculptural but is also deliciously scented -- like hazelnuts to some, and like salted peanut butter to others.
From late spring, bright-red flowers cluster like flocks of finches at the base of the leaves. In the wild, the flowers are pollinated by birds attracted by the nectar in each of the little flowers. So much nectar is produced that it overflows on to the stems and splashes the foliage. Be careful, though, because sweet as the nectar is, it will stain your clothes. There are always lots of seed pods, too; inflated cubes that dangle like Chinese lanterns.
Hardy from zone 8 onwards. Full sun to part shade. 10 feet tall, 8 feet wide. Adaptable to soil fertility as long as well-drained.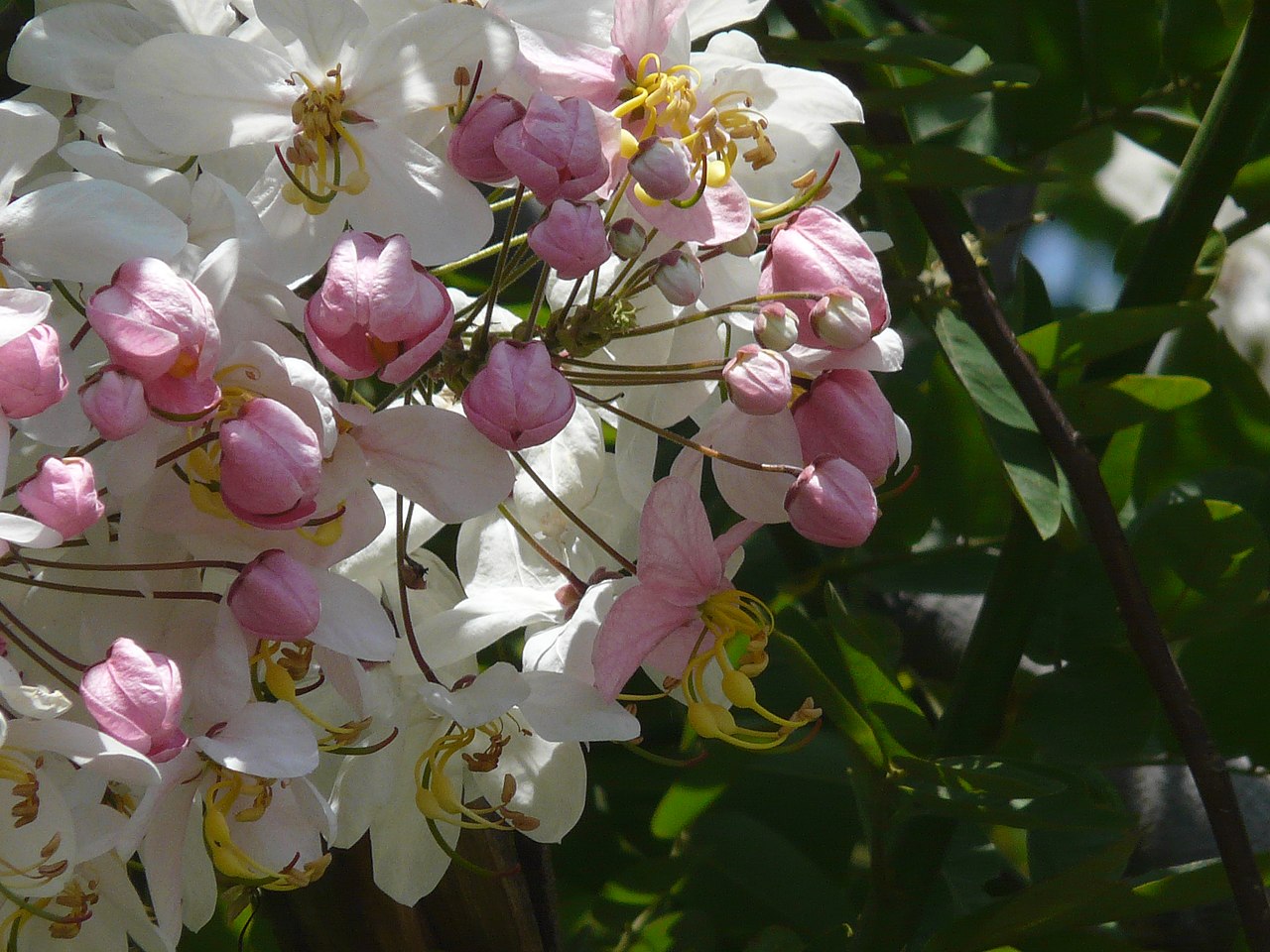 RLP115 Pink Shower Tree ( Cassia grandis )
The Pink Shower Tree can be grown best in zones 10-11 or any frost free areas. Cassia Grandis can be grown in most gardens where it is frost free, or if protected from freezing.
Cassia Grandis is a shapely, lovely small, medium to large canopy tree The size will depend on where and how you cultivate it. with blooms of pink and white that will completely cover the tree when in bloom. In zones 10 and up, where it is hardy, the tree often explodes into flower after the first rains of spring arrive. It can reach 50 feet tall and is a medium to fast growing tree.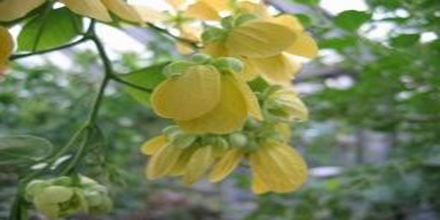 RLP116 Yellow Shower Tree ( Cassia fruiticosa )
A yellow version of the famous Pink Shower Tree can be grown best in zones 10-11 or any frost free areas. Can be grown in most gardens where it is frost free, or if protected from freezing.
A shapely, lovely small, medium to large canopy tree The size will depend on where and how you cultivate it. with cascading blooms of white to yellow that will completely cover the tree when in bloom. In zones 10 and up, where it is hardy, the tree often explodes into flower after the first rains of spring arrive. It can reach 40 feet tall and is a medium to fast growing tree.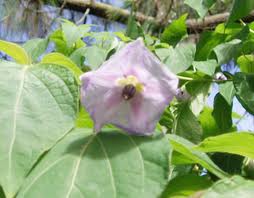 TRM068 Lilac Lycianthes ( Lycianthes quichensis )
This exceedingly rare shrub from Guatemala belongs to the Solanum family, same as the tomato, the blue potato bush, the white potato jasmine vine and many more wonderful plants.
This is a good container plant or garden background plant.
A rare ornamental related to the potato bush. It grows into a bushy habit. A medium-sized perennial with felty, soft to the touch, heart-shaped leaves, it has huge, almost flat, light purple flowers with a little magenta tint in the yellow center.
Bright red fruits follow. Hardy to the 20's. Great in sun or shade.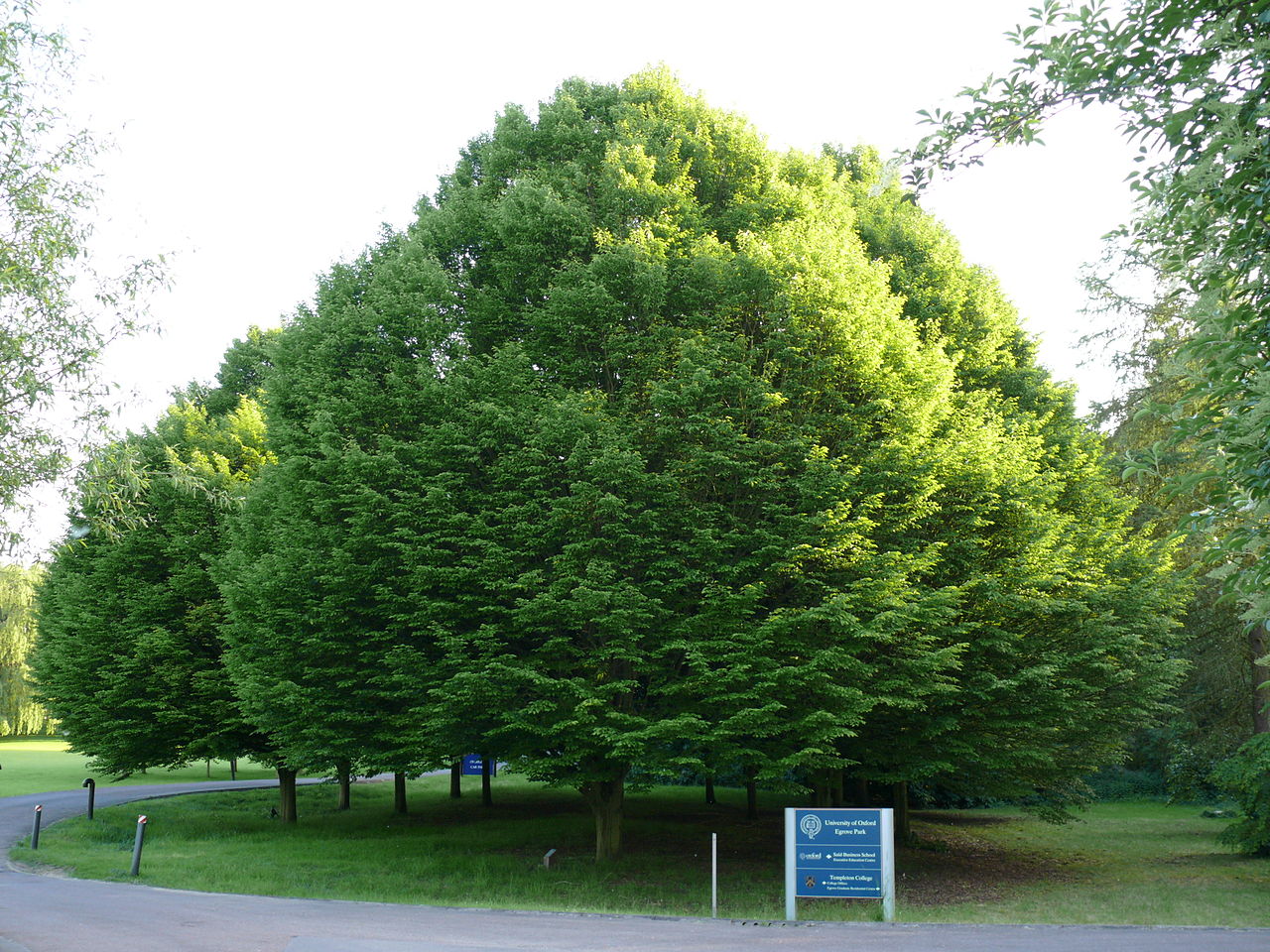 B1719 European Hornbeam ( Carpinus betulus )
A low maintenance tree that can be used as a hedge, shade tree, lawn or street tree. It has showy flowers in spring and good colored leaves in fall. Grows in most soils and tolerates air pollution well.
A medium-sized, deciduous tree that grows 40-60' tall with a pyramidal to oval-rounded crown. Ovate, sharply-toothed, dark green leaves (to 5" long) are clean and attractive throughout the growing season. Foliage turns yellow to orange in fall.
Fruits are small nutlets that appear in drooping 5" long clusters in summer. Trunks have smooth gray bark and distinctive muscle-like fluting.
For zones 4-8.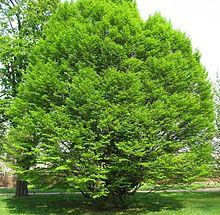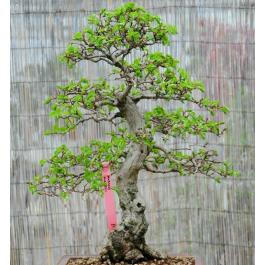 TRM230 Korean Hornbeam ( Carpinus Turczaninowii )
A deciduous tree growing up to 40 feet. Oval shaped canopy. Used as a bonsai and as a beautiful lawn tree, Carpinus turczaninowii has smaller leaves than its european cousin. It has a very twiggy and fine branching combined with small light green leaves that have a spectacular autumn display of yellow, orange and red. Has for long been a favorite in Japanese Bonsai with many specimen trees around. For zones 5-9.
This item is currently out of stock, if you would like to be notified by E-mail when it becomes available again, simply enter your E-mail address in the field below and hit "Submit".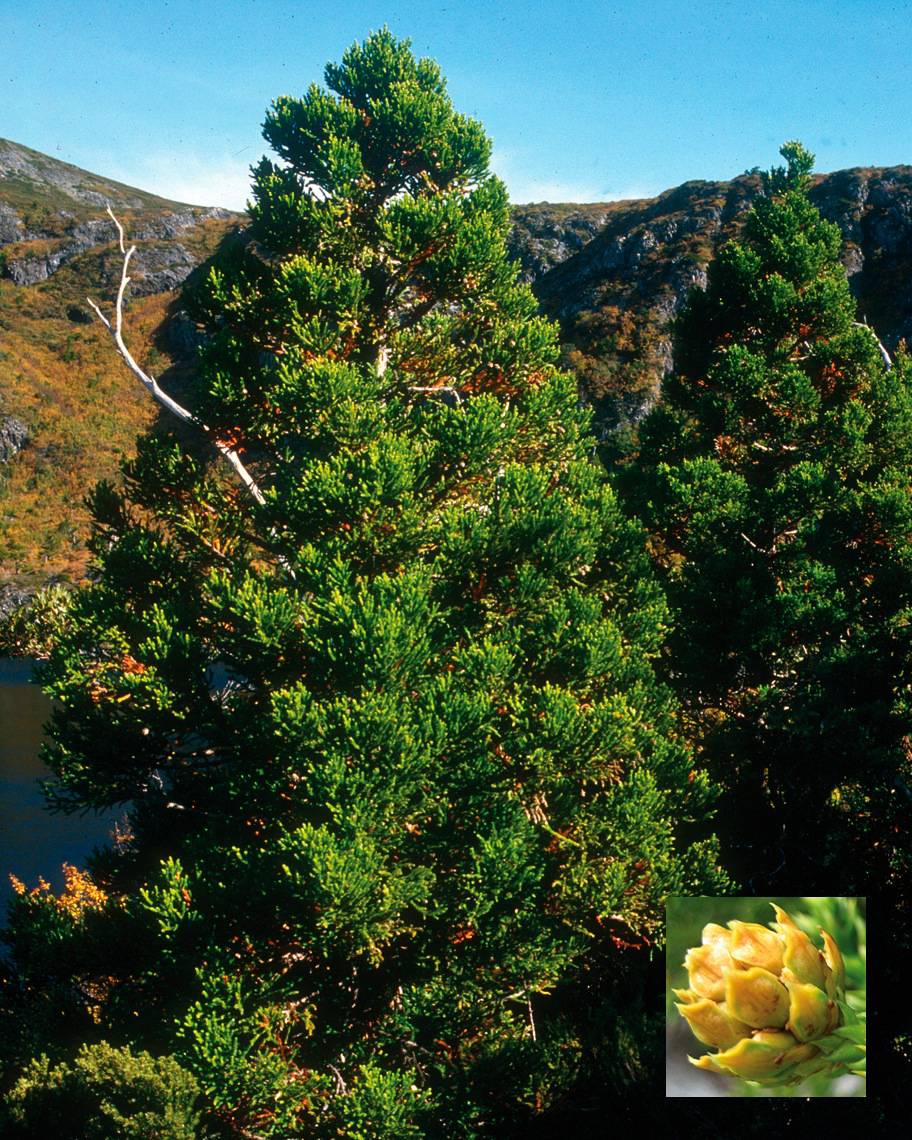 RLP094 King Billy Pine( Athrotaxis selaginoides )
An evergreen conifer, reaches 70-80 feet tall and is native to Tasmania, where it usually grows in mountain regions. It produces a tall trunk covered with orange-brown bark that holds a crown with upright branches, shiny green, nearly scale-like foliage and woody, orange-brown female cones. Its wonderful light, durable, rot resistant, pink to reddish brown wood is rather rare. Prefers cool, humid summers and is hardy to USDA Zone 8.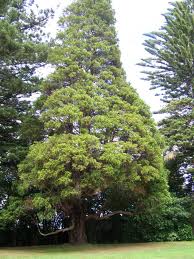 RLP095 New Zealand Cedar( Libocedrus plumosa )
A large conifer growing to about 80-100 feet or more tall with a conical crown of thick, spreading branches. The trunk can reach to 10 feet in diameter and is covered in reddish brown bark that sheds in long strips. The scale-like leaves densely cover the finely pinnate branches. It is native to warm temperate rainforests below 600 m (2000 ft.) in northern New Zealand. The dark red, fine-grained wood is very attractive and durable but splits easily. It is suitable for USDA hardiness zones 8 to 10.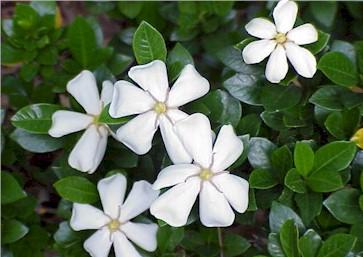 FA01 Gardenia ( Gardenia Jasminodes )
Also know as Cape Jasimine, native to China, Gardenia's evoke images of exotic, sweet-scented flowers and soft, island breezes. Glossy, dark green leaves provide a luxuriant backdrop to heavily-scented, double, creamy-white blooms. Grown in dappled shade, Gardenia's like well amended and well drained ( 5-6 pH ) acid soil and will reach a height of 4-6 feet. Blooms are long lasting and are ideal for cut flowers. Hardy to 20 F. and in zones 8-10.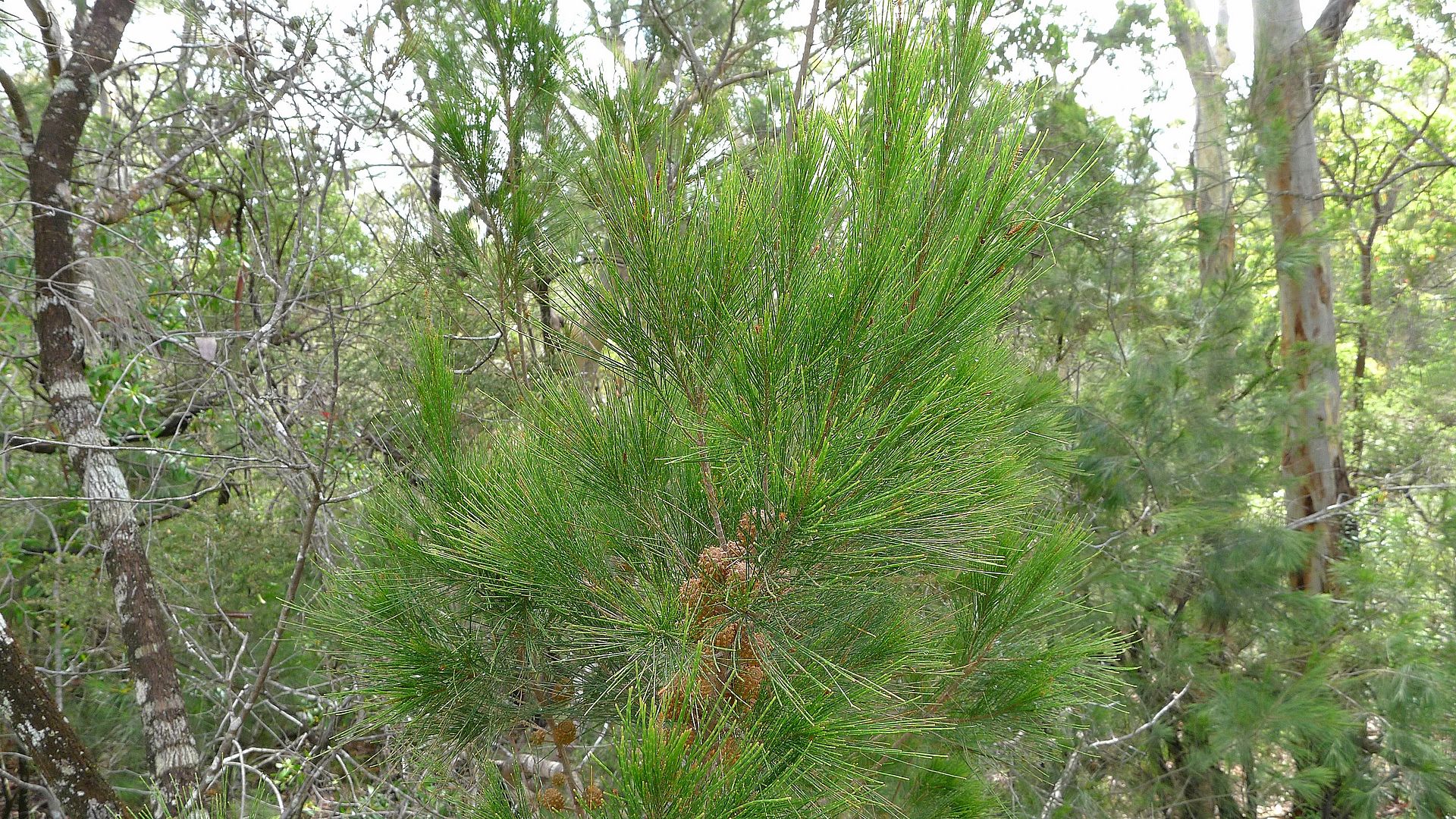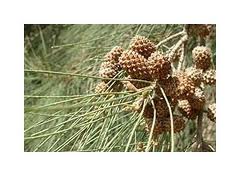 RLP070 Black She Oak ( Allocasuarina littoralis )
This is a beautiful Australian tree that looks more like a pine than an oak. They get great green pine like foliage and small red flowers amongst the foliage.
A great bonsai specimen.
These beautiful plants grow best in full sun to part shade and they are hardy to zone 8.
Evergreen small to medium tree, with ascending branches. Found native on dry ridges and hillsides of the Blue Mountains and along the east coast of Australia. Fine bright green cladodes (leaves) and fine branchlets on ascending branches.
Female flowers reddish to crimson, male flowers dark brown held on spikes.
Dark black fissured bark on the trunk. Tolerant of a wide range of climatic conditions and soil types from sandy to heavy clay and moderate soil salt tolerance Performs best on well drained sites.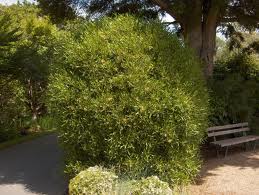 RLP071 Hop Bush ( Dodonaea viscosa )
Hop Bush (also known as Hopseed Bush) is a drought-tolerant shrub with an upright, branching form. It reaches a height of 12 feet with a 10 foot spread. Its willow-like leaves are 4 inches long.
The foliage is a bronzy-green color that turns a reddish shade in the winter months. Small clusters of yellowish-green flowers bloom in the spring and are followed by winged seed pods. The winged seeds look similar to hops from which beer is made, hence the name.
Makes a very nice informal hedge plant and a good xeriscape plant. Cold hardy to about 15 degrees.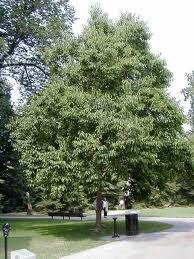 3391 Hardy Rubber Tree ( Eucommia ulmoides )
Very nice shade tree for lawns or parks. Street tree for zones 4-8. Hardy rubber tree is typically grown as an ornamental shade tree because of its attractive glossy green foliage and its excellent resistance to insect and disease problems. It is native to China, but is possibly now extinct in the wild. It is a low-branching tree that typically grows 40-60' tall with broad ascending branches and a rounded spreading crown. Dioecious with insignificant apetulous greenish brown male flowers (in clusters) and female flowers (solitary) on separate trees.
Flowers bloom in April. Female flowers give way to flattened ash-like winged seeds (wings to 1.5" long). Serrate, elliptic to ovate, pointed, elm-like, glossy dark green leaves (3-6" long) remain attractive throughout the growing season. No fall color. Ulmoides means resembling elm in reference to the similar leaf shape. As the common name suggests, rubber can in fact be made from the tree sap, but the extraction process is complicated and too costly for commercial application. Tear a leaf, break a twig or peel off some bark and a stringy latex-like sap appears.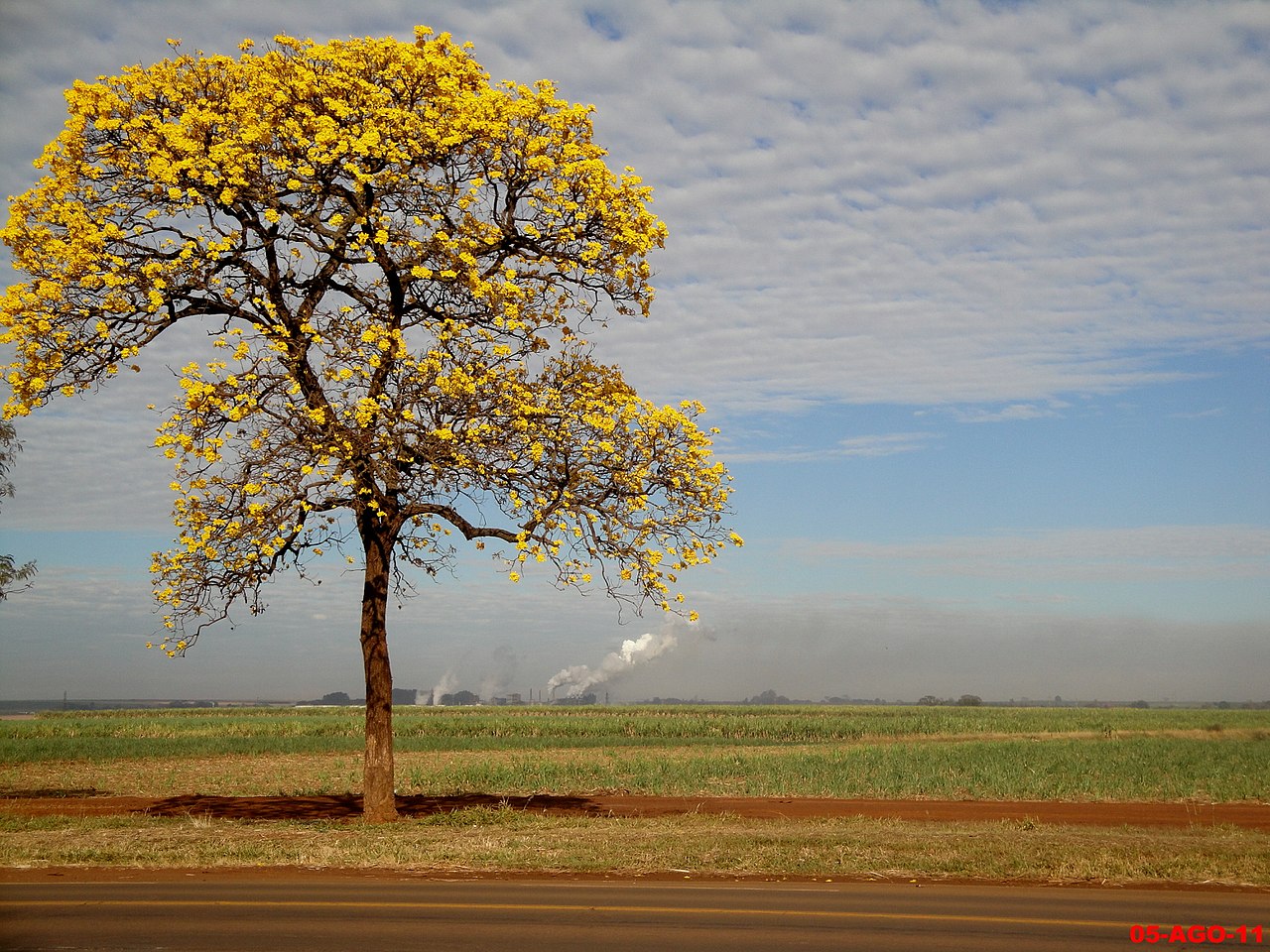 3337 Golden Trumpet Tree ( Tabebuia chrysotricha )
This yellow flowering deciduous Tabebuia comes from Brazil. It is a low branched brown-barked tree with a rounded head to 25 to 30 feet and stems and branches are covered with tawny fuzz. It presents a dazzling display of yellow 2-3 inch long flowers in late winter on bare branches that are shortly thereafter followed by the compound leaves, composed of 3 to 5 leaflets that are dark green and prominently veined above and roughed textured olive green below. Hardy to 24° F. Plant in full sun.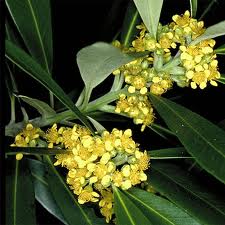 3332 Fragrant Kanooka (Water Gum)( Tristaniopsis laurina )
This is a slow growing upright evergreen tree that occurs naturally on moist, well-drained sites along the east coast of Australia that with great age can reach to 45 feet tall but more typically it is found as a 15 to 30 foot tall tree. It has narrow glossy leaves that are darker above and paler below and turn more reddish with the onset of cold weather. The leaves are borne on mahogany-colored young branches with larger branches having an attractive smooth bark that becomes more scaly with age. The fragrant yellow flowers appear in late spring to early summer and are attractive to bees. Plant in sun or part shade in a wide range of soil types, including sandy loams or even heavier clay provided that there is decent drainage. Irrigate regularly to only occasionally. It is a good candidate for a lawn tree and its slow growth rate makes it a good choice for smaller gardens or street plantings. Hardy to 20 to 25 F.