Unusual Lawn Plant Seeds from around the World
---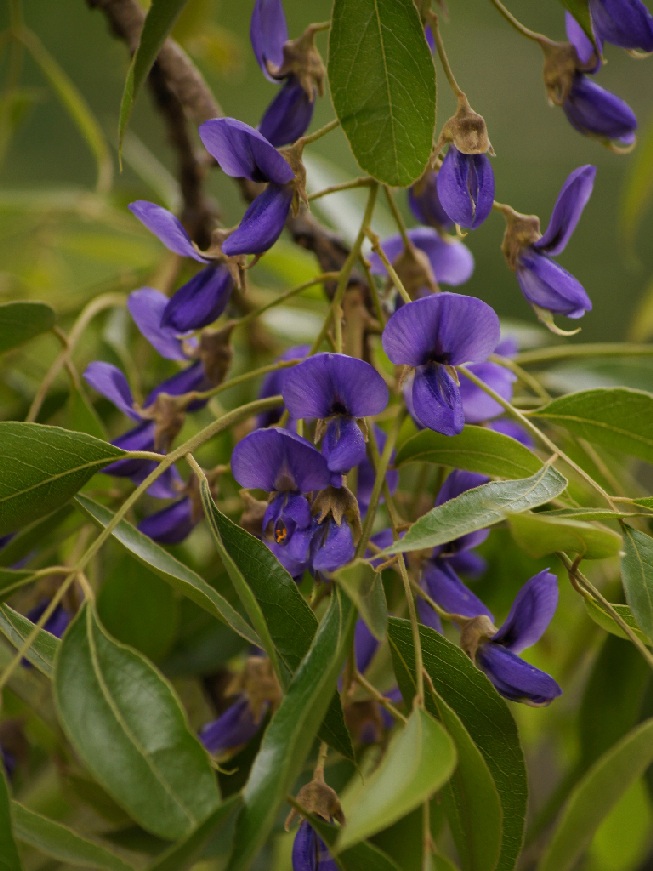 3451 African Wisteria Tree ( Bolusanthus speciousus )
In full bloom, Bolusanthus speciosus creates a display of unequalled splendor. This spectacular small to medium sized tree with graceful drooping branches, covers itself with trusses of fragrant, violet-blue flowers throughout spring and early summer.
Although it is deciduous, the Tree wisteria is only without leaves for a short time in early spring. The conspicuous dark, brownish black trunk, offsets the light green leaves and the magnificent flowers to perfection.
It is a protected species in South Africa which means that no wild specimens may be damaged, cut down or removed.
The unsurpassed beauty of the Tree wisteria as well as the non invasive root system makes this one of the most successful garden trees. Bolusanthus speciosus is perfect for enhancing any area where space is at a premium and is the perfect choice for townhouse gardens. This magnificent tree looks stunning in a mixed border to add colour and height or as a single specimen on a lawn or alongside a patio.
When planted in a group of 3 or 5 the effect is superb while an avenue of these lovely trees along a driveway or street is always a showstopper. When planted in large pots the Tree wisteria creates a stunning focal point for patios and paved areas. This tree is very popular with Bonsai enthusiasts.
The beautiful, hard wood of Bolusanthus speciosus is used to make excellent quality furniture and household articles. Being termite resistant, the straight stems are used for fence posts. Both the roots and parts of the bark are used medicinally to treat ailments such as various stomach problems and abdominal cramps.
Winter Hardiness: 25-30°F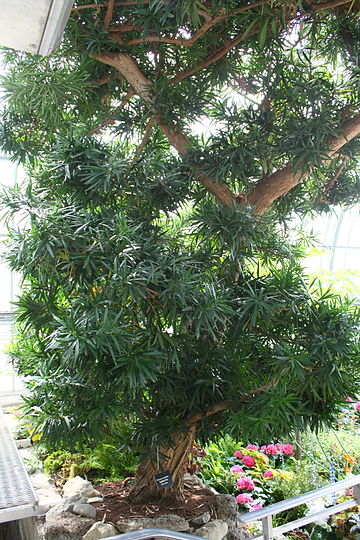 TRN536 Buddhist Pine ( Podocarpus macrophyllus )
Buddhist Pine is native to mountainous areas of China and Japan. It is an evergreen conifer that typically grows as a narrow-conical tree to 50 feet tall or sometimes as a large shrub. In cultivation in warm winter areas of the U. S., it usually grows much shorter, to about 20-40'.
This is a slow-growing conifer that features leathery, soft-textured, shiny dark green, yew-like needles to 4" long arranged in dense spirals. Foliage is pleasantly fragrant when bruised. Ellipsoidal fruits that are about 1.5" long are fleshy, olive-green, berry-like cones that ripen in the second year to purple. Fruits may be eaten out of hand or used in pies and cakes.
Other common names include Japanese yew, yew pine, southern yew, yew podocarpus and podocarpus. It can be grown as a houseplant or container plant that may be kept outside during the frost-free growing season, but brought indoors in fall for overwintering. Container plants should be protected from full sun when taken outdoors.
For zones 7-9 outside.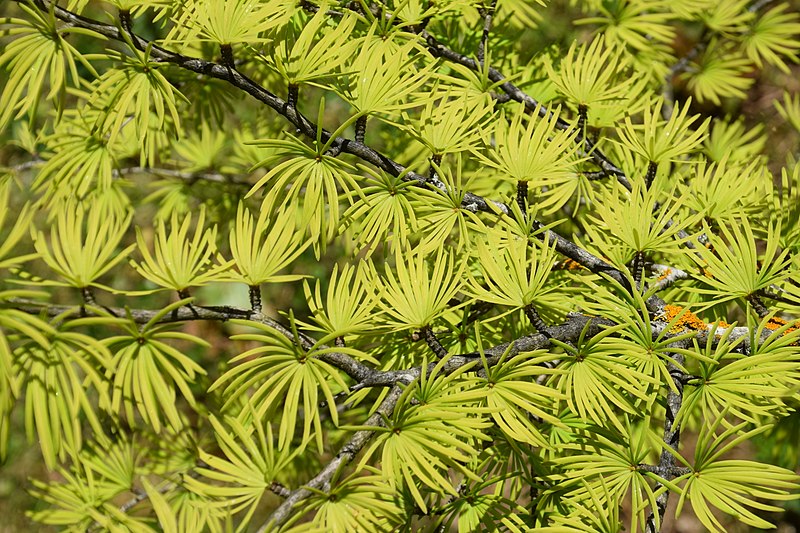 TRN539 Golden Larch ( Pseudolarix amabilis )
Golden Larch is native to coastal mountain areas in southeastern China. It is a deciduous conifer that closely resembles the true larches. It is a slow-growing, broadly-conical tree with horizontal branching and drooping branchlets that often grows as wide as it does tall.
It is typically seen in cultivation as a 30-60' tall tree, but can grow to as much as 120' tall in the wild. It is perhaps best noted for its soft green foliage (light green above and blue-green below) that turns golden yellow in fall before dropping. Needles up to 2.5" long appear primarily in tuft-like clusters on spur-like short shoots. It bears attractive reddish brown fruiting cones to 3". Bark on mature trees is fissured and reddish-brown.
Pseudolarix means false larch. Pseudolarix primarily differs from the larches in that the cones are larger and the needles of Pseudolarix are usually longer and broader than those of the larches. It also makes a good bonsai specimen.
For zones 5-7 outside.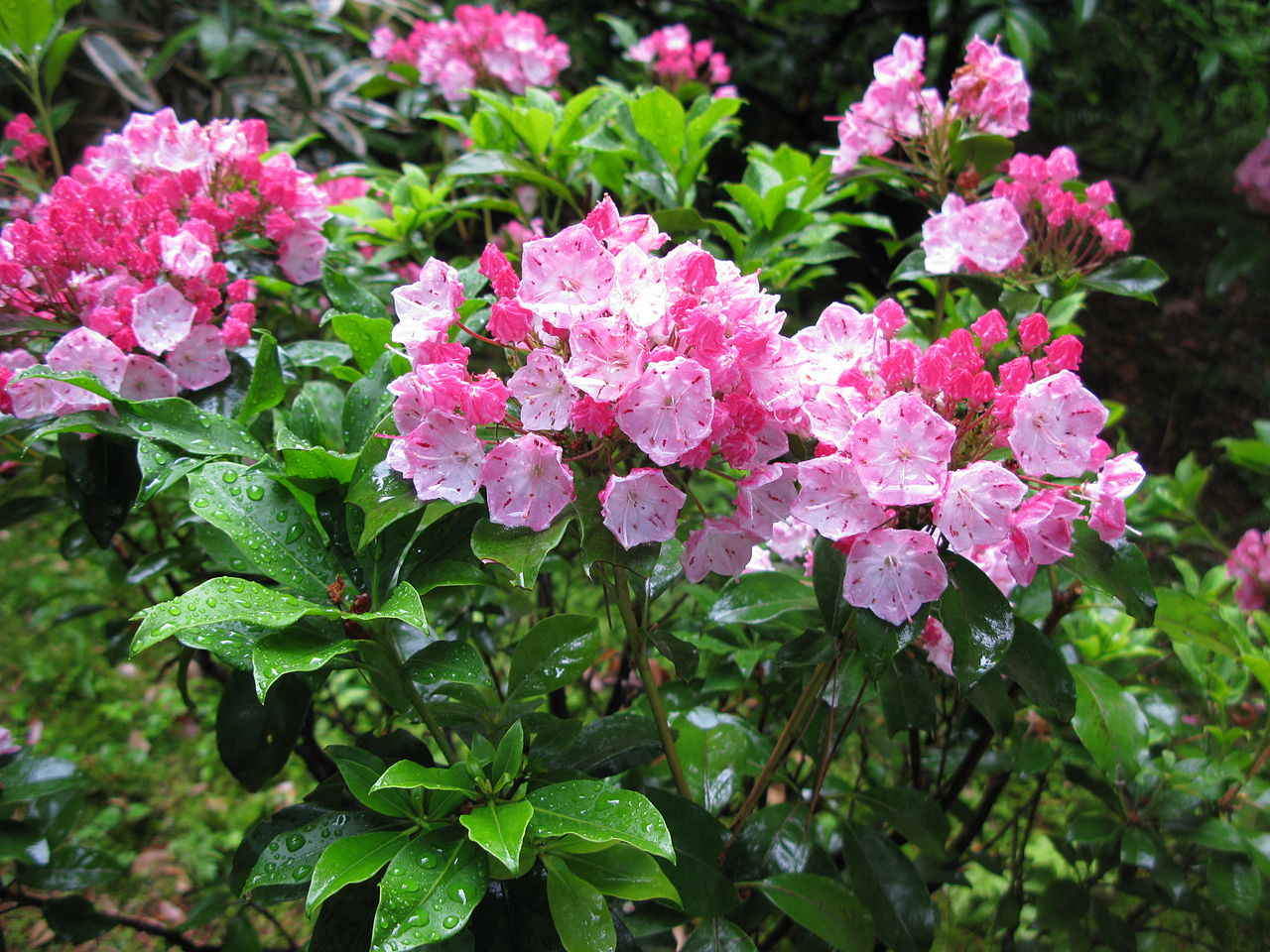 TRN521 Mountain Laurel ( Kalmia latifolia )
This shade-tolerant North American shrub has gorgeous flowers that bloom in late spring and early summer. Usually grows 6-10 feet tall if left untrimmed. A close relative of rhododendrons and azaleas, it's an excellent choice for a shady garden. It's also evergreen, so even after the blooms have faded, its leathery deep green foliage provides a welcome sign of life. Even in the coldest winter weather, when rhododendron leaves have curled in on themselves, mountain laurel remains bravely open to the elements.
An old time favorite with fragrant maroon flowers in the late spring to early summer. Has large dark shiny green leaves, which make this an attractive plant when not in bloom. Will grow in varied conditions which include sun or shade, but the best spot in semi-shade with rich slightly moist soil. It will send off underground runners and will form a large clump over time with many blooms. While the blooms are fragrant you will have to get pretty close to appreciate them.
For zones 4-9.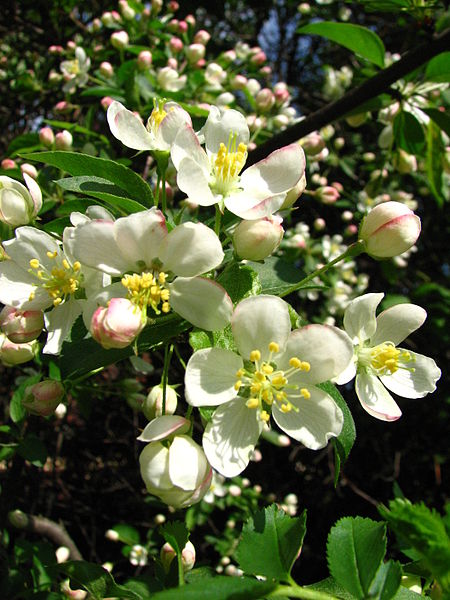 TRN522 Sargent's Crabapple ( Malus sargentii )
Sargent's Crabapple is a dwarf, deciduous flowering tree growing 6 to 8 feet tall and 8 to 10 feet wide. The smallest of the flowering crabapple species, this unique very small tree exhibits a very dense, wide-spreading, rounded habit.
It can also be grown as a dense multi-stemmed shrub for use in borders or as a screen or hedge. Flowers are pink buds that open to1 inch, white, fragrant flowers. Flowers are followed by 1/4 inch, glossy red crabapples, maturing in the Fall. The crabapples are sweet in flavor, like rose hips and are attractive to birds and other wildlife.
The leaves are ovate, lobed and dark green, turning yellow in the Fall and contrasting well with the crabapples. If not eaten by wildlife, the fruit persists thru winter, providing a good winter interest.
Because of its size, the Sargent crabapple is useful for planting under utility lines, in confined yards, as privacy screens and hedges and on sloping ground. It is also a popular choice for bonsai.
For zones 4-9.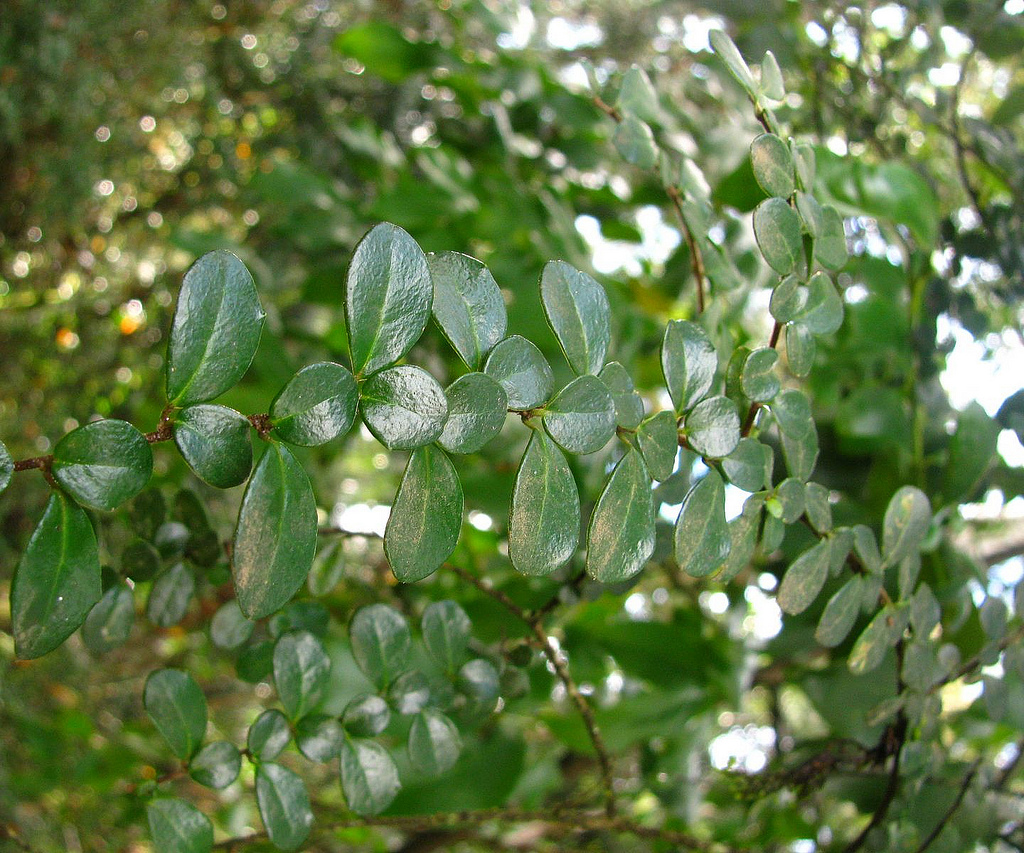 TRN520 Azara Bush ( Azara microphylla )
This shrub or small tree is particularly noted for its late winter to early spring (February-March) bloom of tiny, apetalous flowers (each to 1/2" across) which perfume the air with a strong intoxicating aroma varyingly described as having overtones of vanilla or chocolate. Flowers bloom in tiny clusters from the leaf axils, with the flower color coming entirely from showy greenish-yellow to yellow stamens. Flowers are followed by small, one-seeded, spherical white berries (1/ 4" long).
In garden settings, it typically grows in a fountain-like shape to 12' tall, but sometimes may mature over time in the wild to as much as 15-30' tall. This elegant evergreen from Chile is an excellent addition to large and small gardens.
Hardy to zone 8.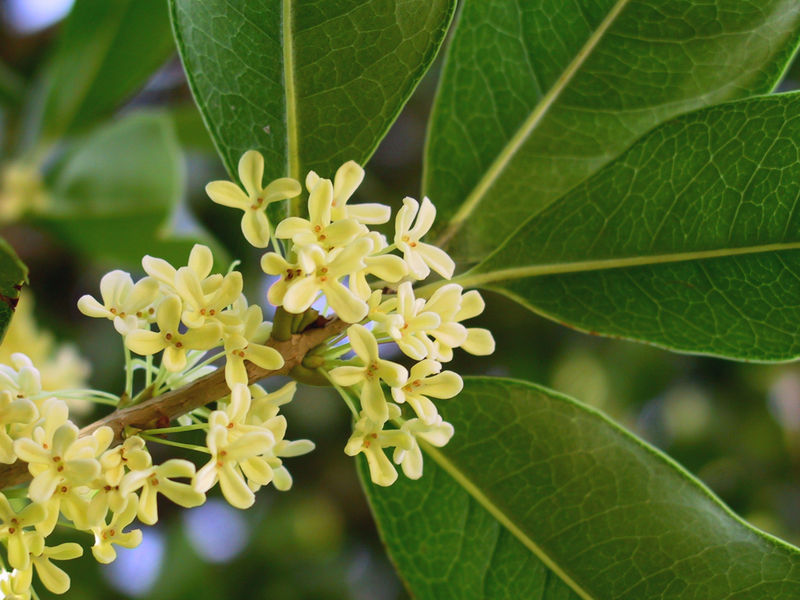 3385 Tea Olive ( Osmanthus fragrans )
Tea olive has deliciously fragrant flowers that smell a lot like those of fringetree (Chionanthus virginicus), which is in the same family. Tea olive is a traditional element in the southern garden landscape and a whiff of its scent carried on a cool winter breeze makes a memorable impression.
Tea olive is a large upright shrub that can reach 20 ft (6.1 m) tall and 6-8 ft (1.8-2.4 m) wide, but is usually seen in landscapes at 6-10 ft (1.8-3.1 m) high. The opposite leaves are a dark, shiny green and the edges may be finely toothed or smooth with both types present on the same individual. As the plant matures, most of the foliage is held at the outermost ends of the stems, but the plant retains a handsome appearance despite the legginess. In autumn, winter and early spring white flowers cover the shrub. It also blooms sporadically throughout the summer.
Individually the blossoms are small and inconspicuous, but the fragrance is powerful and exquisite.
Tea olive is rather slow growing and is usually quite long lived. Tea olive prefers reasonably good soil, but is adaptable except in the poorest, sandy soil. May be pruned to maintain size and encourage branching, but thrives equally well with neglect. Tea olives are sometimes attacked by scale insects, but usually only when growing conditions are poor. Light: Sun to partial shade; morning sun with afternoon shade, or high, shifting shade is ideal.
Plant tea olives where their lovely fragrance can be enjoyed! Situate a tea olive wherever there is foot traffic near windows or doors and in outdoor sitting areas. Incorporate tea olive into foundation plantings at the corners or use as an accent between windows. A row of tea olive makes a very attractive hedge or screen. In areas where it is tender, grow tea olive as a container specimen so it can be protected indoors in winter.
USDA Zones 8 to 10.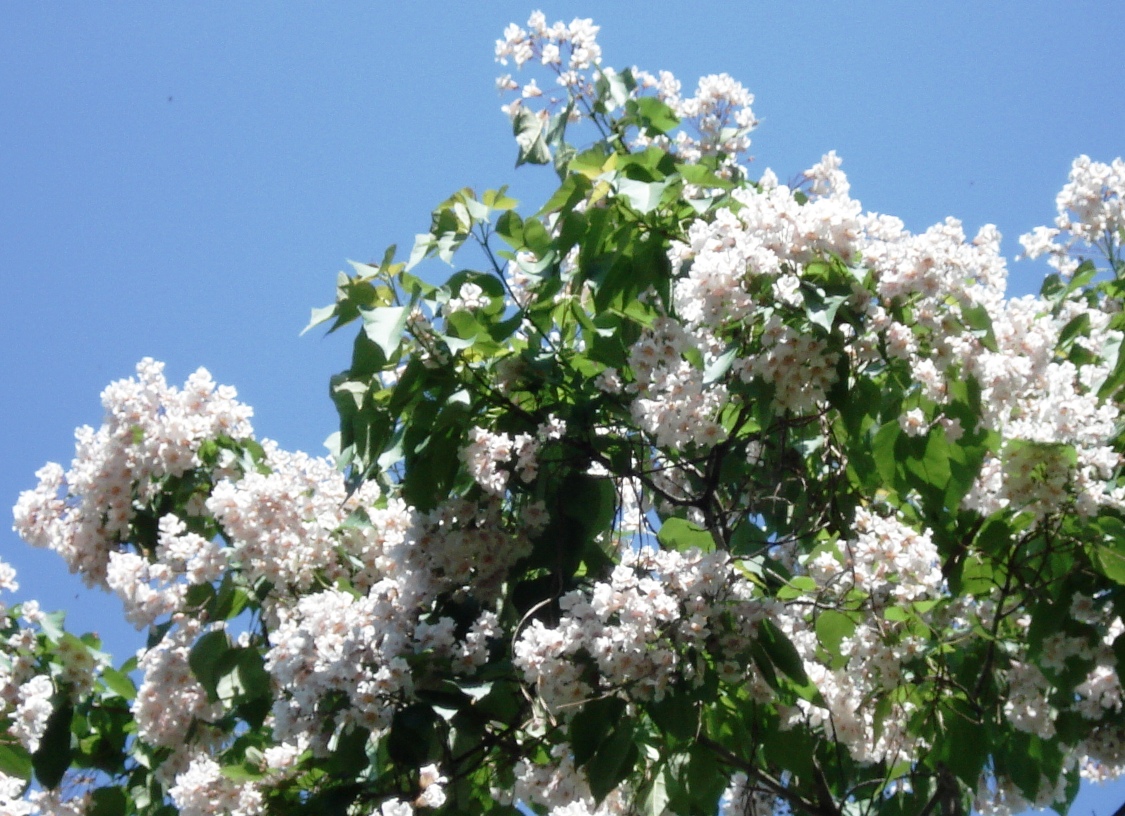 TRN586 Chinese Bean Tree ( Catalpa fargesii )
A spectacular tree which has clusters of pretty, pale white to lilac-pink, foxglove-like flowers with reddish spots in midsummer. The leaves are quite elegant with a narrow, pointed tip. Flowers of this plant are considered to be ornamentally superior to the flowers of most other catalpas. Flowers give way to extremely narrow seedpods (to 1/4" wide) that may grow to as long as 30". The seedpods mature in fall to dark brown and then split open lengthwise to release the seeds within.
USDA Zones 5 to 7.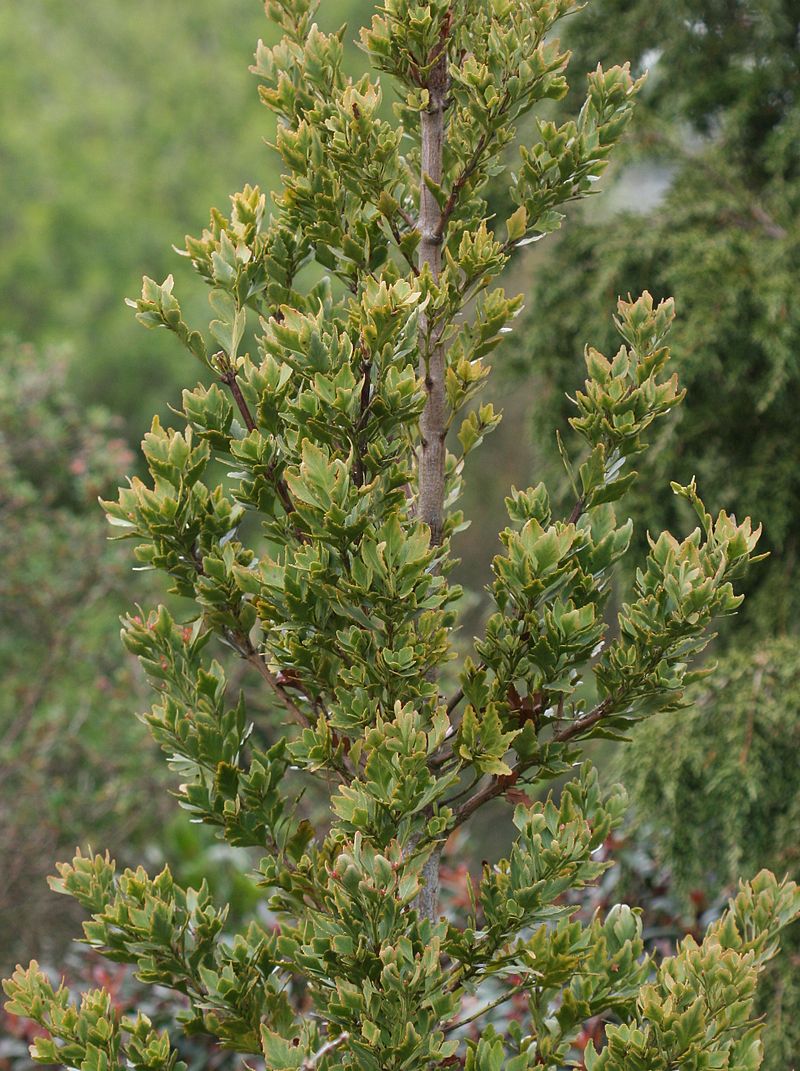 dendrome.ucdavis.edu/treegenes
TRN278 New Zealand Celery Top Pine ( Phyllocladus aspleniifolius )
The Celery Top Pine is a wonderful lawn specimen for zones 8 and warmer, and also makes a good container plant when young. With a little imagination one can liken a stalk or bunch of celery to a celery-top tree and yet, again, the irregularly shaped 'leaves' of the celery plant do resemble (somewhat) those of the 'pine' of the same name. However, celery-top pine has no leaves, apart from some tiny, brownish, triangular scales on the younger twigs.
So, what are those things that look like leaves? They are green, leathery in texture, irregularly notched and more or less rhomboidal in shape. According to botanists those leaf-like organs are actually small, flattened twigs technically known as cladodes. They perform the same functions as leaves but are altogether quite different organs.
Celery-top pine does not bear cones in the accepted sense. Rather, the tiny blackish seeds are surrounded by pink, fleshy scales and a fleshy white outgrowth of the seed called an aril. Those modified cones usually occur in clusters of 3-4 and appear at the tips or upper margins of the cladodes.
Related to the Huon pine, celery-top pine is a very much more widespread and common tree. There are even records of its being found on Bishop and Clerk Mountain on Maria Island. It occurs in other widely separated localities as in parts of the north-east of Tasmania and on south Bruny Island, the Central Plateau and the Tasman Peninsula.
The timber, although not quite as durable as that of the Huon pine, is much used in boat building and furniture construction. Also it is now a popular, if expensive, durable and attractive cladding timber for house building purposes. In the past it was used for railway sleepers and mine pit-props.
Celery-top pine is easily grown and maintained in all but the driest and poorest of soils. The branching arrangement of the young tree is regular and symmetrical with the evenly tiered branches held horizontally to the trunk. This form of growth will continue as long as the terminal bud is not removed or damaged. Celery-top is a pleasing tree, perhaps better group planted, with each specimen of different height. As well, it will thrive and please in a large container and does not object to being somewhat pot-bound.
For zones 7-9, if growing in zone 7, start inside for the first year, then transplant outside.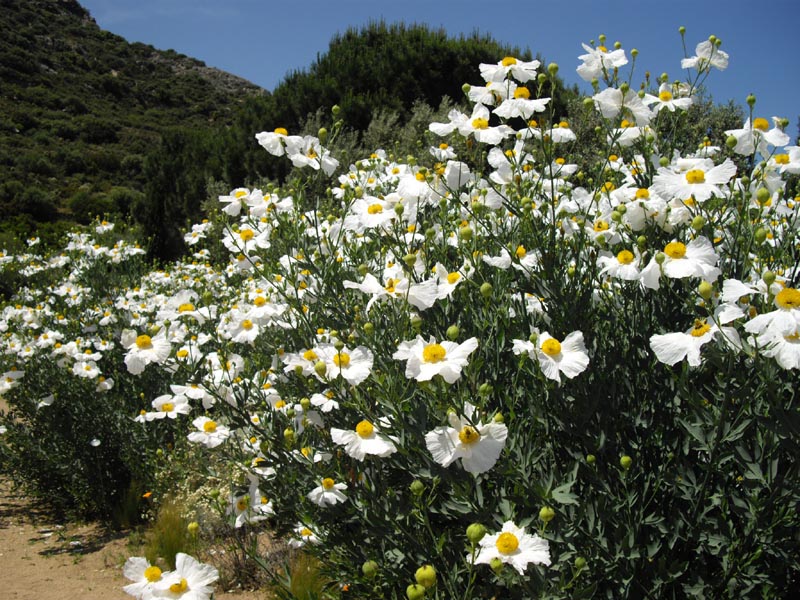 Ghislain118 Wikipedia
TRN308 California Tree Poppy ( Romneya coulteri )
Spreading from underground runners, this beautiful California native grows 4-6 feet tall and spreads to 8 feet or more with glaucus gray foliage. The large flowers can be five to seven inches wide and have white crinkled petals with a yellow center and are delicately fragrant with a peak bloom period is during the spring and summer.
Plant in sun or partial sun in a well-drained soil.
It is drought tolerant and hardy to near 0°F. Initially difficult to establish but once happy it will run underground to form dense stands whose bare stems are best cut back to 3 to 4 inches above the ground in late fall to early winter.
It can be grown for a few years and even flower in a container but is much more robust and beautiful when planted outside.
They are also excellent plants to bring bees to your garden and are good cut flowers in an arrangement. It should be noted that in sandy soils they can grow under your house and come out the other side, under driveways, or consume your entire yard. This plant is not for condos or small yards. For zones 7-9, if growing in zone 7, start inside for the first year, then transplant outside.

Important Note:These seeds on this page will benefit greatly from using the CAPE Smoke Seed Germination Primer that we use in our own greenhouses. We find we receive significantly better germination results when we use this primer on these types of seeds, otherwise, they can be rather difficult to start.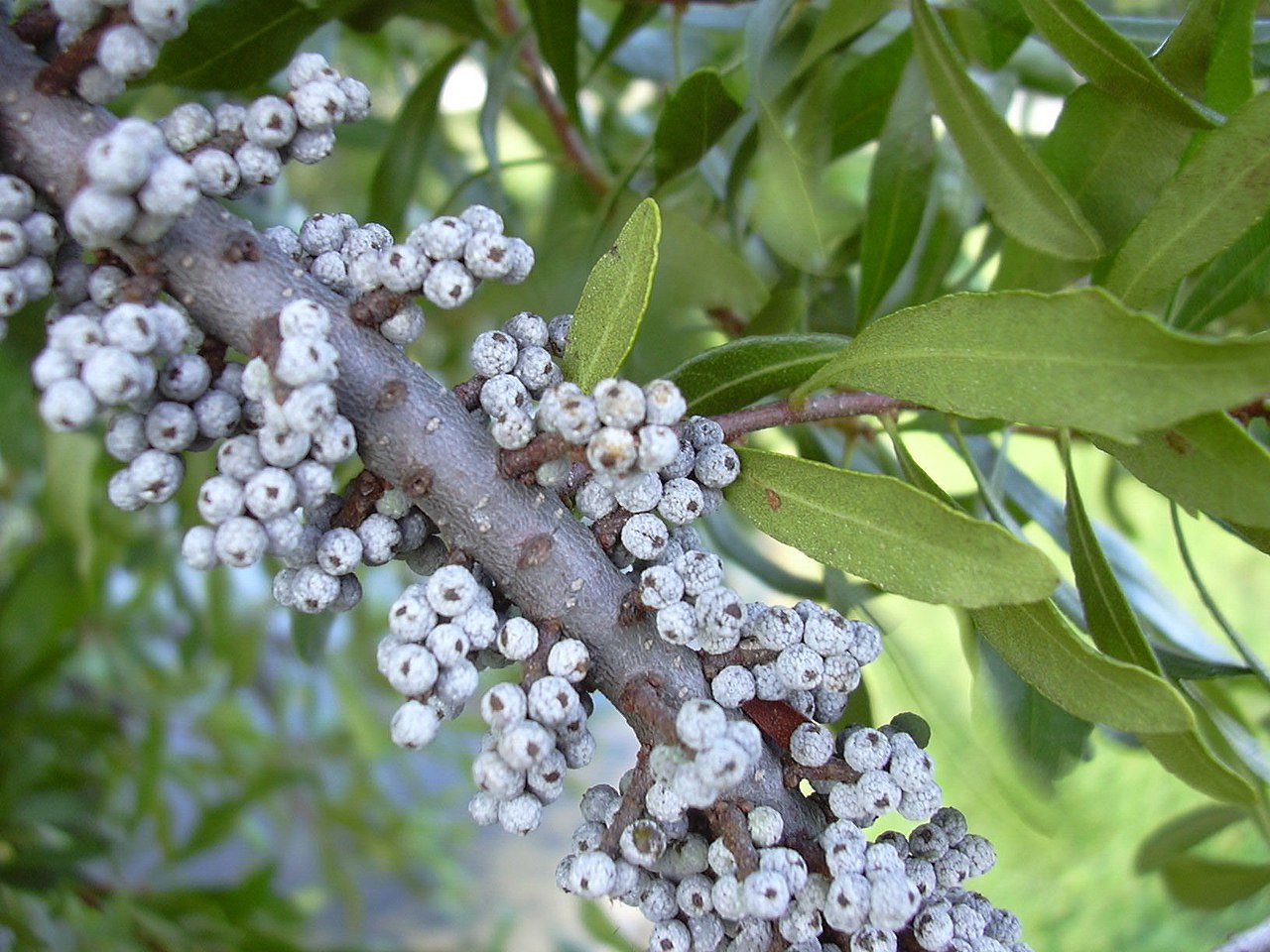 TRN396 Northern Bayberry ( Myrica Pensylvanica )
The northern bayberry, is a species of Myrica native to eastern North America, from Newfoundland west to Ontario and Ohio, and south to North Carolina. The berries can be used to make bayberry wax candles. American colonists boiled the berries to extract the sweet-smelling wax, which they used to make clean-burning candles.
Its growth habit is upright, with a rounded top and forms a fairly dense shrub. Its size varies. An average height is about 8 feet without pruning. Plants will develop a spread equal to their height. Minimal pruning will control it well.
Grows in coastal sand flats and tidal marshes from Maine to North Carolina. It is adaptable to a range of difficult landscape conditions including poor, sterile, sandy soils, swampy soil and heavy clay soils. Plant in full sun or part shade. Best in slightly acid soil. Can withstand coastal salt sprays.
For zones 4-6.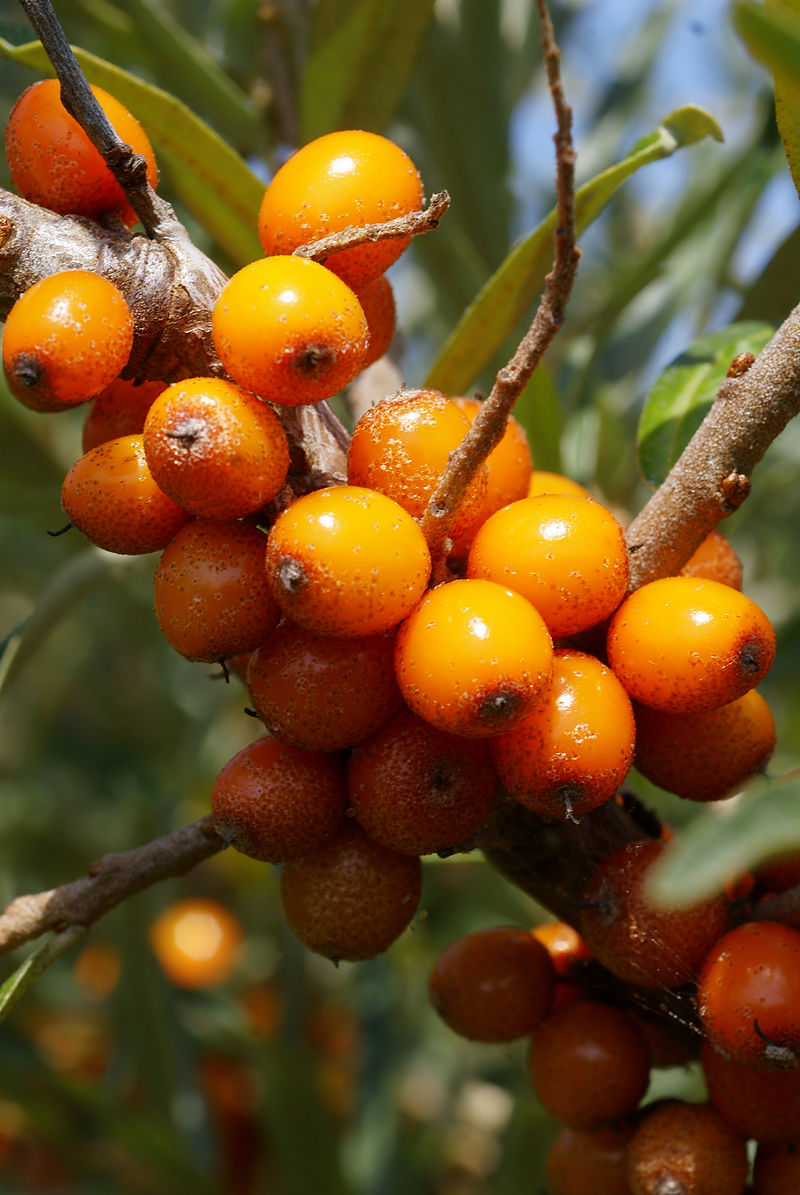 TRN398 Sea Buckthorn ( Hippophae rhamnoides )
Sea Buckthorn is a large, thorny-stemmed, suckering, deciduous shrub that typically grows to 8-12' tall and as wide. It sometimes grows in tree form, and may reach 20' tall or more in its native habitat. It is native to Europe, Northern Asia and China.
It is often found growing in coastal areas, hence the common name. It is particularly noted for producing both willow-like silver-green leaves which are attractive throughout the growing season and long-lasting orange berries on female plants in fall.
Narrow, linear, silver-green leaves ( to 3" long ) have a scaly surface. Non-showy, yellow-green, female flowers in small racemes appear on female plants in spring ( March-April ) before the leaves emerge. Male flowers bloom in tiny catkins on male plants at the same time.
Female flowers give way to orange fall fruits about 1/3" long which persist on the branches through winter. Fruits are used to make teas, jams, jellies, sauces and beverages, including an orange juice which is commercially produced in Germany and Russia.
Fruits are rich in vitamins A, C and E, folic acid, carotenoids, and fatty acids. Branches are thorny.
For zones 3-8.