Leek Seeds
Useful gardening information
Wait till early to mid-spring before sowing leek seed, depending on the weather. They can either be sown in a seed bed for transplanting the following summer, or sown in their permanent positions. If you sow in a seed bed you have the added bother of transplanting, but this must be balanced out by the fact that if they are sown in their permanent position, they will take up a lot of space for a long time before producing results.
Sow the leek seed thinly (about 100 seeds per 3 foot) as germination is usually very good, about 1/4 inch deep and cover the seeds with soil. If the seeds are properly stored they will be viable for about four years, so you can keep seeds for future use. After covering the seeds firm the soil down and water if dry. Rows should be about 6 inches apart in the permanent bed.
Informative articles found on the web:
How to grow Leeks
Nutritional Benefits of Leeks
Leek Recipes
---
Seeds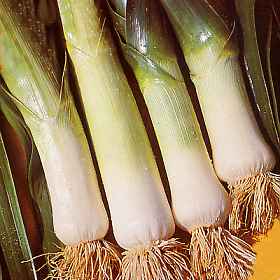 VL284 American Flag
A very popular leek with gardeners for years. The stems are long, white and thick and the foliage is medium green. Very dependable for fall and summer use.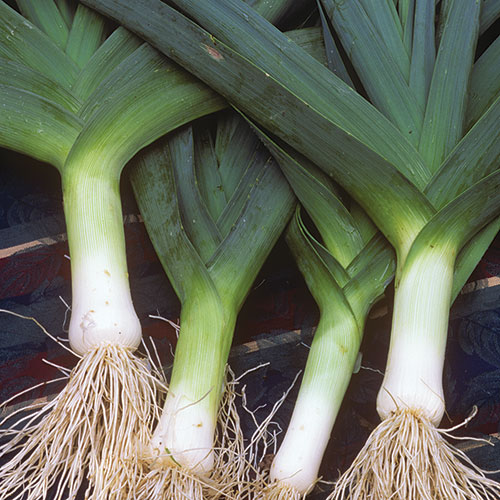 TRN129 Blue Solaise
This French heirloom leek dates back to the 19th century and is also known as 'Bleu de Solaise' leek.
Blue colored leaves. Stalks grow to 15-20 inches. Good for short seasons. Very tolerant of cold. This variety will grow well in most regions of the United States.
A good variety for fresh eating, sauteing, baking, grilling and soups.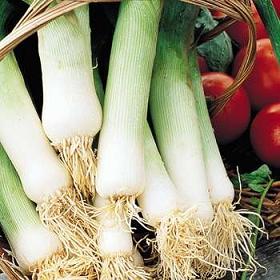 TRN211 Musselburg Giant
One of the best winter-hardy leeks you can grow. This Scottish heirloom has provided families with hearty soups and stews since the 1830s. An old dependable leek that produces thick white stalks 2-3 inches in diameter. The mild flavor and smooth, tender stalks explain why this variety has been passed from one generation to the next. The largest leek in our trials and one of the last to bolt. 105 days.