Lemon Catmint Seeds
Catmint is very easy to grow from flower seed, and if the seeds are sown early in the season, it will bloom the first year. It is a perennial that blooms like an annual. The foliage is vigorous and spreads to a width of 10 - 12 inches. Catmint plants works great as a general ground cover, accent plant, pathway edger, rock garden specimen, or in the herb garden.
Like catnip, Catmint attracts cats, and its flowers furnish nectar for hummingbirds and bees.
Useful gardening information
Growing Catmint from seed is not difficult. After the danger of frost has passed, in a prepared seedbed that is in full sun to partial shade, sow the seeds directly outdoors, preferably in soil that drains well. Press the Catmint seeds into the soil but do not cover them, and keep the flower seeds moist until germination.
Thin the seedlings to 12 inches apart and pinch off the growing tips to promote a bushy growth habit. Care of Catmint plants includes trimming the plants back after blooming to encourage a second bloom.
Catmint plants are aggressive and don't need much care, but an application of fertilizer 1 - 2 times during the growing season is beneficial. Give plants lots of space as they will spread. Many gardeners will border them with an edging.
Well-established Catmint plants can be divided in the spring.
Links to useful information on the web:
Growing and using Catmint
---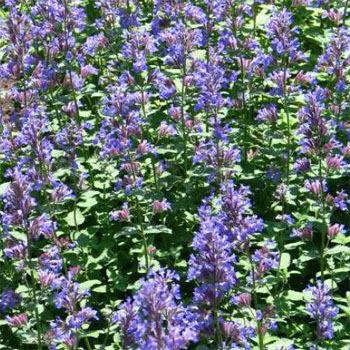 HR119 Lemon Catmint ( Nepeta mussini )

Like catnip, Catmint attracts cats, and its flowers furnish nectar for hummingbirds and bees.
Likes hot, dry weather. Used medicinally.
A perennial plant for zones3-9. An excellent blue-violet flowering border plant with aromatic gray-green foliage. Catmint works great in hanging baskets or in rock gardens.
---
Share a growing tip or recipe and help other gardeners!

Click on the Contact Form link, place "Tip" in the name line and fill in your information. If we accept your Lemon Catmint growing tip or recipe, we will post it on this page.