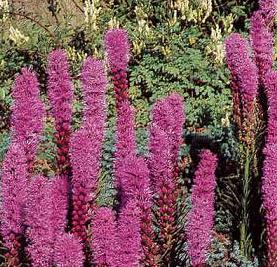 D2266CD Kobold Dwarf Goblin Blazing Star ( Liatris spicata }
Dwarf, dense violet spikes in early summer, grassy foliage, striking appearence. A hardy perennial plant reaching only 16" tall ft.with rosy purple spikes of flowers reaching 15" in length. Excellent for dried or cutflower arrangements.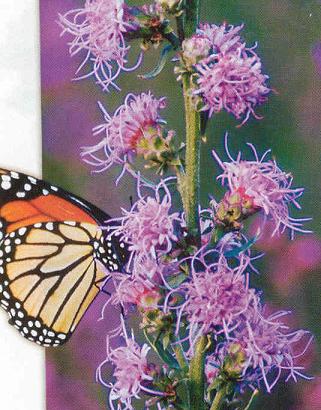 TRM288 Rough Blazing Star ( Liatris aspera )
An easily grown and greatly under appreciated perennial for zones 3-8, more widely grown in the eastern than the western USA.
Grows 2-3 feet tall and spreads 1 to 1.5 feet across. Very beautiful in bloom.
Native to a wide area in the mid-section of the US, Rough Blazing Star is well adapted to drier conditions than many other Liatris species.
Blooming from mid-summer into early fall, butterflies, hummingbirds, and bees are greatly attracted to the flowers of Liatris aspera. Like all Liatris species, the flowers are great in flower arrangements both as fresh and dried as the flowers keep their purple color.
Many insects visit the flowers of Liatris aspera including honeybees, bumblebees, Little Carpenter bees, Miner bees, and Leaf-Cutting bees. Butterfly visitors include Monarchs, Painted Ladies, Black Swallowtails, Sulfurs, and more.