Save 25% on everything we offer from now to midnight Monday! Simply type in TK2017 ( case sensitive, no spaces ) into the coupon field of the shopping cart when you check out, and the discount will be applied. ( You must use the code in the coupon field to get the discount, we cannot apply discount after order is placed )
Melampodium Seeds
Also known as Butter Daisy or Star Daisy, this little annual has 1 inch blooms that do not want to quit blooming and blooming. A gardener's favorite choice for a summer annual who value its low-growing, neatly-rounded habit, effortless summer-long bloom, and versatility of use.
Great for containers, edging, the front of the border, ground cover plantings, and just about any other site in sunny soil. Plants begin blooming less than 2 months after sowing and will keep blooming even through the heat and humidity of summer time.
These are good plants for hanging baskets, pots, beds, and butterfly gardens.
Useful gardening information
Likes average, well drained, soil. Once established, plants are quite drought and heat tolerant. Plant with other hot-weather annuals such as flossflower
(Ageratum houstonianum)
, gomphrena
(Gomphrena globosa)
and celosia
(Celosia argentea)
. Use them to surround summer blooming perennials like gloriosa daisy (Rudbeckia hirta) or just make a bed of solid melampodium! Dark red, taller pentas
(Pentas lanceolata)
surrounded by bright yellow melampodium makes a hot, bright summer combination
---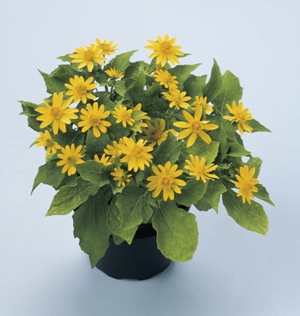 IM099 Melampodium Melanie
Wonderful container plant. Golden daisies, prolific bloomers, vigorous in the garden. Annual growing 15" tall, blooming in 10 weeks from seed.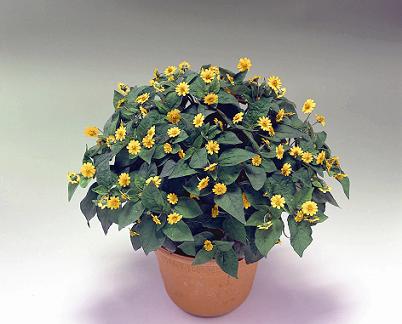 TRM709 Casino Light Yellow
Full bodied mound of pastel lemon yellow starry blooms all summer, deep green leaf. Annual growing 10" tall, blooming in 10 weeks from seed.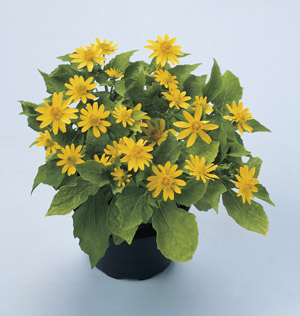 TRM710 Sun of Garth
Magnificent shrub-like specimen plant, solar yellow, blooms all summer, shrugs off heat and humidity, eats the dwarf varieties for lunch. Annual growing 18" tall, blooming in 10 weeks from seed.
---
Share a growing tip or recipe and help other gardeners!

Click on the Contact Form link, place "Tip" in the name line and fill in your information. If we accept your Melampodium growing tip, we will post it on this page.