A wonderful desert melon with a heavenly fragrance, it is so beautiful it can even be use for decoration!
Tigger melons smooth rind has vertical variegations of rust orange and yellow. The melon's creamy, off-white flesh is juicy and sweet with a flavor that has been compared to that of Asian pear and cantaloupe.
Like most muskmelon types, it offers a highly aromatic scent and has been known to perfume the entire room they are in when at their peak of ripeness. Tigger melons will grow to be approximately the size of a softball and weigh a modest one pound when fully mature.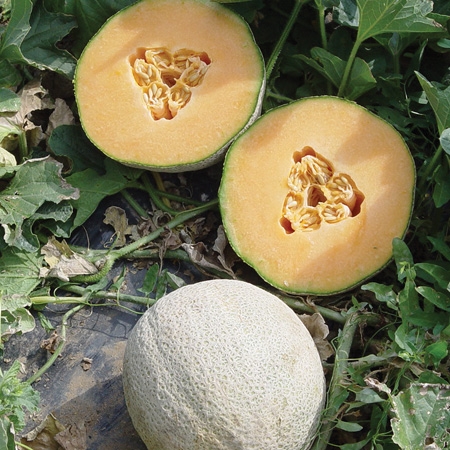 TRN002 Victoria Hybrid Cantaloupe
We like this melon becuase it produces so many fruits per vine and has a delicious flavor. Plus it handles well without brusing. This is a popular shipping melon for commercial growers. Excellent flavor and sets many 3 to 4 pound fruits makes it an easy choice for the melon patch. For commercial shipping and farm stands.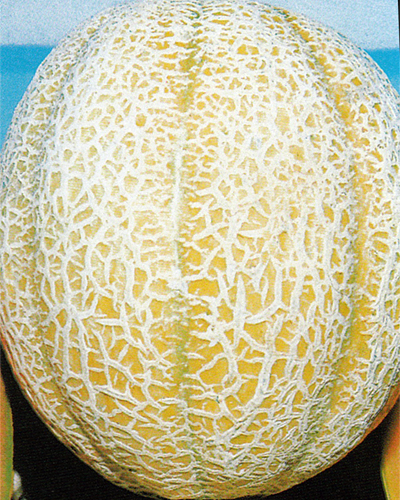 TRN173 Retato Degli Ortolani Cantaloupe ( Italian Heirloom )
Very sweet cantaloupe, with the classic netting of the skin. Deep orange sweet flesh. Known as a market or garden melon in Europe and described as the main melon used in most Italian cuisine. The "Gardener's" melon of Italy. 3-4 lbs average weight. 80 days.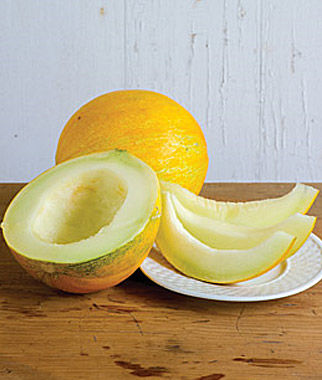 TRN311 Collective Farm Woman
This is an Ukrainian heirloom melon. This is one delicious melon in a hurry, ripening in just 60 days. With a flavor residing in the delectable peach-pineapple range, it grows to 10 inches in size, with a yellow-gold rind with and super-sweet white flesh.
Harvest when skin turns orange-yellow. Cool-weather melon perfect for short-season gardeners. Stores well for weeks after harvest. The original source of the seed was a woman from a collective farm. It was introduced to American gardeners in 1993.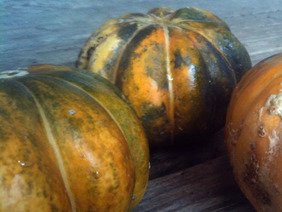 TRN312 Noir des Carmes
A rare Heirloom preserved by the Carmelite monks of France. Has deep smooth ribs and skin so dark green that it is almost black but ripens to a mottled orange. Aromatic flesh that is gently sweet. Grows 2-3 lb fruits. 85 days.