Cantaloupes and Melon Seeds
---
Useful gardening information
Choose a sunny well drained location.
Plant later in the Spring when soil is warm and ALL danger of frost has past. Cover when a threat of 40 degrees or cooler is present during Spring. For earlier crop start inside 4-5 weeks before setting out. Pick when blossom end is slightly springy and when the stem separates with a slight pull. Best when vine ripened.
Seed Depth 1"
Seeds Per Hill 6-8
Space Hills 36-42" apart
Seed Spacing 3"
Days to germination 10-20
Thin To 2-3 Plants Per Hill

Informative articles found on the web:
How to Grow Cantaloupes and Melons
Calories in Cantaloupe/Melons and Nutrition Facts
Cantaloupe Recipes
---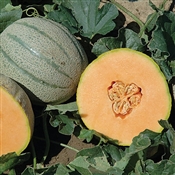 3506 Tasty Sherbet Hybrid Melon
Featuring 6-7 pound melons. This Tuscan type melon is defined by its dark green sutures, medium net, deep orange flesh and tight cavity. With a brix around 14% providing sweet, outstanding flavor, Tasty Sherbet F1 is an excellent melon. Tolerant to Alternaria, Powdery Mildew Race 1 and 2, Fusarium Wilt Race 0, 1 and 2. Suitable for the fresh market. Slips. 75-80 days.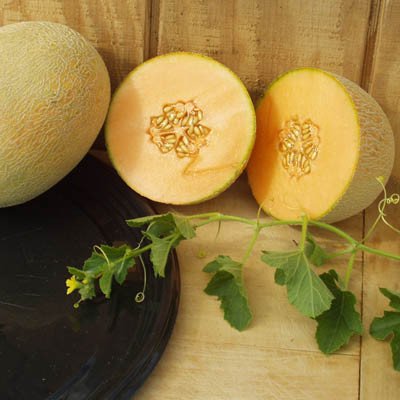 TRM482 Goddess Hybrid Melon
Goddess is a one of a kind melon that produces 4-6 lb. fruit in only 65-68 days. This melon allow growers to get a jump on the competition, because it outperforms all other early melon varieties. Its oval shaped fruit has slight suturing and medium coarse netting. Goddess' orange flesh is flavorful and produces sugars that rival main season varieties. Intermediate resistance to powdery mildew (races 1,2) and Fusarium wilt (races 0,1,2).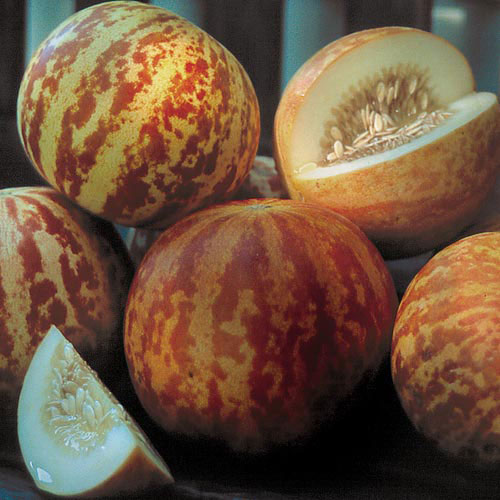 IP188 Tigger Melon
A wonderful desert melon with a heavenly fragrance, it is so beautiful it can even be use for decoration!
Tigger melons smooth rind has vertical variegations of rust orange and yellow. The melon's creamy, off-white flesh is juicy and sweet with a flavor that has been compared to that of Asian pear and cantaloupe.
Like most muskmelon types, it offers a highly aromatic scent and has been known to perfume the entire room they are in when at their peak of ripeness. Tigger melons will grow to be approximately the size of a softball and weigh a modest one pound when fully mature.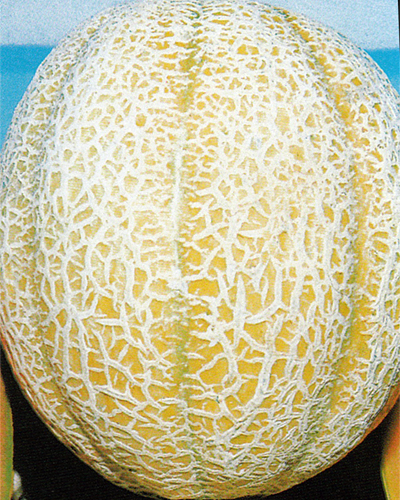 TRN173 Retato Degli Ortolani Cantaloupe ( Italian Heirloom )
Very sweet cantaloupe, with the classic netting of the skin. Deep orange sweet flesh. Known as a market or garden melon in Europe and described as the main melon used in most Italian cuisine. The "Gardener's" melon of Italy. 3-4 lbs average weight. 80 days.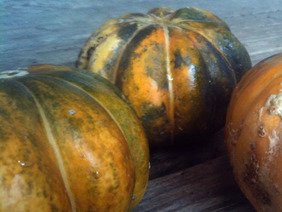 TRN312 Noir des Carmes
A rare Heirloom preserved by the Carmelite monks of France. Has deep smooth ribs and skin so dark green that it is almost black but ripens to a mottled orange. Aromatic flesh that is gently sweet. Grows 2-3 lb fruits. 85 days.