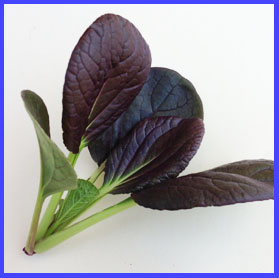 TRM660 Purple Song Hybrid Pak Choi
Adds more color, flavor and texture to your salad mixes.
Purple Song is a new pac choi ( pak choy ) type baby leaf vegetable introduced in Korea. Fast growing plant produces attractive purple leaves, tender and tasty, excellent for salads. Leaves are similar to common pak choy but the stalks are slightly slender and longer. Easy to grow, good variety for home gardening and fresh markets.
24 Days for Baby, 49 Days Full.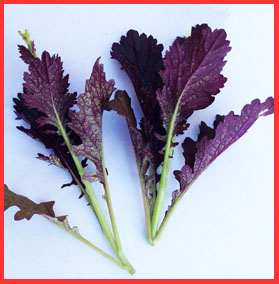 TRM661 Crimson Red Baby Leaf Mustard
Crimson Red is a new baby leaf released by Tokita seed company in Japan. This mustard based vegetable produces baby leaves in attractive dark red color even in summer time. The unique young leaf has a light pungent taste, to adding good flavor on salads and various dishes. Excellent vegetable for home gardenng and fresh markets.
21 Days for Baby, 45 Days Full.
Good potluck green