Bee Balm ( Monarda ) Seeds
Bee Balm is an old-fashioned favorite perennial and certainly one of our favorite flower garden plants.
It is deer resistant, easy to grow and will attract pollinators like bees, butterflies and hummingbirds to your garden. We have noticed that hummingbirds in particular seem to love this plant when in full bloom.
Pick bee balm flowers in summer as they appear. You can cut whole stems of bee balm to enjoy the flowers in a vase. Pick flowers for drying just before they open. You can also use fresh flowers as a garnish for green salads, fruit salads, cakes, or preserves. The aromatic leaves serve as a substitute for mint and can be dried for tea. Dried leaves and flowers are also useful in sachets and potpourri.
Useful gardening information
Monarda is hardy in USDA zones 4-9.
Grows best in full sun but will tolerate light shade. Plants thrive in any moist soil that is rich in organic matter such as manure, compost, or leaf mold.
Fertilize in the spring with a good all purpose plant food.
Be sure to allow for good air circulation around plants to prevent attacks from powdery mildew which is a common ailment for this plant if packed in too tight with other plants.
You can stimulate a second flowering in the same year by cutting the flowers right after they finish blooming.
In the fall, prune the plants to within an inch of the ground. Plants should be divided every 3 years to keep them looking tidy. Dig up the root clump in the early spring, discard the older, inner portions, divide the remaining parts and re-plant the new divisions 12 to 15 inches apart.
---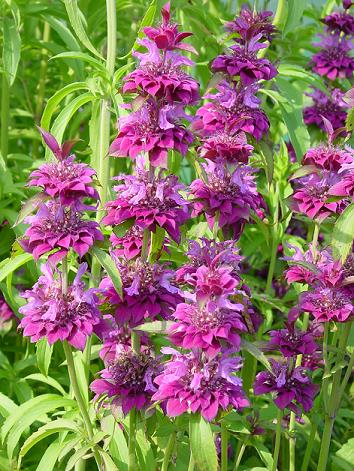 BM19 Bergamo Bee Balm ( Monarda hybrida )
Our favorite Bee Balm, bees simply love this plant!. Fleuroselect,unique compact plant, rose purple blooms, mildew resistant, early to flower, short lived, excellent cut flower. A perennial growing 16" tall, hardy to zone 5.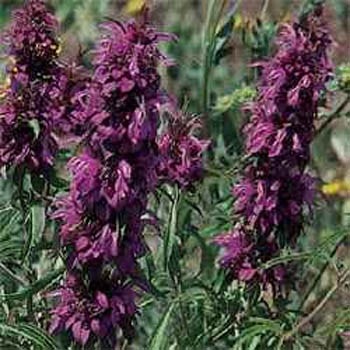 HR167 Lemon Mint ( Monarda citriodora )
A wonderful annual that attracts beneficial insects. Monarda Citriodora is commonly called Lemon Bee Balm, Lemon Mint, and Purple Horsemint. As the name suggests, it is an herb in the mint family. Lavender-to-pink, tuft-like, whorled flower heads attract hummingbirds, bees and butterflies. The Lemon Mint herb plant blooms from spring into late summer. Often late in the season the scent is described as resembling oregano more than lemon. Plants will grow about 36" tall.
---
Share a growing tip or recipe and help other gardeners!

Click on the Contact Form link, place "Tip" in the name line and fill in your information. If we accept your Bee Balm growing tip or recipe, we will post it on this page.