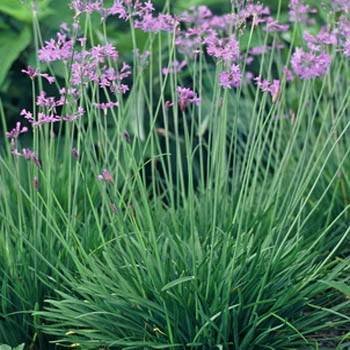 TRN309 Society Garlic ( Tulbaghia violacea )
The name, "society garlic" comes from the assumption that, although it tastes like garlic, you don't get bad breath from eating it.
A clump-forming herbaceous perennial with narrow, grayish green leaves and large clusters of lavender or lilac flowers. The plant looks like an especially showy garlic or garlic chives plant.
Society garlic has just 4-9 grasslike leaves, each about a foot long and a half-inch wide. The leaves grow straight up out of a swollen underground rhizome that looks like a corm or bulb. A single 2 foot flowering stalk grows up from the center of the rosette of leaves. Atop the scape sits a large umbel of sweet-scented lilac-pink flowers.
The flowers are tubular, expanding to six pointed stars at their ends. They are a little less than an inch long and wide, and there are 8-20 of the dainty little flowers in each umbel. The blossoms are produced sporadically from early summer until late autumn.
The leaves and rhizomes of society garlic smell like garlic, but the flowers are sweet, smelling like hyacinths, and some people say they are too sweet!
Society garlic is a popular container plant. Most gardeners leave it out on the patio or porch all summer, bringing it indoors for the winter. Outdoors, grow in a sunny border. This is a perennial that will spread slowly by its rhizomes, but will not become aggressive. Society garlic can be used in the front of a herbaceous border, and South African gardeners often use it as a bedding plant along with annual flowers.
Society garlic is used in rock gardens, too. Flowers are most fragrant at night. The bulbs and leaves are edible and can be used like garlic and garlic chives. It is reported that society garlic, planted in a row or border, will deter moles.
Society garlic does best in full sun. Plants will grow well in shade, but may not flower much. Indoor plants should be kept in the brightest light possible. Water society garlic frequently during the growing season, less frequently during flowering, and reduce watering during the winter resting period to just enough to keep the rootball from completely drying out. At any stage, established plants can survive extended droughts if they have to.
USDA Zones 7 - 10. Society garlic tolerates moderate frosts and light freezes down to 20°F.
This item is currently out of stock, if you would like to be notified by E-mail when it becomes available again, simply enter your E-mail address in the field below and hit "Submit".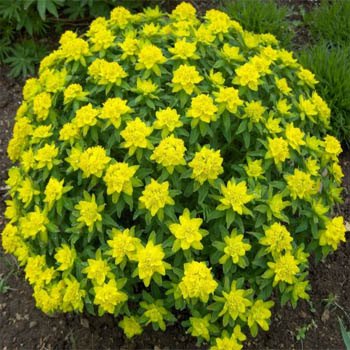 IP011 Cushion Spurge ( Euphorbia Polychroma )
Cushion Spurge gives visual interest through the seasons with leaves turning from yellow to bright green to red as the seasons change from spring to summer to fall. Cushion Spurge gets it name because it grows in a rounded mound that resembles a cushion.
Cushion Spurge performs beautifully as an edging along a formal walk or winding garden path, as a rock garden or border specimen, planted on top of retaining walls, or massed in moderate expanses as a general ground cover plant.
In the cooler zones the plant will do fine in full sun, but in southern zones the plant will prefer some afternoon shade in order to perform its best. Cushion Spurge is not for wet soils or for soils that are over fertilized. It is very drought tolerant, but it does not handle foot traffic well.
Plant care includes cutting the plant back by about 1/3 after flowering is through. This trim will keep the plant compact and neat. Cushion Spurge will self seed easily, so cutting the plant back will slow this process down. Wear gloves when handling the plant since the white sap is a skin irritant. Avoid too much fertilizing as plant will become leggy.
Best suited for zones 4-8.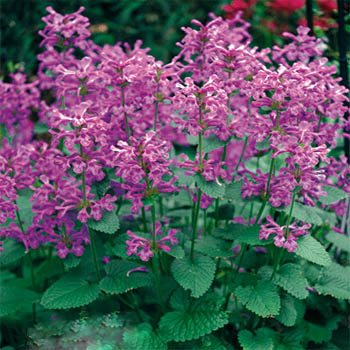 TRN205 Lamb's Ear ( Stachys Macrantha Superba )
Grow this old-fashioned treasure that was in Grandma's garden, and is gaining new popularity as a charming flower with romantic rosy-lavender flower spikes. The flowers are long-lived and work well as a cut flower. The foliage is bright green with crinkled, ovate to heart-shaped leaves.
Very attractive and a great addition for the cottage garden of a bygone era. The compact, bushy plants work well along the border or as a general ground cover. IT is very drought tolerant and prefers to dry out between waterings.
Also known as Big Betony, it is making a comeback in popularity as a long-blooming, colorful, compact choice for beds and borders. Has a spreading habit and is a liberal self-sower dropping its own flower seeds. If you want to keep it contained, deadhead spent blooms before seeds fall.
Hardy for zones 5-7.
Germination instructions: Sow at soil temperuture of 41°F or lower, needs to planted in cold soil, the warming soil triggers germination, germination irregular, often several weeks.
Average Germ Time: 28-42 days. Light Required: Yes.
Depth: Do not cover the seed but press into the soil. Sowing Rate: 3-4 seeds per plant.
Moisture: Keep seeds moist until germination. Plant Spacing: 18-24 inches.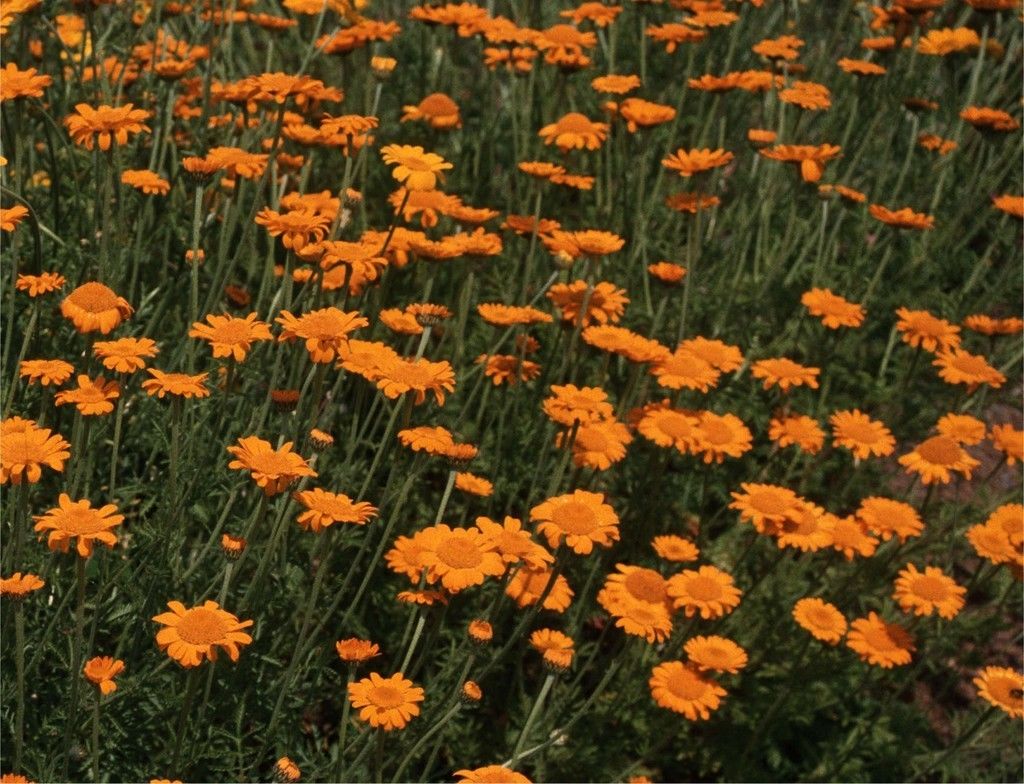 TRN146 Orange Marguerite Daisy ( Anthemis Sancti-Johannis )
These daisy like flowers are among the best choices for long lived color in the sunny border. They offer a wonderful display of color and plants that feature ferny, mounding foliage and a profusion of bright orange daisies. The bees and butterflies love the sunny orange blooms!
This lovely perennial is also known as St. John Chamomile. Marguerite Daisies work well in containers and in the sunny perennial garden. They also make great cut flowers. The plant is pretty drought tolerant and adapts well to poor soils. When blooms are faded, deadheading regularly will greatly increase blooming time.
If plants become floppy in mid-summer, shear them back to 6 inches to help them rejuvenate. It tends to be a short-lived perennial, but it will often re-seed by dropping their own flower seeds in the late fall.
Zones 3-7.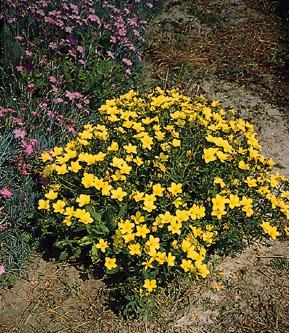 SF208 Yellow Flax ( Linum Flavum Compactum )
Yellow flax is well suited for rock gardens or growing along rocky paths. This perennial prefers full sun and soils that drain well, and it has a high drought tolerance once it is established.
This compact Linum offers lovely, airy yellow flowers and dark green, lance-shaped leaves. Even when not in bloom, the grassy leaves give a delicate texture to the garden.
Place the plants in the front of the flower border or in containers for extra appeal.
Grows 8-12 inches tall, good for zones 4-9.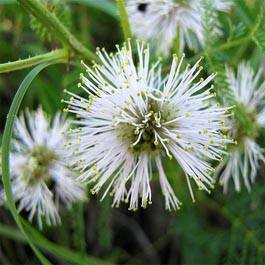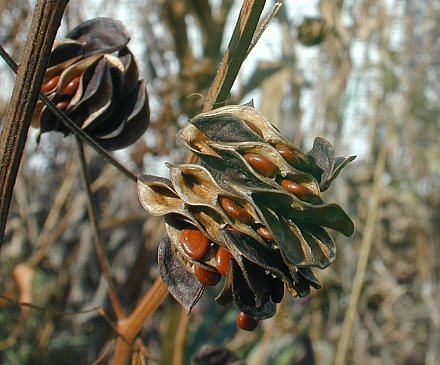 AW35 Illinois Bundleflower ( Desmanthus illinoensis )
Illinois bundleflower is rated by some authorities as our most important native legume and is included in range revegetation programs since the species is readily eaten by livestock. The lenticular seeds contain 38 percent protein on a dry weight basis, which compares favorably with soybeans.
Seeds are desirable for wild birds. The plant is considered a nutritious and palatable browse for wildlife.
Pawnee Indians used leaf tea as wash for itching. Hopi used seeds placed in eye for conjunctivitis.
A perennial growing to 3-6 ft. tall with cream colored flowers. Hardy to zone 5. The primary attraction of Illinois Bundleflower is the refined appearance of its fern-like foliage. The subleaflets of the compound leaves fold together at night, and they close partially during hot sunny days in order to reduce moisture loss. During the morning and evening, when sunlight is less intense, the compound leaves orient themselves in the direction of the sun in order to maximize the reception of its light.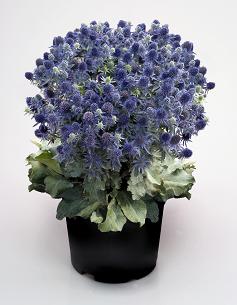 JF373 Blue Hobbit Sea Holly ( Eryngium )
First dwarf type, uniform, compact plant smothered in small blue globes, drought tolerant, for garden or pot, grows about 12" tall, hardy to zone 4.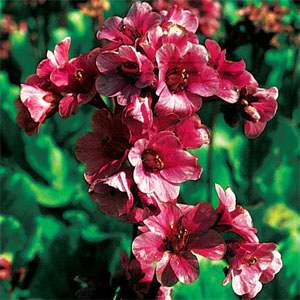 TRN230 Redstart Heartleaf Bergenia ( Bergenia cordifolia )
Redstart Heartleaf Bergenia is a clump forming perennial with thick glossy, rounded to heart shaped leaves producing stems of vibrant red flowers for 6-8 weeks beginning in April. Likes part shade.
Bergenia plants are tough perennials that form a low, laterally spreading, herbaceous ground cover. The ground cover spreads by producing new plants from short underground stems.
Bergenia is a type of Saxifraga which forms neat mounds of leathery, dark green foliage that grows just 6 inches high. The foliage has great year around appeal. The flowers are produced on strong stems, 12 - 18 inches high. On top of each stem is a graceful, nodding cluster of carmine red blooms.
The blooms start in late winter and last through part of spring. Bergenia Cordifolia is attractive and very eye-catching! Plants have thick, leathery, shiny, evergreen leaves that are not only large, they are colored a very deep shade of green and are often used in floral arrangements.
Bergenia perform happily in any well-drained, slightly acidic to slightly alkaline soil. They tolerate short periods of drought, yet perform best if the soil is kept moderately moist. Bergenia plants prefer partial shade in hotter climates. Hardy for zones 3-8.
Germination instructions: Sow seed indoors. Use starter trays and sterile starter mix. Press seeds into the starter mix but do not cover the seeds. Seed needs light to germinate. Keep the seeds moist until germination. Germination can be uneven. Moderate, but constant humidity is very important. Transplant the plants into the garden 15 inches apart after all danger of frost has passed.
Germination time is 15-42 days.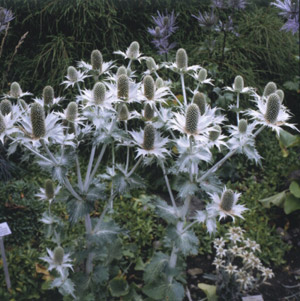 JF374 Silver Ghost Sea Holly ( Eryngium giganteum )
Electric silver blue with pale green flowers and bracts, robust, for garden or cut, grows about 42" tall, hardy to zone 5.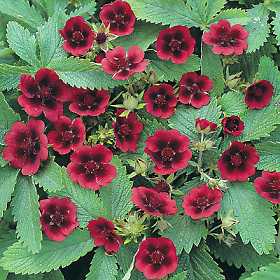 3350 Monarchs Velvet ( Potentilla thurberi )
This beautiful perennial showcases captivating flowers with raspberry-red, heart-shaped petals surrounding a velvet crimson center. Common name, Cinquefoil, means five-leaved in reference to the foliage. Mounds of low maintenance strawberry-like foliage adds a pleasing texture to complement other plants in the garden. Best suited for zones 4-8.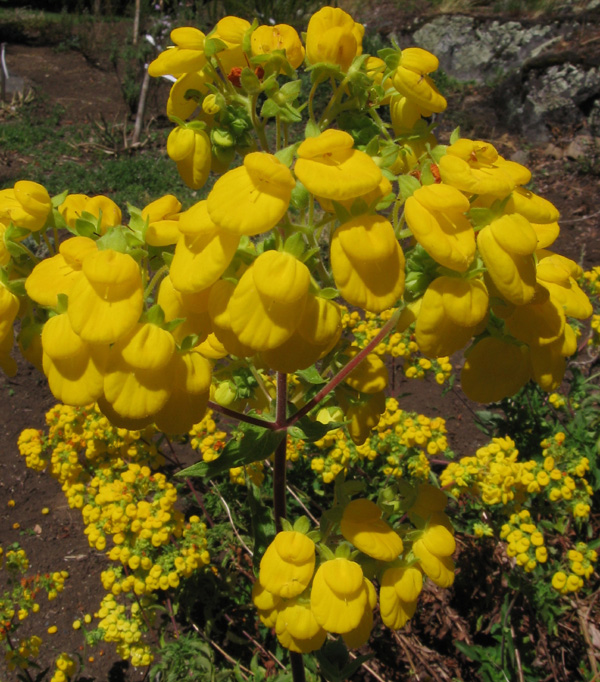 TRM152 Chilean Yellow Pocketbook Flower ( Calceolaria dentata )
A unique flowering plant from Chile. A delightful addition to the summer border. A shrubby plant smothered in golden yellow purses all summer and into winter in mild areas. USDA Hardiness Zone 8. The plant does not tolerate snow, but can tolerate occasional light freezing spells of about 23 degrees F., (the typical morning frost of central Chile).
If you are looking or a unique garden plant your neighbors are unlikely to be able to find, this is the one you want!
This item is currently out of stock, if you would like to be notified by E-mail when it becomes available again, simply enter your E-mail address in the field below and hit "Submit".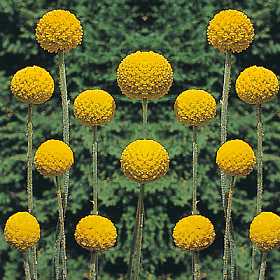 3335 Billy Buttons ( Craspedia Globosa )
For gardeners who are looking for rare and new flower varieties to add to their summer display, look no further than Billy Buttons, a very unique blooming plant that is a perennial wildflower native to New Zealand, Australia and Tasmania.
The brilliant yellow hue of these 1 inch globes make them a striking addition to the flower garden. Commonly known as Billy Button or Drumstick, Craspedia is considered a half-hardy annual here in the United States. It generally blooms all summer long, and is very popular for cutting and drying. The flower heads are tough and durable making an exceptional dried flower.
Sow seeds indoors 4-6 weeks before the last frost is expected. Sow the flower seeds on the surface and lightly cover with peat moss or sand. The flower seeds need light for germination. Transplant seedlings when there are at least 2 sets of true leaves. They prefer full sun and gritty, well-drained soil. Plants are tolerant of poor soil and drought.
Seed can also be sown directly outdoors after all danger of frost has passed. Prepare a seed bed with loosed soil and weed free, sow the seeds directly on the surface and lightly sprinkle peat moss or sand on top. Keep the flower seeds moist until germination.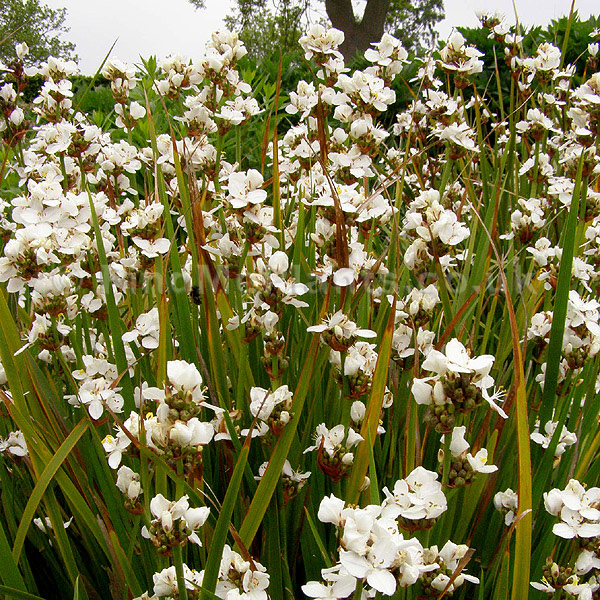 TRM531 Mikoikoi (Libertia ixioides)
Mikoikoi is found throughout New Zealand and Stewart Island, it is an evergreen rhizomatous soft-wooded perennial growing on ridges, cliffs, gullies, river banks, coastal cliffs, and upland forest.
It has white flowers in late spring to early summer and differs from Libertia grandiflora in that the flowers are amongst the leaves rather than above. The white three petaled flowers are on short flower spike.
It has stiff sword like yellow tinged green leaves in a fan leaf arrangement ( Height 12-18 inches ). The bright yellow pods remain unopened for 2-3 months.
Perennial for zones 8-11.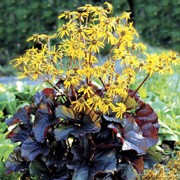 FA71 Dark Beauty ( Ligularia przewalskii )
Clump forming perennials with dark purplish colored, large rounded leaves with purple maroon colored undersides. In mid summer plants have daisy like yellow-gold flowers on thick spikes that rise just above the foliage, with leafy bracts. This species likes a moist, semi shady site, but takes more sun with more moisture in the soil. Grows 3-4 feet tall and 3 feet wide. Blooms in July-Aug.
Native to China and Japan, hardy in zones 4-9, lower if in a location with cool soils. When grown, they become very large, bold specimens that command attention when you have visitors in the garden.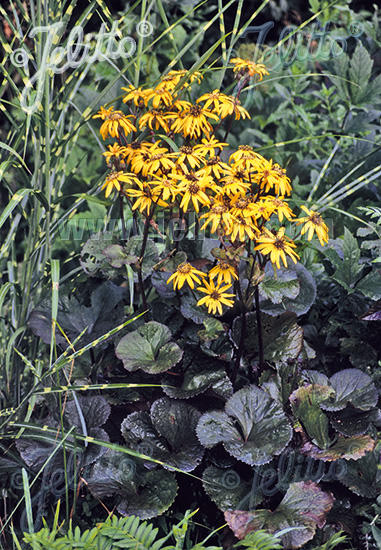 TRM436 Midnight Lady ( Ligularia denata )
An exquisite contrast between the large, decorative, dark purple foliage and husky orange-yellow flowers. Foliage is rounded and kidney shaped with toothed edges on sturdy stems. Foliage is nearly black-purple during spring.
Native to China and Japan, hardy in zones 4-9, lower if in a location with cool soils. When grown, they become very large, bold specimens that command attention when you have visitors in the garden.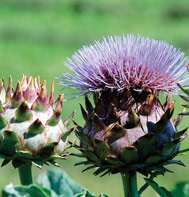 FA38 Porto Spineless ( Cynara cardunculus )
Stunning ornamental!
This tropical-looking cardoon is specially bred for cut flower use. Serrated, silver-green leaves add dramatic flair to arrangements or deserve a prominent position in the gardenscape. Foliage can be harvested anytime but this tender perennial will not bloom until the second season. Hardy in zones 6-10. Ht. 36-48". Tender perennial.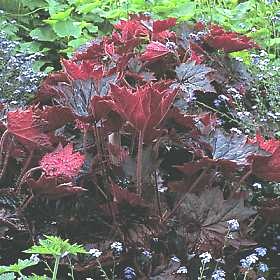 TRM515 Palace Purple Coral Bells ( Heuchera macrantha )
Burgundy purple evergreen foliage, white flowers, former Perennial Plant of the Year. Grows about 10" tall, outstanding accent plant. Perennial, hardy to zone 4. Pelleted seeds for easy sowing.