Good for zones 5-8. A columnar form of the English oak growing in a tight column form with fissured gray-brown bark. Dark green 5-6 inch leaves. Mature tree can reach 60 ft tall and spread to 40 ft. wide. Native to Europe.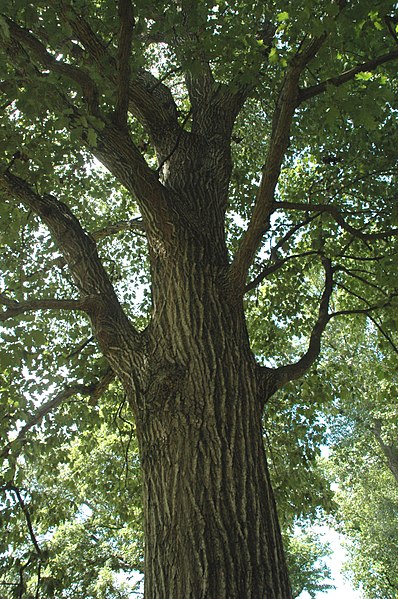 Q35 Red Oak ( Quercus Rubra )
Good for zones 5-9. Fast growing, spreading deciduous tree with attractive gray to grayish brown bark. Dark green leaves. Mature tree can reach 80 ft tall and spread to 70 ft. wide. Native to E. US.
The red oak is one of the most important oaks for timber production in North America. The wood is of high value. Other related oaks are also cut and marketed as Red Oak, although their wood is not always of as high a quality. These include black oak, scarlet oak, pin oak, shumard oak, southern red oak and other species in the red oak group. The red oak is widely planted and naturalized also in Central Europe.
Red oak wood grain is so open that smoke can be blown through it from end-grain to end-grain on a flatsawn board.
A 10-year-old tree will be about 15 feet tall.
Red oak is easy to recognize by its bark, which feature bark ridges that appear to have shiny stripes down the center. A few other oaks have bark with this kind of appearance in the upper tree, but the red oak is the only tree with the striping all the way down the trunk.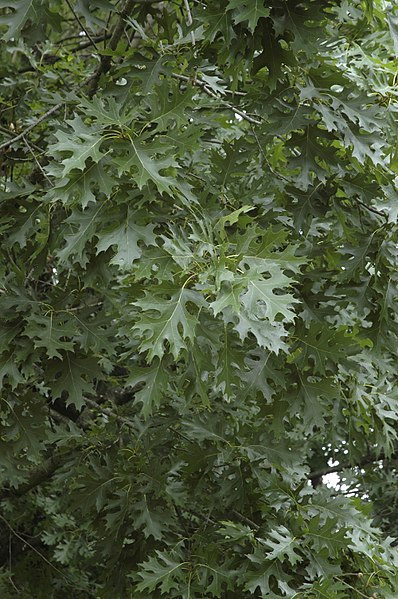 Q31 Shumardi Red Oak ( Quercus Shumardii )
Good for zones 5-8. Broadly columnar, decidious tree with smooth gray bark and dark green, glossy leaves to 7 inches long with bristle tipped teeth. Beautiful fall foliage.
Requires acidic soil to thrive. Grows to 70 ft. tall.
Shumard Oak is valued for commercial use, as a shade tree, and as a food source for various birds and mammals. It is cultivated at least as far north as Ottawa, Ontario and as far south as Lake Worth, Florida. It is tolerant of wide ranges of pH levels in soil. It isdrought resistant, and prefers partial to full sunlight. Shumard Oaks begin to bear seeds at a minimum of 25 years of age, and the optimum age for seed development is 50 years of age.
Shumard Oaks are known to have reached at least 480 years of age. The roots are intolerant to disturbance, so the tree should be planted in its permanent position at an early age.
Shumard Oak lumber is grouped with other Red Oak lumber for use in flooring, furniture, interior trim, molding, paneling, and cabinetry.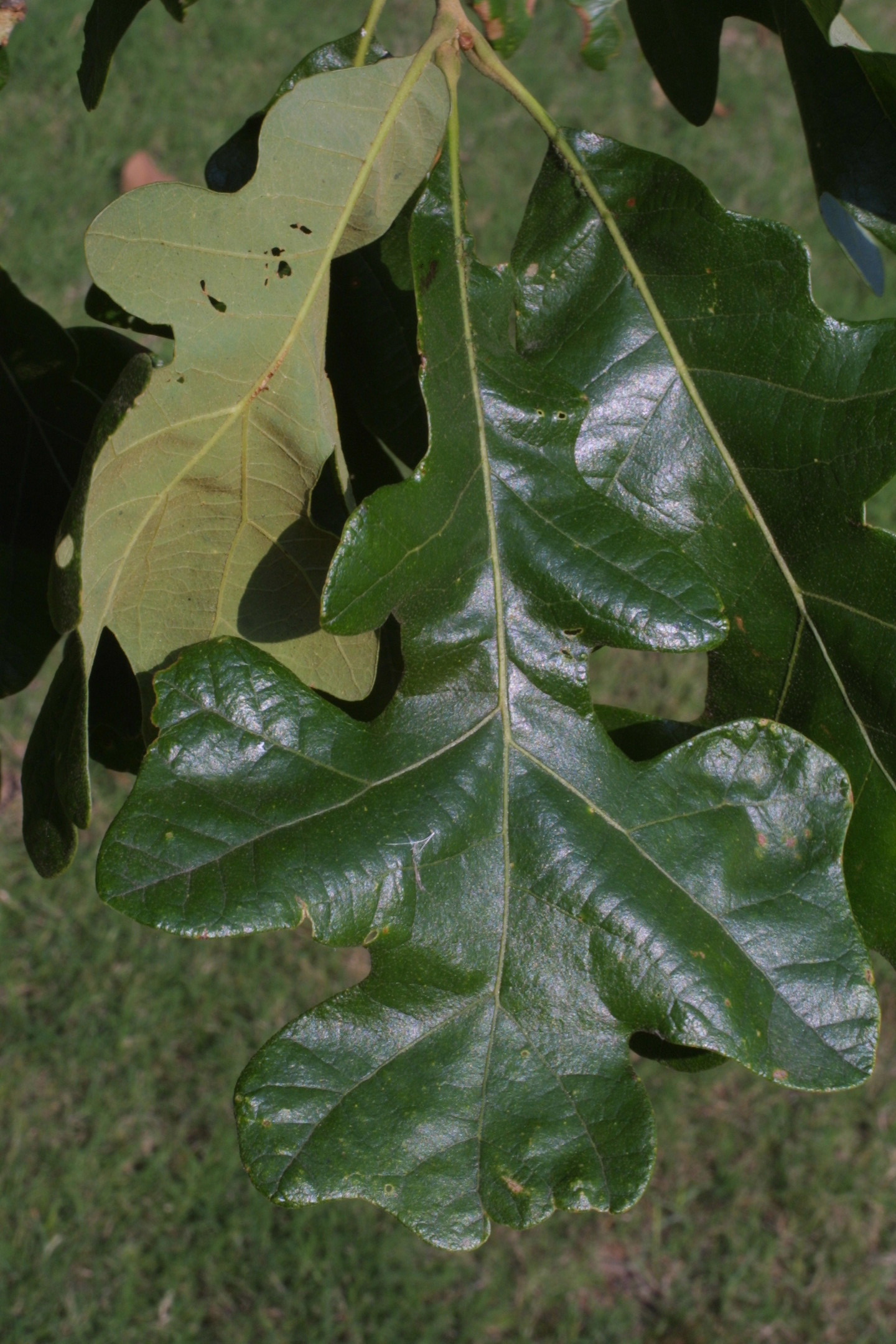 Q34 Post Oak ( Quercus Stellata )
Good for zones 5-8. Quercus stellata (Post oak) is an oak in the white oak group. It is a small tree, typically 50-75 feet tall and 40 feet in diameter. It is native to the eastern United States, from Connecticut in the northeast, west to southern Iowa, southwest to central Texas, and southeast to northern Florida. It is one of the most common oaks in the southern part of the eastern prairies, such as in the Cross Timbers.
The leaves have a very distinctive shape, with three perpendicular terminal lobes, shaped much like a Maltese Cross. They are leathery, and tomentose (densely short-hairy) beneath. The branching pattern of this tree often gives it a rugged appearance. The acorns are 1.5-2 cm long, and are mature in their first summer.
The name refers to the use of the wood of this tree for fence posts. Its wood, like that of the other white oaks, is hard, tough and rot-resistant. This tree tends to be smaller than most other members of the group, with lower, more diffuse branching, largely reflecting its tendency to grow in the open on poor sites, so its wood is of relatively low value as sawn lumber. It is also a popular wood for smoking Texas barbecue.
Sold out till 2018.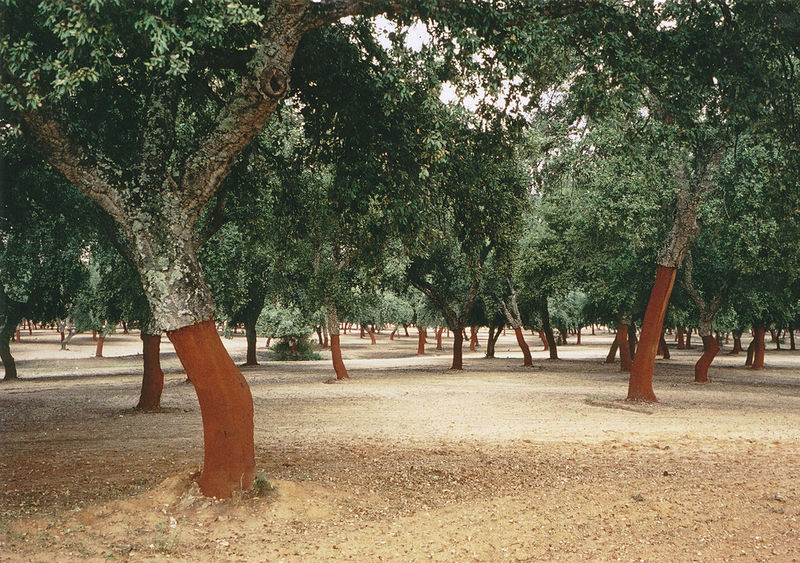 Q32 Cork Oak ( Quercus Suber )
Good for zones 7-9. Quercus suber, commonly called the Cork Oak, is a medium-sized, evergreen oak tree with thick, corky bark that is deeply ridged.Mature tree can reach 70 ft tall and spread to 50 ft. wide. Native to W. Mediterranean and N. Africa.
It is the primary source of cork for wine bottle stoppers and other uses, such as cork flooring. It is native to southwest Europe and northwest Africa.
The tree forms a thick, rugged bark containing high levels of suberin. Over time the cork cambium layer of bark can develop considerable thickness and can be harvested every 9 to 12 years to produce cork. The harvesting of cork does not harm the tree, in fact, no trees are cut down during the harvesting process. Only the bark is extracted, and a new layer of cork regrows, making it a renewable resource.
Cork Oaks are sometimes planted as individual trees, providing a minor income to their owners. The tree is also sometimes cultivated for ornament.
The tree is cultivated in Spain, Portugal, Algeria, Morocco, France, Italy and Tunisia. Cork Oaks are considered to be soil builders and their fruits have been shown to have useful insecticidal properties.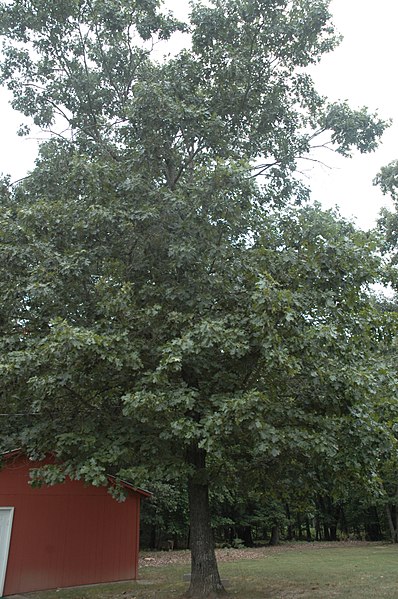 Q52 Black Oak ( Quercus Velutinia )
Good for zones 3-9. Black oak (Quercus velutina) is a common, medium-sized to large oak of the eastern and midwestern United States. It is sometimes called yellow oak, quercitron, yellowbark oak, or smoothbark oak. It grows best on moist, rich, well-drained soils, but it is often found on poor, dry sandy or heavy glacial clay hillsides where it seldom lives more than 200 years. Good crops of acorns provide wildlife with food. The wood, commercially valuable for furniture and flooring, is sold as red oak. Brilliant orange-red foliage in fall.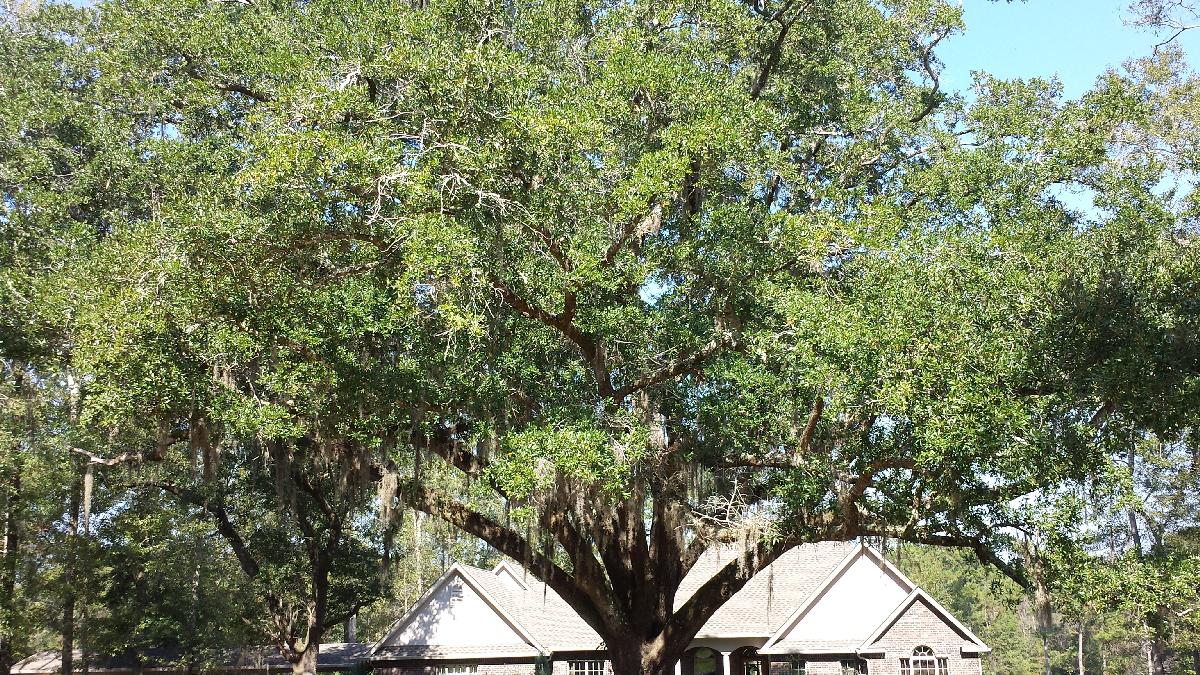 Q37 Southern Live Oak ( Quercus Virginia )
Very seldom do we get to offer the actual photo of the tree that seeds were collected from, but this is one of those occasions. You should click on the photo to see a full size picture of this beautiful tree. The seeds we are offering come from this magnificent tree in Southern Mississippi.
Good for zones 8-10. The trees produce very small size acorns for such a huge species, most measure about a half inch in diameter and only a bit more in lenght.
Massive, spreading Evergreen tree with shallow grooved red-brown bark and leathery, shiny dark green leaves. Mature tree can reach height of 80 ft. and spread out to 100 ft. wide. Native to Southern US from Virginia to Florida.
Depending on the growing conditions, live oaks vary from the shrubby to large and spreading: typical open-grown trees reach 15 meters (50 feet) in height, but may span nearly 50 meters.
Their lower limbs often sweep down towards the ground before curving up again. They can grow at severe angles, and Native Americans used to bend saplings over so that they would grow at extreme angles, to serve as trail markers. They drop their leaves, and grow new ones, within a few weeks in spring. The bark is furrowed longitudinally, and the acorns are small, but long and tapered. Trees frequently have rounded clumps of ball moss or thick drapings of Spanish moss, and mistletoe is often found on them.
Southern live oak can grow in moist to dry sites. They can withstand occasional floods and hurricanes, and are resistant to salt spray and moderate soil salinity. They tend to survive fire, because often a fire will not reach their crowns. Even if a tree is burned, its crowns and roots usually survive the fire and sprout vigorously. Furthermore live oak forests discourage entry of fire from adjacent communities because they provide dense cover that discourages the growth of a flammable understory.
Although they grow best in well-drained sandy soils and loams, they will also grow in clay. Live oaks are also surprisingly hardy. Those of southern provenance can easily be grown in USDA zone 7 and the Oklahoma Live Oak (Quercus virginiana var. fusiformis), having the same evergreen foliage as the Southern variety, can be grown with success in areas as cold as zone 6. Even with significant winter leaf burn, these trees can make a strong comeback during the growing season in more northerly areas such New Jersey, southern Ohio, and southern Connecticut.