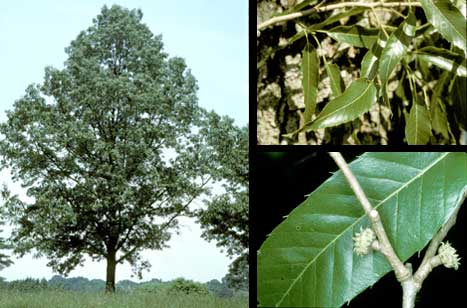 Q1 Sawtooth Oak ( Quercus Accustissima )
Sawtooth Oak is an attractive, large, deciduous tree, 50 feet in height or taller with a rounded, broad, pyramidal shape (Fig. 1). The leaves are similar to chestnut (Castanea) and have small bristles at the edges. New spring leaves are an attractive bright yellow-green and fall color varies from dull yellow to brown.
The trunk and bark of Sawtooth Oak are gray-brown and deeply furrowed. The trunk flares out at the base lifting sidewalks and curbing if planted in tree lawns less than USDA hardiness zones: 5B through 9A . Origin: not native to North America Uses: large parking lot islands ( 200 square feet in size ); wide tree lawns ( 6 feet wide ); recommended for buffer strips around parking lots or for median strip plantings in the highway; shade tree; specimen; residential street tree; tree has been successfully grown in urban areas where air pollution, poor drainage, compacted soil, and/or drought are common. Native to Himalayas, China and Japan.