Save 20% on everything we offer from now to midnight Monday! Simply type in TK2014 ( case sensitive, no spaces ) into the coupon field of the shopping cart when you check out, and the discount will be applied.
Agapanthus Seed ( Perennial )
Agapanthus africanus ( Lily of the Nile ) is native to Southern Africa. It is grown for the dark, glossy, strap-shaped leaves that arch gracefully. Flowers are borne on long erect stems 3 feet or taller. Agapanthus make good background plants or edging along a fence, driveway, or wall. These plants can thrive on conditions of neglect and naturalize readily. They also make excellent tub and container specimens and can be used in cut flower arrangements. In cold winter areas they can be brought indoors for the winter.
Click on any thumbnail image for a larger photo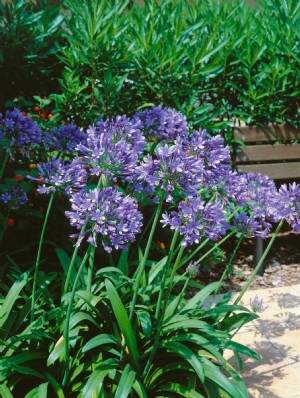 2974 Blue Umbrella ( Agapanthus )
Evergreen in Southern gardens, it thrives in moist, sunny sites, hardy to zone 7, grown as an annual in cold states, perennial in warmer states. Grows about 48" tall.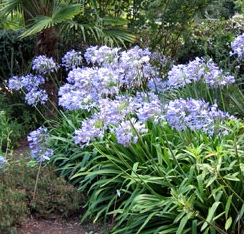 JF243 Peter Pan ( Agapanthus )
Dwarf, bushy, swordlike leaf, many blue flowers. Grows only about 48" tall. Hardy to zone 7 outside.