Parsnip Seeds
Parsnips, popular with ancient Greeks and Romans, were brought over to the Americas with the first colonists. Although parsnips are biennials, they are usually grown as an annual vegetable. Parsnips are a hardy, cool-season crop that is best harvested after a hard frost. Parsnips are not only tasty in soups and stews, but can also be enjoyed by themselves.
Useful gardening information
Plant seeds 1/2 to 3/4 inch deep. Because germination of even the freshest parsnip seed is often mediocre, seed thickly, at least two or three seeds per inch to ensure a good stand. Space rows 18 to 24 inches apart or plants 8 to 10 inches apart in a bed. Parsnip seed is slow to germinate and some gardeners drop a radish seed every foot in the furrow to mark the row and help break the soil crust. Once parsnip seedlings are up and growing, pull the radishes and thin parsnip seedlings to 2 to 4 inches apart.
It takes from 120 to 180 days for a parsnip to go from seeds to roots.
Parsnips takes 18 days for germination. After germination and little plants appear, wait a couple of weeks and thin the plants out to about three to four inches apart in rows.
Be sure to water the parsnips well when growing parsnips or the roots will be flavorless and really tough.
Fertilization of the soil is also helpful, and you can fertilize your growing parsnips the same way you would your carrots. Side dress with fertilizer around June to keep the soil healthy enough for growing parsnips.
Links to useful information on the web:
Parsnip growing info
---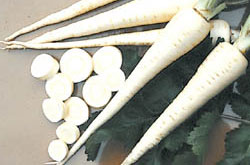 VH370 Parsnip ( Pastinaca sativa )
An excellent garden parsnip. Sweet, tender, fine grained roots with a delicate flavor. Keeps well.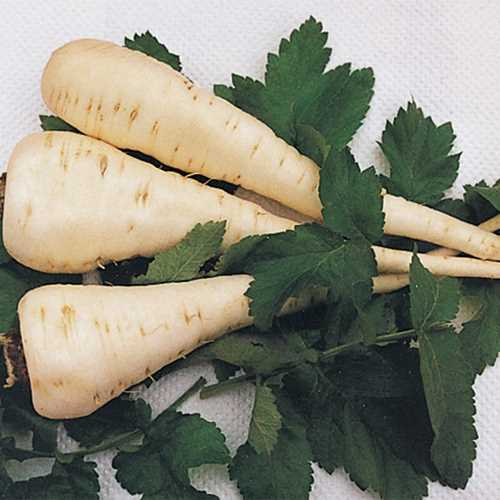 SF095 Harris Model (Pastinaca sativa)
120 Days. The smoothest, whitest and easiest to clean parsnip is Harris Model. It develops few rootlets and has a long, slim shape.
Delicious, tender, white, 12-inch roots have a sweet flavor; refined in appearance. Great boiled, fried, or used in "Parsnip Bread". A good producer and popular variety.
---
Share a growing tip or recipe and help other gardeners!

Click on the Contact Form link, place "Tip" in the name line and fill in your information. If we accept your Parsnip growing tip or recipe, we will post it on this page.