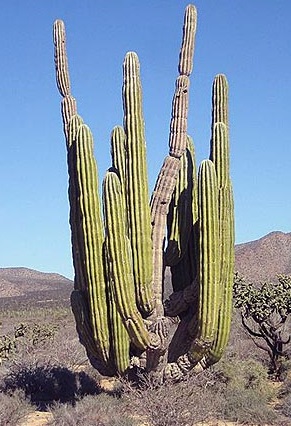 3340 Elephant Cactus ( World's Largest Cactus ) ( Pachycereus pringlei )
Can be container grown, start in very small pots, and increase pot size slightly each year. Also know as Giant Mexican Cactus, Pachycereus pringlei is a species of cactus that is native to northwestern Mexico in the states of Baja California, Baja California Sur, and Sonora.
It is the tallest cactus species in the world, with a maximum recorded height of 63 feet with a stout trunk up to 3.3 feet in diameter bearing several erect branches. In overall appearance, it resembles the related Saguaro (Carnegiea gigantea), but differs in the fewer ribs on the stems, in being more heavily branched from near to the base of the stem, and in the location of the blossoms.
Large stands of these magnificent cactus still exist, but many have been destroyed as fields have been cleared for cultivation in Sonora.
The fruit of this cactus was an important food for the Seri people in Sonora, who call the cactus xaasj
The flesh of this cactus contains alkaloids, and may have been used as a psychoactive plant in Mexico.
A symbiotic relationship with bacterial and fungal colonies on its roots allows P. pringlei to grow on bare rock even where there is no soil available at all, as the bacteria can fix nitrogen from the air and break down the rock to produce nutrients. The cactus even packages symbiotic bacteria in with its seeds.
This giant cactus can be grown in tubs when young and makes quite the conversation piece. Very slow growing, hardy for zones 9 and above outside.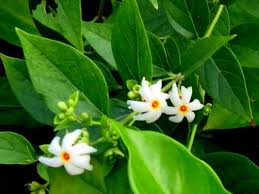 1A357 Night Jasmine ( Nyctanthes arbor-tristis )
Zones 9-11, or can be grown in containers and brought inside during cold weather below 35 degrees. This exotic small tree or shrub has highly perfumed flowers. The sweet scented flowers are small, 1-2", attractive shape, with white corolla and an orange-red tube in center and bloom profusely, opening at night and casting off in the morning thus making a carpet of flowers. Used in Buddhist temples, for worship. The large attractive leaves are rough and hairy. Needs warmth during winter months. Use well drained soil and fertilize once a month. Stem is used for relief of headache, leaf - cholecystagogue, flower - antipyretic, treatment of faintness and vertigo.
According to mythology, this is a heavenly tree brought to earth by the god Krishna. A quarrel over it ensued between Satyabhama and Rukmini, Krishna's wives. But Krishna planted the tree in Satyabhama's courtyard in a way that when the tree flowered, the flowers fell in Rukmini's courtyard. Another romantic story woven around the tree is about Parijataka, a princess. She fell in love with the sun but when he deserted her she committed suicide and a tree sprung from the ashes. Unable to stand the sight of the lover who left her, the tree flowers only at night and sheds them like tear-drops before the sun rises.
This item is currently out of stock, if you would like to be notified by E-mail when it becomes available again, simply enter your E-mail address in the field below and hit "Submit".