Pepper Grass Seeds
Rapidly-growing, frilly leaves leap out of the ground. A little really spices up a salad or sandwich. Plant a small amount frequently or grow indoors as sprouts.
Useful gardening information
Sow Inside: Before last frost
Sow Outside: Spring/Summer/Fall
Seed Depth: 1/8 Inch
Days to Emerge: 7 to 14
---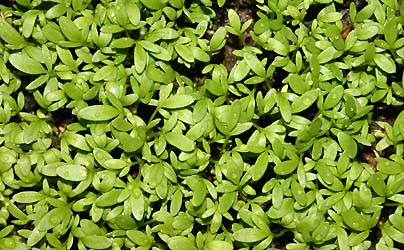 VL374 Pepper Grass Cress (Lepidium sativum)
A heirloom 1 foot tall plant with lacy looking young foliage and seedlings are used in salads, stuffing or as a garnish. This herb has ruffled leaves with a peppery and refreshing flavor. Makes a good substitute for watercress in spring and fall.
Roots, seeds and leaves are used as a spicy condiment. Plant seeds thickly in spring and reseed biweekly for fresh greens.
It is cold tolerant and easy to transplant. Discontinue through hot summer weeks and resume seeding in late summer in light shade. Harvest entire plant at 6-12 inches. Grow sprouts indoors through winter on blotter paper.
Cannot ship to IN
---
Share a growing tip or recipe and help other gardeners!

Click on the Contact Form link, place "Tip" in the name line and fill in your information. If we accept your Pepper Grass growing tip or recipe, we will post it on this page.