Peppermint Seeds
According to Greek mythology, a furious Persephone turned the nymph Mentha into mint. Although myth claims it was born out of anger, peppermint actually has calming effects. This popular candy flavor can be used as an herbal remedy for stomach upset and other indigestion issues.
Peppermint is widely used as a food, flavoring, and disinfectant. As a medicine, peppermint is most well known for its effects on the stomach and intestines. Perhaps you've tried the various "tummy teas" available for stomach upset. Peppermint is a tasty way to relieve gas, nausea, and stomach pain due to an irritable bowel, intestinal cramps, or indigestion.
Peppermint is a carminative - an agent that dispels gas and bloating in the digestive system -- and an antispasmodic capable of relieving stomach and intestinal cramps. Peppermint can be used for too much stomach acid (hyperacidity) and gastroenteritis (nausea and stomach upset that we sometimes call stomach flu), and it is safe for infants with colic.
Useful gardening information
Peppermint seeds can either be started indoors in starter trays 6 - 8 weeks before last frost, or wait until frost danger has passed, and directly sow the herb seeds outside in prepared beds. Peppermint plants are the perfect complement to any herb garden!
Temperature: 72F
Average Germ Time: 10 - 15 days
Light Required: Yes
Depth: 1/8 - 1/4 inch deep
Sowing Rate: 3 - 5 seeds per plant
Moisture: Keep seeds moist until germination
Plant Spacing: 18 - 24 inches

Links to useful information on the web:
Peppermint: Herbal Remedies
Grow Peppermint in Your Herb Garden
---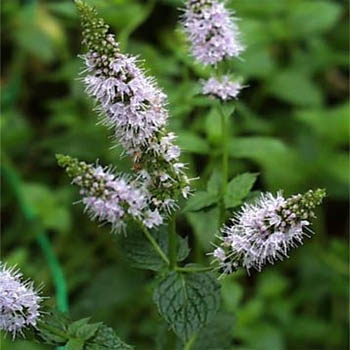 D7939 Peppermint ( Mentha x piperita )
A beautiful plant with purple flowers and purple tinged leaves. Its fragrance is used in many different ways. The plant likes moist areas.
Peppermint thrives best in full or partial sun, in a rich, drained loam that will retain water in summer. Not enough sun and the plant gets leggy. Not enough water or nutrients, and it can become susceptible to rust or mildew. Pests shouldn't be a problem.
During the growing season, keep cutting the mint to use it fresh or dry it (if you've got the space, freezing mint is one of the best ways we've seen to retain the herb's essential oils). Since peppermint is a natural hybrid between water mint and spearmint, it doesn't produce seeds, but is easily propagated by taking root or stem cuttings (which will produce roots quickly if placed in water), or by dividing the plants in the spring or autumn. Mint is a perennial that should come back easily year to year, although if your winters get really cold, a layer of mulch to protect the plant is advised.
Peppermint is used commercially to flavor a wide variety of products, from mouthwash to candies, ice creams to jellies. By itself or combined with other herbs to make a tea, it can't be beat, and adding peppermint oil to baths makes for a relaxing menthol soak.
Medicinally, peppermint has been used to alleviate a wide array of different conditions, including indigestion, sore throat, colds, headache, and cramps. By mildly anesthetizing the mucous membrane, it can prevent vomiting and help to quell nausea, and taken before eating it can increase bile flow, which helps to break down fats so your body can use them more effectively. It also may provide benefits for intestinal disorders such as irritable bowel syndrome.
---
Share a growing tip or recipe and help other gardeners!

Click on the Contact Form link, place "Tip" in the name line and fill in your information. If we accept your Peppermint growing tip or recipe, we will post it on this page.