Thanksgiving Weekend Sale!
Save 20% on everything we offer from now to midnight Monday! Simply type in TK2014 ( case sensitive, no spaces ) into the coupon field of the shopping cart when you check out, and the discount will be applied.
Gaillardia Seed ( Perennial )
Click on any thumbnail image for a larger photo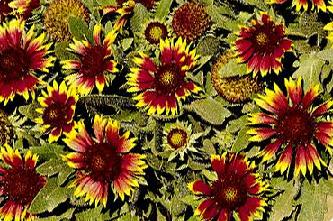 2709 Bijou Gaillardia
This is a more uniform and compact form of 'Goblin' -- what one might call an improved 'Goblin.' Plants grow 9 inches tall and have good sized reddish orange flowers with yellow tips (the flowers are about three inches wide). The center of the flowers start off green and turn red as the flowers mature. Will bloom the first year from an early sowing. Grow in full sun in well drained soils were they will bloom from April to Frost with occasional deadheading. Hardy to zone 4.