Phlox Seeds
Phlox in bloom are a sight to behold, with masses of small, star-shaped, colorful flowers blanketing the plants. There are several types, the most common of which are spring-blooming creeping phlox and summer-blooming tall phlox.
There is a type of phlox suitable for almost any garden situation. Use spring-blooming creeping phlox as a ground cover in rock gardens and in woodland plantings. Tall garden phlox brighten the back of the border with their exuberant early summer flowers.
Useful gardening information
Phlox seeds can be directly seeded into your flower garden or seeded indoors for transplanting later. For spring blooms, start indoors six to eight weeks before the last frost. Young seedlings will transplant well into their permanent home.
Sow Phlox seeds early in the season and cover lightly with 1/8" of fine garden or potting soil. Water thoroughly once.
Transplant Phlox into your garden after the last frost date for your area. Space them 8-10" apart. They will tolerate a little crowding. They will look great filling in a flowerbed, or as a border edging.
Plant in spring, spacing plants 1 to 2 feet apart, depending on the variety. Prepare the garden bed by using a garden fork or tiller to loosen the soil to a depth of 12 to 15 inches, then mix in a 2- to 4-inch layer of compost. Dig a hole twice the diameter of the pot the plant is in. Carefully remove the plant from its container and place it in the hole so the top of the root ball is level with the soil surface. Carefully fill in around the root ball and firm the soil gently. Water thoroughly.
---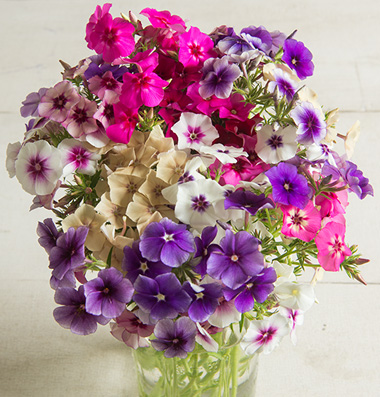 TRM840 Art Shades Mix ( Phlox drummondii )
Fast-growing cut flower. Stems are 6-8" taller than Tapestry Mix which it replaces. Flowers are a similar mix of colors. Also known as annual phlox. Height 20-26".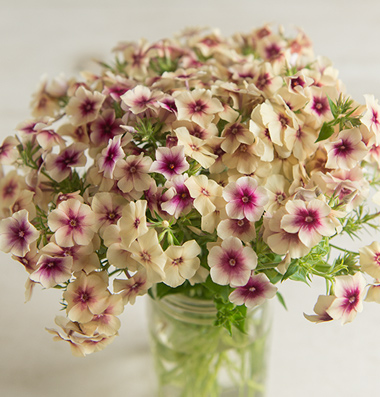 TRM841 Cherry Caramel ( Phlox drummondii )
Antique look. Cherry Caramel's long stems make it highly desirable as a cut flower or border plant. Also known as annual phlox. Height 16-20".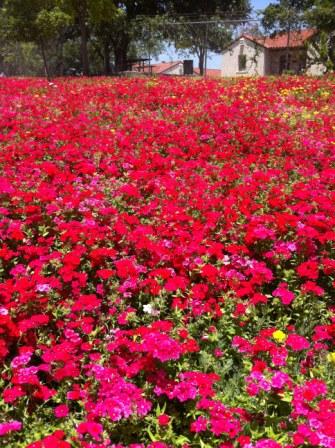 1A416 Red Drummond Phlox ( Phlox drummondii )
A great flowering plant that can be used about anywhere, use in baskets, floral gardens, wooden barrels, mixtures, fields, etc.
Flowers are delightfully fragrant. Adds life to any cut flower arrangement.
A short, hardy, upright annual, native to Texas, but adapted throughout the southeastern United States. It is a variety that has been used extensively in European gardens for many decades. Flowers are concentrated in clusters on top of sturdy, erect stems. The exquisite deep red flowers bloom continually if watered frequently. Prefers light or sandy well drained soil in full sun. One of our most popular items.
Seedman Basic Info:
Grows about 8 to 24 inches tall, will germinate in about 20-30 days depending on soil and weather conditions, germinates best if soil temperature is in the 60-70°F range.
Cover seeds about 1/8" deep, blooms from April to June.
---
Share a growing tip and help other gardeners!

Click on the Contact Form link, place "Tip" in the name line and fill in your information. If we accept your Phlox growing tip, we will post it on this page.