Ratibida Seed ( Perennial )
Gardening info:
The festive flower heads resemble the traditional broad-brimmed, high-centered hat worn during Mexican fiestas and bloom late summer into fall. Plant has an open airy growth pattern. A native prairie plant.
Good for Cut Flowers, Hot Dry site tolerant, Attracts Butterflies, Good for Dried Flowers
This is a drought tolerant plant that withstands competition. Plants with rich, brown-purple ray flowers are form pulcherima. Mexican Hat is a fast growing wildflower that is not fussy about soils and is easy to grow from seed. Showy flowers bloom over a long season. Foliage has a strong odor that repels deer.
Very easy to propagate from seed in spring or fall though a fall seeding is recommended. Seeds do not have to be treated but may benefit from a period of stratification. Plants from seed usually bloom the second year. Be sure the seed is in good contact with the soil by lightly raking it into loose topsoil.
---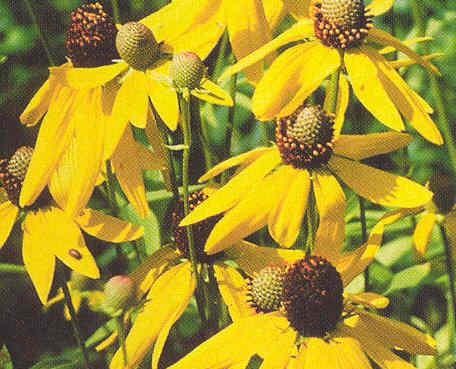 3288 Yellow Coneflower ( Ratibida columnifer )
Well branched tall form, bright yellow, for bedding or drying, sun, heat tolerant. Grows about 30" tall. Zones 3 and up.

3291 Red Midget Coneflower ( Ratibida columnifer )
A marvelous dwarf well-branched copper red coneflower, sun, heat tolerant. Grows only about 15" tall. Zones 6 and up.