Rosemary Seeds
An easy to grow perennial herb that enhances many foods including breads, vegetables and meats. It is also attractive and great to use for landscaping.
Rosemary herb plants are very attractive to beneficial insects and attract pollinators to the garden. Rosemary can also be kept in a container to be brought indoors during the winter. Rosemary plants can be shaped and manicured to promote a more attractive, compact addition to your herb garden or container.
Useful gardening information
Sow the herb seeds on the surface of the soil (indoors 6 - 8 weeks before last frost) or outdoors when temperatures have warmed up. Do not cover the Rosemary seeds as light is needed for germination. For harvesting, flavor is best before plant blooms. Clip leaves and sprigs as needed and use fresh, or dry for later use. Leaves may be frozen as well.
Temperature: 65 - 85F
Average Germ Time: 14 - 28 days
Light Required: Yes
Depth: Press seed onto surface of soil, do not cover seed
Sowing Rate: 1 seed per inch, approximately 1000 seeds covers 20 square feet
Moisture: Keep moist until germination
Plant Spacing: Rows 18 inches a part; thin seedlings 12 inches

Links to useful information on the web:
Rosemary uses
---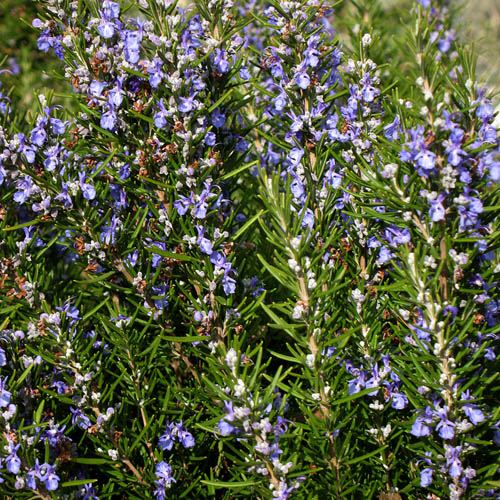 HR183 Rosemary ( Rosmarinus officinalis )
Grow Rosemary from herb seeds to create a lovely garden or container herb plant that is highly resistant to deer, drought and pests. This tough little garden gem is one of the most ornamental plants for the herb garden. Aromatic leaves and stems used to flavor meats and sauces. Excellent for potpourri.
A perennial outside in zones 7-10, but often grown inside as a kitchen herb.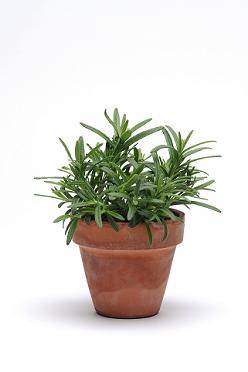 TPF226 Simply Rosemary ( Multi-seed pellets )
New! The easiest way to grow rosemary from seed, each pellet contains several rosemary seeds in one pellet, perfect in 5" pot. Makes starting rosemary seedlings ( which can be difficult for some ) super easy.
Each multi-seed herb pellet produces healthy rosemary plants for the windowsill or garden. Just one pellet fills a 5" inch pot fast, with no seed broadcasting or scoops across the soil.
---
Share a growing tip or recipe and help other gardeners!

Click on the Contact Form link, place "Tip" in the name line and fill in your information. If we accept your Rosemary growing tip or recipe, we will post it on this page.