Safflower Seeds
Many culinary uses, often sold as 'saffron' in markets.
Useful gardening information
Common Names: Safflower, Saffron Thistle, False Saffron, Distaff Thistle.
Life Cycle: Hardy annual.
Height: 30 to 36 inches (75 to 92 cm).
Native: Mediterranean.
Growing Zone: Zones 3 to 9.
Flowers: Summer.
Sow Outdoors: 1/4 inch. Early spring before last frost or late autumn. Spacing 6 to 10 inches.
Sow Indoors: Peat pots. Germination time: one to two weeks. Temperature 60 to 70°F. Seven or eight weeks before expected last frost. Transplant outdoors following the last frost.
Links to useful information on the web:
How to grow Safflower
---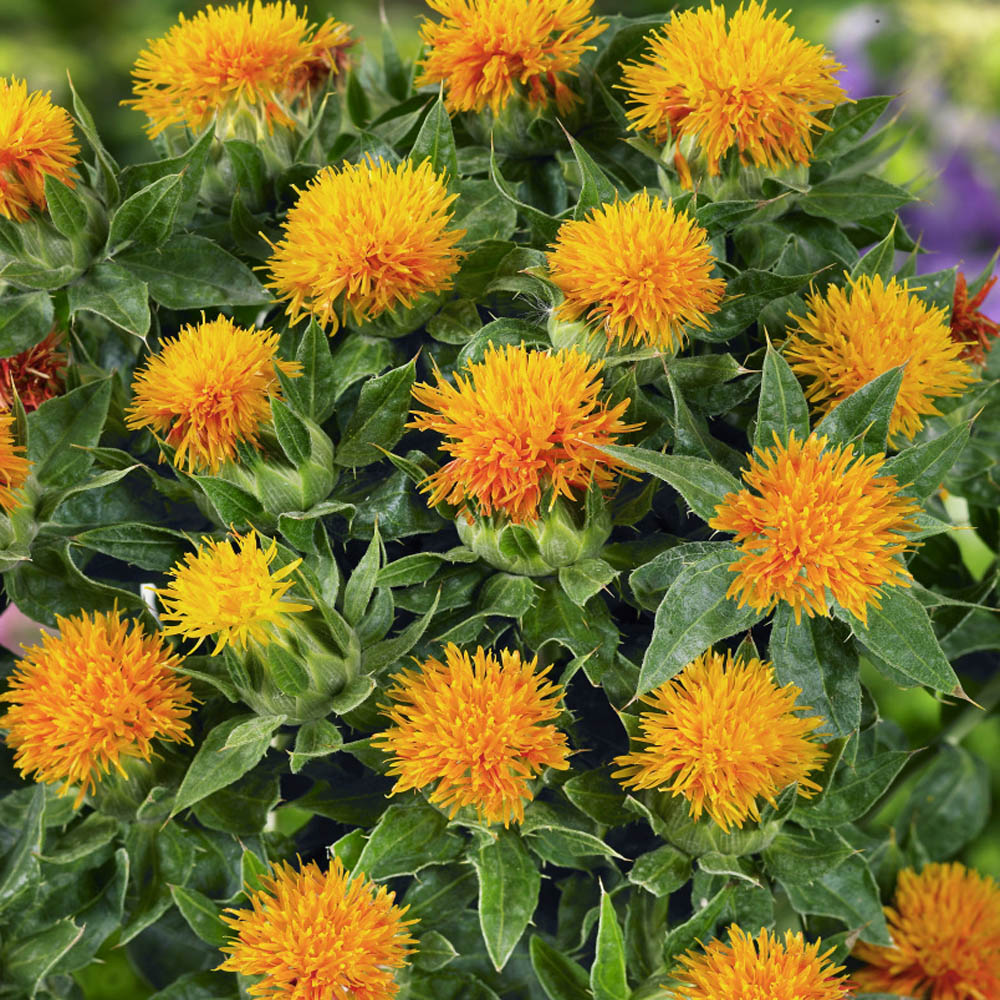 HR510 Safflower ( Carthamus tinctorius )
Different shades of orange, a new look for this widely used plant. A wonderful plant for the flowerbed, Safflower, is a thistle that is grown commercially for the production of oil and birdseed. It also makes a wonder cutflower plant.
Dried flowers are used as a substitute for saffron. An annual plant that can handle a lot of heat in the garden, it grows about 32 inches tall and will bloom in 10 weeks from seed.
The orange-red flowers of safflower sometimes serve as a substitute for saffron, since they give a color to food. They are frequently sold as saffron to tourists in Hungary or Northern Africa ( and probably many other parts of the world ). Their value as spice is nearly nil, but their staining capability justifies usage in the kitchen.
Dried safflower flowers are used in a lot of recipes where they help to improve the color of broths, soups and stews, without being expected to contribute any flavor. However, many cooks are unaware between the difference between safflower and saffron, and consider the former a cheaper grade of the latter, with saffron being very expensive in some regions.
---
Share a growing tip or recipe and help other gardeners!

Click on the Contact Form link, place "Tip" in the name line and fill in your information. If we accept your Safflower growing tip or recipe, we will post it on this page.