Sage Seeds
Sage has a long history of medicinal and culinary uses. It's most well-known use is in Thanksgiving dressing! It's also a very attractive, evergreen perennial that produces mauve colored flowers during the blooming season.
It is an excellent ground cover for edging sidewalks or garden pathways where its attractive foliage and flowers can be appreciated. Many people also dry sage for creating aromatic wreaths and dried flower arrangements. It's such a versatile plant, growing in a rock garden or bordering an herb garden and so easy to start from seeds.
Useful gardening information
Sow seeds indoors 6 weeks prior to the end of frost season. For areas with a longer growing season, sow seeds in well-drained, neutral to alkaline soil in full sun after danger of last frost is over. Performs best in rows 18 inches apart. Thin plants to 12 inches apart when they are 2 inches tall.
Temperature: 60 - 70F
Average Germ Time: 14 - 21 days
Light Required: Yes
Depth: Press seed onto surface of soil, cover lightly with peat moss
Sowing Rate: 1 seed per 2 inches
Moisture: Keep moist until germination
Plant Spacing: Rows 18 inches a part; thin seedlings 12 inches

Links to useful information on the web:
Sage: Herbal Remedies
---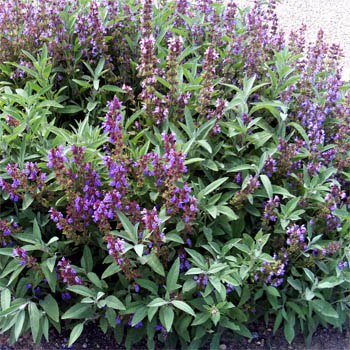 HR195 Sage ( Salvia officinalis )
Use fresh or dried leaves to flavor pork, poultry, dressings, sausages and just about anything!
The Sage herb has fragrant gray-green leaves and attractive mauve flower spikes in early summer. It's highly attractive to birds, bees and butterflies.
Containing naturally-occurring vitamins and minerals, the herb sage is best known as a culinary spice that adds flavor to poultry dishes. However, sage has been used for hundreds of years in folk medicine to treat a variety of different ailments. Most commonly drunk as a tea, sage herb is good for the nerves, digestive system and for balancing estrogen levels in women.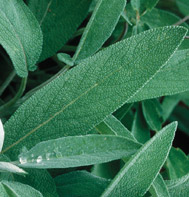 BM08 Extrakta Sage ( Salvia officinalis )
A new variety of sage for the herb lovers out there. Improved, high-yielding variety does well in containers.High essential oil content of 1.5-2.0%. Robust, uniform plant. Hardiness zones: 4-8. A perennial plant that you can start harvesting from 90 days after sowing seeds.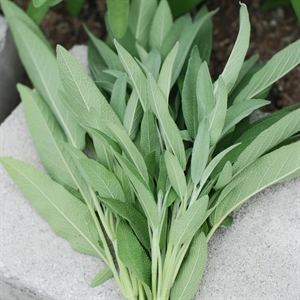 TRN433 Ceres Culinary
More refined slender leaf than garden sage, full and robust flavor, for discerning cook. Grows about 12" tall.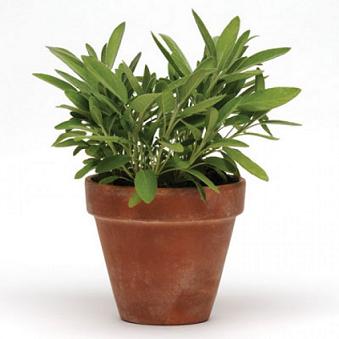 1A456 Simply Sage ( Multi-seed pellets )
New! The easiest way to grow sage from seed, each pellet contains several sage seeds in one pellet, perfect in 5" pot. Makes starting rosemary seedlings ( which can be difficult for some ) super easy.
Each multi-seed herb pellet produces healthy sage plants for the windowsill or garden. Just one pellet fills a 5" inch pot fast, with no seed broadcasting or scoops across the soil.
---
Share a growing tip or recipe and help other gardeners!

Click on the Contact Form link, place "Tip" in the name line and fill in your information. If we accept your Sage growing tip or recipe, we will post it on this page.