Saltwort Seeds
Many plants throughout the world are called saltwort. Though all are vaguely similar, they evolved separately to cope with salty or dry conditions, their succulent leaves and stems designed to conserve a supply of fresh water.
It does not need a salty location to grow well and does fine in the garden, sown in successions throughout the growing season. In Japan, it is okahijiki, which translates as "land seaweed" and is valued as a vitamin-rich green, rolled up in sushi or used in salads and cooked dishes.
Also known as roscana, this is the Agretti variety, a seed that is very rare. Agretti is used in Japanese sushi, and in Mediterranean cuisine, lending an unusual salty flavor. Expensive and highly prized by top chefs, agretti is difficult to get to seed, making it hard to come by. Grown in salt marshes, agretti can also be grown without salt water. This is agretti is superior to the commonly used asian type.
Rich in vitamins and minerals, including Vitamin A, calcium, and potassium. Juice from the plant is used as a diuretic.
Saltwort is quite an active summer annual that grows more determinedly the more it is trimmed for dinner. It really is an excellent green to accompany fish, especially 'sushi' as it is not too strong in taste, therefore allowing the food to be 'itself'. The texture is crunchy and delightful.
Easy to grow and quick to germinate in Spring, it becomes a light groundcover that is bright green and interesting for the whole season.
We germinate Saltwort in late winter and plant out when frost is unlikely to damage the seedlings.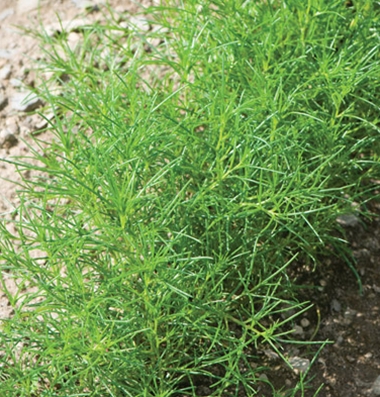 TCB005 Agretti Saltwort ( Salsola komarovii "Agretti" )
Traditional Japanese culinary herb. Long, succulent leaves with an incredibly appealing, crunchy texture. Native to the salt marshes of Japan, but well adapted to less saline soils. Harvest promptly to prevent woody stems and prickly leaf tips. Add tender young leaves to salads and sushi, or steam longer stems for a unique and healthy side dish. Also called land seaweed or "Okahijiki" in Japan. Medicinal: Rich in vitamins and minerals, including Vitamin A, calcium, and potassium. Juice from the plant is used as a diuretic.

Maturity: Approx. 60 days.
Planting season: Early spring to early summer.
This item is currently out of stock, if you would like to be notified by E-mail when it becomes available again, simply enter your E-mail address in the field below and hit "Submit".