Creeping Zinnia Seeds
Sunflower fans will love this short, creeping groundcover. It's covered with golden-yellow, dark-brown-centered flowers that look just like miniature sunflowers! Wonderful in windowboxes or other containers where they can hang over the sides.
Useful gardening information
For best results, sow seeds directly in the garden 1 - 2 weeks before last frost date. They also may be started indoors 4-6 weeks earlier; however, plants often do not transplant well into the garden.
Seeds started indoors directly into a hanging basket or container avoids the transplant problem. Sow seed on the surface of prepared soil, lightly sprinkle peat moss to help hold moisture in the seeds. Light is beneficial to germination.
Make sure that the ground cover seeds stay moist until germination occurs.
---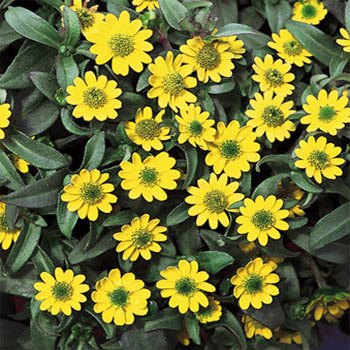 3570 Creeping Zinnia ( Sanvitalia )
What a delightful flowering ground cover plant! So easy to grow from seeds, and what charm and beauty if offers all summer long.
It is a low-growing, mat-forming annual that spreads 12-18 inches making it ideal for a summer ground cover. The trailing little plants create a profusion of 3/4 inch semi-double orange flowers with dark centers. They look like mini-sunflowers! Best in zones 6-9.
Creeping Zinnia offers the most spectacular blooms when planted in full sun. It prefers light, sandy loam soils with good drainage. It performs the best in areas where summers are mild.
The plants are ideal for hanging baskets, all sorts of pots and planters, edging the front of the flower border and as a ground cover. Annual growing 6 inches tall.

---
Share a growing tip or recipe and help other gardeners!

Click on the Contact Form link, place "Tip" in the name line and fill in your information. If we accept your Creeping Zinnia growing tip, we will post it on this page.