Sedum and Sempervivum Seed ( Perennial )

SF247 Stonecrop Many Species Mix ( Sedum var. mix )
A marvelous groundcover, red and yellow shades, mix of hardy creepers. Perennial growing 6 inches tall, hardy to zone 3.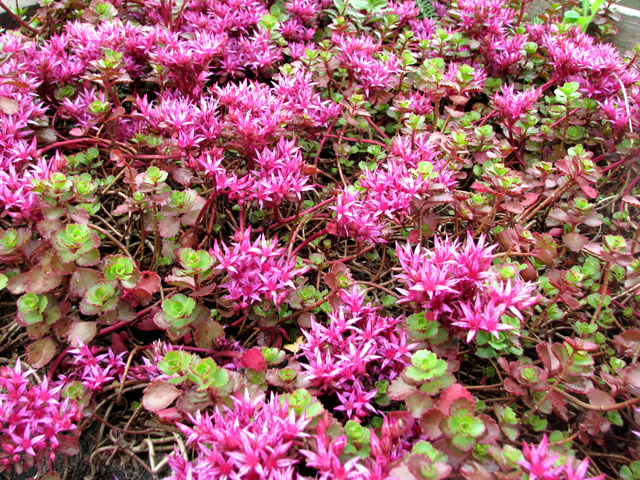 SF234 Stonecrop ( Sedum coccineum )
Matforming groundcover, red stem, mid green leaf, star shaped purple flowers in late summer. Perennial growing 7" tall, hardy to zone 4.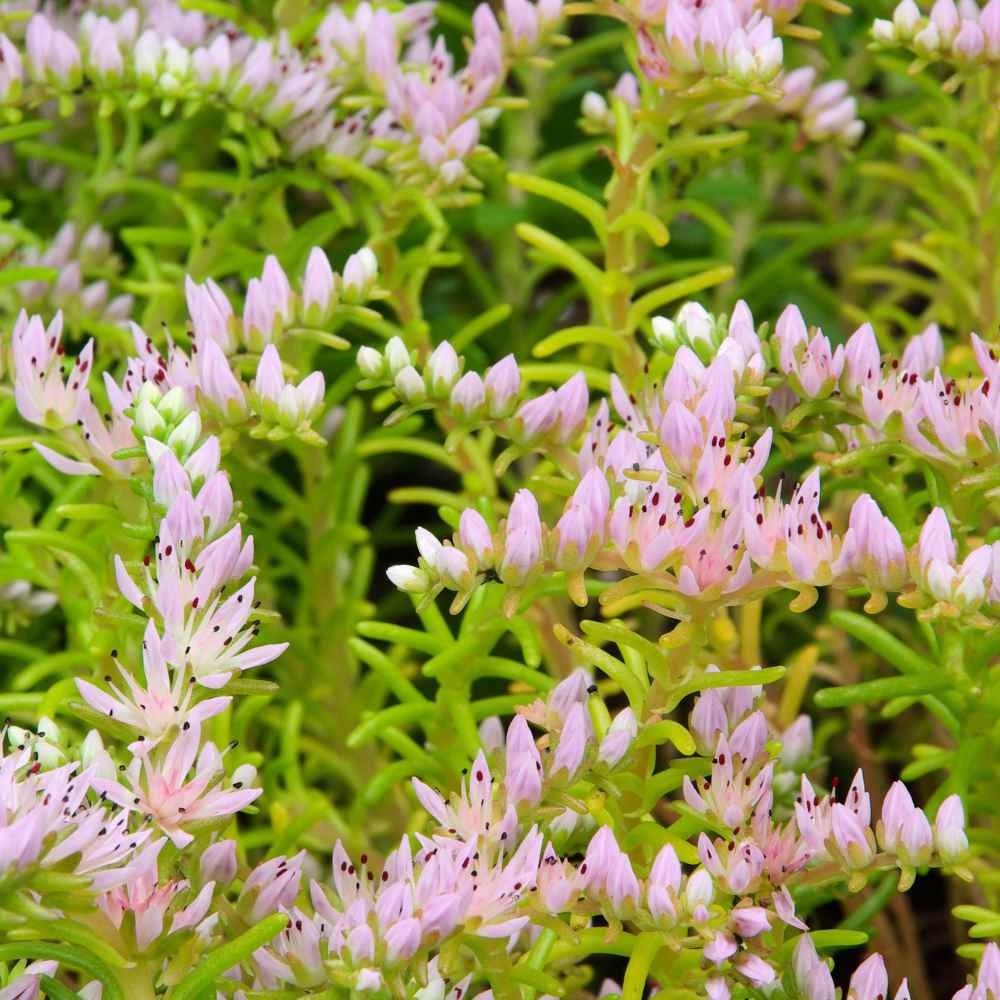 SF246 Widows Cross ( Sedum pulchellum )
One of the most beautiful of the native Sedums, this succulent wildflower is heavily bedecked with fluffy pink spikes of blooms from late Spring through early summer.
With dark-pink tipped stamens, the flower clusters look almost spotted. This shorter species is perfect for a naturalizing ground-cover or rock garden.
The name Widow's cross refers to the shape of the flower, there are four petals in a cross pattern. Glade stonecrop is an obvious reference to its typical habitat.
Widows Cross seeds can be sown indoors or directly outdoors ( but you will get best results by starting indoors and transplanting outside ). Indoor sowing can be done 6 - 8 weeks before last frost date. Use small pots or flats and sterile starter mix. Pre-moisten the starter mix and sow 5-7 seeds per container. The seeds are exceptionally small, so only press the seed into the moistened soil, and do not cover the seed. Keep the seeds moist but not saturated until they germinate.
For outdoor sowing, wait until garden soil temperatures are 70 degrees or higher. Select a site with well-draining soil. If necessary amend soil organic matter. Loosen the top 1 - 2 inches of soil, remove any weeds, and gently broadcast the Dragon's Blood seeds over the soil. Lightly press the seeds into the soil, and keep the seed continuously moist until germination. Perennial growing 8" tall, hardy for zones 5-9.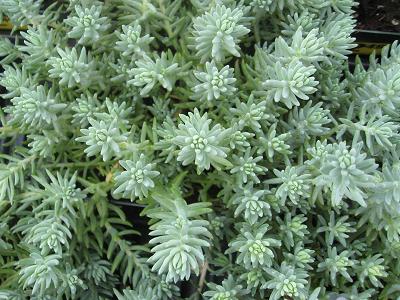 SF244 Blue Spruce Sedum ( Sedum reflexum )
Vivid blue needle-leaf, spreads slowly to form excellent evergreen ground cover, yellow blooms in summer, perennial grows about 8" tall, hardy to zone 3.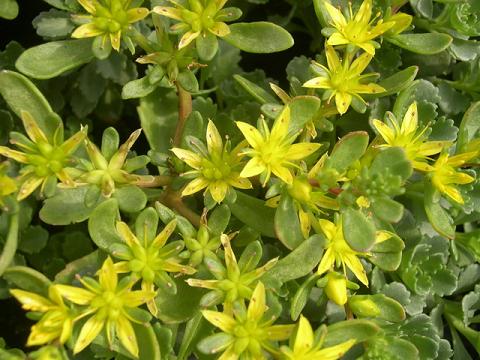 TRN247 Czars Gold Sedum
Gold flowers, evergreen red stemmed carpet, excellent groundcover, perennial grows about 9" tall, hardy to zone 3.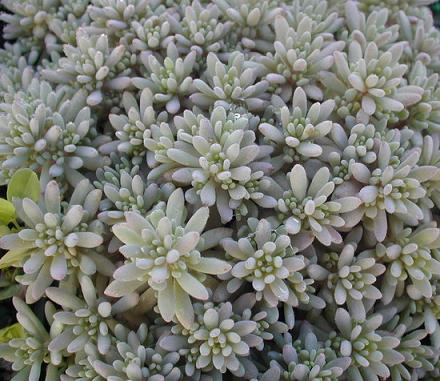 SF249 Spanish Stonecrop ( Sedum hispanicum )
If you are looking for a drought tolerant, low-growing, low-maintenance ground cover, this this is the one preferred by many. This plant has blue-green to gray-green, succulent foliage, and it only reaches a few inches in height.
As the weather warms, the foliage turns to a blue-grey color, and it has a soft feathery feel to it. In late spring to summer it has clusters of small whitish pink blooms.
It is a tough ground cover plant that tolerates some wear and tear such as light walking.
Commonly called Spanish Stonecrop, and although it is a sun lover in mild climates, this perennial prefers some afternoon shade in areas with extremely hot summers.
Porous well-drained soil is essential. Grow in coarse sandy or gravelly soil in a rock garden, trough, wall, or container, or use it as a small-scale ground cover on a slope or bank. In too much shade it slowly dwindles or is overtaken by neighboring plants.
Best suited for zones 4-9.
Sedum has tiny seeds which should be mixed with fine sand for an even sowing. For best results, sow seeds indoors 6-8 weeks before the last frost is expected. Use small pots or flats and sterile starter mix. Pre-moisten the starter mix and sow Sedum seeds on the surface. Press the seed into the moistened soil, and do not it. Keep the Stonecrop seeds moist but not saturated until they germinate.
Water from the underside of the pots or use a spray bottle and lightly mist the seeds. Plant the Sedum seedlings outdoors once sufficient growth has been made. Established plants can be divided every 3-4 years for best performance.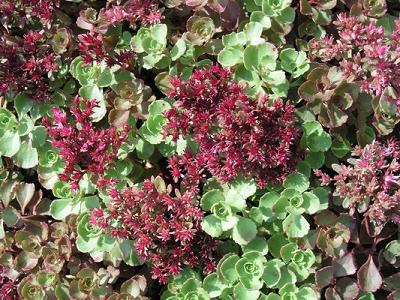 W246 Purple Carpet ( Sedum spurium )
Edge your walkways with these wonderful ground cover plants. This perennial is a versatile ground cover for rock gardens, planting in rock walls, around stones, green roofs, flower beds, or containers.
Has deep rose pink flowering clusters that will bloom from mid-summer until fall. Has very narrow paddle-shaped leaves that spiral around and form dense mats. The foliage may turn a brownish-red color in the autumn in full sun.
Plants forms a thick ground cover even the first year that it is grown from seeds.
For zones 5-9.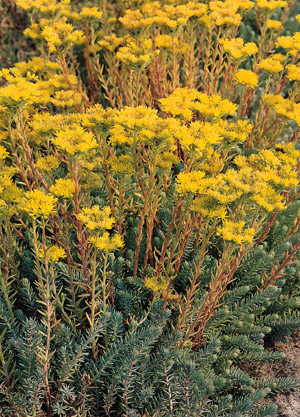 W244 Golden Sedum ( Sedum reflexum )
Evergreen creeper, golden yellow, feathery flower clusters, narrow blue-green leaf, perennial grows about 8" tall, hardy to zone 3.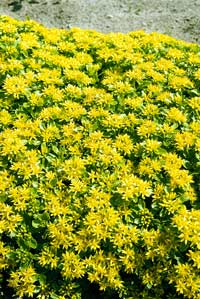 W243 Selsie ( Sedum selskianum )
A hardy, handsome and well-behaved perennial that produces dense mounds of glossy bright green foliage. The flat, succulent leaves are alternately deployed on upright stems that form a low lush mound.
In late spring and summer, tiny stems bear small starry shaped golden-yellow flowers.
Growing to a height of 8 inches, it is hardy to around minus 28 degrees. It does best in porous soil and full sun to light shade and thrives in sun drenched rock gardens, crumbling walls or rocky scree. It also does well in containers in well-drained potting mix.
Does well in zones 3-9.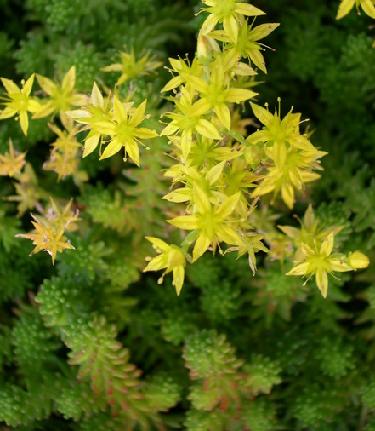 TRN259 Sedum sexangulare
Dense sweetly aromatic foliage, lemon flowers, perennial grows about 5" tall, hardy for zones 4-9.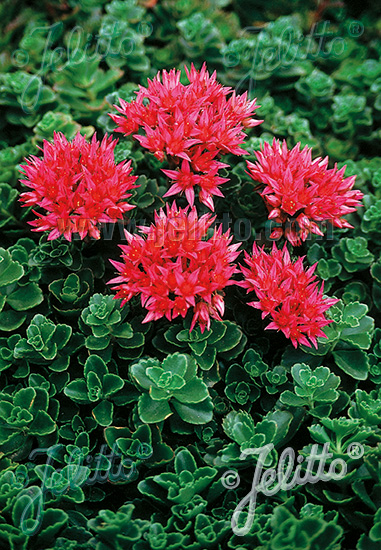 W245 Summer Glory ( Sedum spurium )
This sedum stonecrop grows 4-6 inches high. The leaves tint red in the fall and the blooms are dark pink star-like blossoms that will grow from early July to September.
A low growing succulent plant that thrives in well-drained soil but will grow in most soil types. It's perfect to grow in trouble areas. Deer resistant.
For zones 5-10.