Sempervivum Seed ( Perennial )
Seedman Basic Info:
Whether planted in large numbers or used as a single specimen Sempervivum are both beautiful and enduring. Houseleeks have a unique look. Their rosettes are fascinating with their succulent leaves radiating around the centre, their colour hues are stunning and their tendency to produce offsets makes for easy increase (hence the name "Hen and Chicks").
Leaf shape varies from short almost round leaves to long, tapering and finely pointed. The leaves may be dull or glossy, or covered with soft down. Colours range from bright yellow, through various shades of green, grey, pink, purple, red, orange and brown, to almost black in some varieties. The most colourful time is generally from March till June.
As drought-tolerant succulents they are hardy and easy to grow, requiring minimal care, only full sun and good drainage to thrive. Sempervivum plants successfully complement other rock-garden components, use them in alpine gardens, troughs and pots. They can be used as a groundcover between flagstones and they are especially suitable for green roofs or living walls.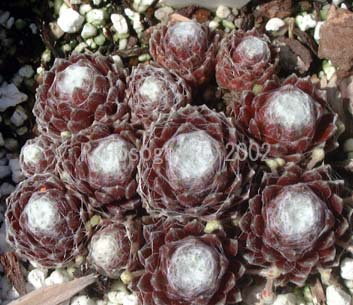 JF403 Cobweb Sempervivum arachnoideum
Small rosettes, silver-webbed, red flowers, grows only 5" tall, hardy to zone 4.